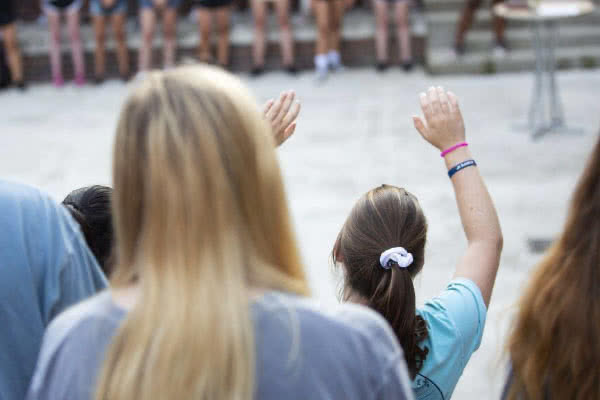 Program Overview
Program Overview
There's no better place to grow as a musician and worshiper than Music City. From leading or writing worship music to serving on a tech team, our faculty experts will prepare you for a career in the worship arts.
We've designed this program to shape our students into creative, well-grounded artists able to craft and lead authentic worship experiences. We don't promote a particular style of worship, but our instructors are successful worship leaders, songwriters and producers who are ready to mentor you. We're committed to your success.
You'll have the unique opportunity for hands-on training with Nashville professionals. And you'll be using the most current music and media resources available. When you graduate, you'll be ready to serve in a wide variety of ministry and employment opportunities. As you train, you'll have access to our studios, the Sound Emporium and Commercial House, as well as The Well Coffeehouse's Black River Stage.
When you graduate, you'll do so confident and ready to serve in a variety of ministry and employment opportunities.
Admissions Requirements
Admissions Requirements
As a student choosing to pursue either a major or minor in music or a worship ministry major at Lipscomb University, you will be required to complete a performance audition and a music theory placement exam. A music scholarship audition may meet this audition requirement, or you may play or sing for the music faculty prior to the end of your first semester.
The theory placement exam is given during the summer when you come for your ADVANCE session. The theory faculty use the exam to determine which beginning theory class (Fundamentals of Music or Music Theory I) will provide the most appropriate placement.
Courses
Courses
Pending program approval by the National Association of Schools of Music.
The Worship Arts degree is shared by the College of Bible and Ministry and the School of Music. Administration and advising for the degree are in the School of Music. 
Courses
Worship core, 19 hours
WA 1013 - Worship and the Arts
WA 2303 - The Complete Worship Leader (3) F
WA 2313 - Worship Design and Practice (3) SP Offered odd-numbered years
WA 3013 - Technology for Worship
MU 3403 - History of Church Music (3) SP Offered even-numbered years
WA 0110 - Worship Arts Forum
WA 3211 - Worship Arts Practicum
WA 4211 - Worship Technology Practicum
WA 4992 - Worship Arts Internship and Capstone
Bible Core, 15 hours
BI 2283 - Explorations in Ministry 
BI 3203 - God, Creation, and New Creation 
BI 3813 - A Theology of the Church 
BI 4503 - Old Testament Interpretation 
BI 4513 - New Testament Interpretation 
The general education language requirement may be satisfied by GR 1515, GR 1525, HB 1515, HB 1525 or any of the modern languages.
Music Core, 20 hours
MU 1133 - Theory I 
MU 1143 - Theory II 
MU 1111 - Aural Skills I 
MU 1121 - Aural Skills II 
WA 3113 - Arranging and Songwriting for Worship
MU 1511 - Voice
MU 4612 - Conducting 
MU 4020 - Piano Proficiency 
MU 4030 - Guitar Proficiency 
Appropriate ensemble per advisor, 6 semesters (1 hour each semester)
Class or private guitar or piano (MU 17x1 or MU 16x1) as needed to pass proficiencies
Recommended Electives
BI 2223 - Marriage and the Christian Home 
BI 2713 - The Story of Global Christianity 
FICM 1703 - Film Production Workshop 
FICM 412V - Career Creativity
MU 3013 - Jazz and Pop Music Theory 
CMU 1013 - Introduction to the Music Industry 
MU 4622 - Choral Conducting and Literature  (Offered odd-numbered years)
Additional Private Lessons up to 4 hours (one hour each semester)
Internship
Become more competitive in the job market with an internship related to your interests. You'll gain experience and boost your exposure. An internship will also help you learn whether you've chosen a career you'll enjoy.
Expert faculty, small class sizes
Learn from award-winning, experienced faculty who actually care about you. Our small class sizes allow us to get to know you personally. We lead an approachable community within our respective programs. Our faculty connections are the experts on their subject matter, too.
Nashville
A big city. An even bigger opportunity. We consider Nashville an extension of our classroom, and as a leading city in many industries, that means you'll gain experience and insight you won't find anywhere else.
Our Faculty
Meet our key faculty.
Randy Gill

Assistant Dean of the College of Entertainment and the Arts

Gill has a career in higher education, music and worship ministry that spans more than 40 years. For 13 years, Gill was associate professor of music and associate director of...

Learn More
Career Paths
Musicians and Singers
Musicians and singers play instruments or sing for live audiences and in recording studios.
Music Directors and Composers
Music directors, also called conductors, lead orchestras and other musical groups during performances and recording sessions. Composers write and arrange original music in a variety of musical styles.
Worship Arts & Ministry
Careers in Worship Arts include many options such as: Worship Leader, Director of Worship Arts, Director of Worship Media and Technology, Professional Touring Musician, Studio Recording Artist, Professional Singer/Songwriter, Minister of Music and Private Lesson Instructor.