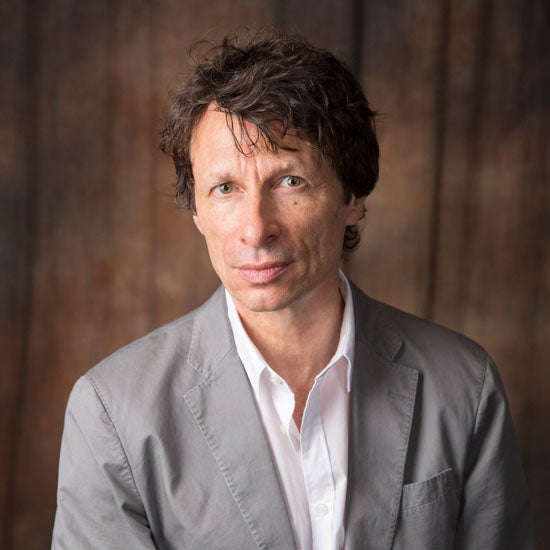 Steve Taylor
Film and Creative Media
Assistant Professor




Biography
Steve Taylor is a filmmaker, writer, producer and recording artist who earned his "Renaissance Man" stripes (Prism Magazine) from a body of work that's garnered him multiple Grammy, Billboard, Telly, Addy and Dove awards and nominations. A southern California native, he was raised in Denver, Colo., and studied music and film at Colorado University. In 1983, Taylor began a career as a recording artist that spanned 12 years, selling over one million albums worldwide and garnering him two Grammy nominations for "Meltdown" (1984) and "Squint" (1993). In the process, he made history as the only artist to twice win Billboard Music Video Awards for self-directed music videos. As a concert artist, Taylor headlined four international tours, including acclaimed appearances at L.A.'s Universal Amphitheater and London's Hammersmith Odeon. He was also lead singer in the MCA-signed modern rock band Chagall Guevara.
Taylor's work as a music video director and filmmaker includes music videos for Sixpence None the Richer; Fleming & John; Rich Mullins; Guardian; a documentary on England's Greenbelt Festival (1989); the long-form Newsboys comedy "Down Under The Big Top" (1996); the highly-acclaimed "Squint: Movies from the Soundtrack" (shot in 10 countries around the globe); and his Sixpence None the Richer video for "Kiss Me" (filmed in Paris), which was featured by VH1 as a Pop Up Video.
As a record producer, Taylor's resume includes the platinum-certified Sixpence None the Richer and three gold-certified albums for the Newsboys: "Going Public," "Take Me to Your Leader" and "Adoration." All four albums earned Grammy nominations. Taylor also contributed to most of the Newsboys tracks as a songwriter, including ASCAP Song of the Year recipient "He Reigns." His greatest success as a producer came with Sixpence None the Richer's 1999 number one international smash hit, "Kiss Me," as well as the band's follow-up hit, "There She Goes."
In 1997, Taylor launched Squint Entertainment, a record label and film production company. Squint's worldwide success in the pop music arena was a first for a Nashville-based label, and Squint was subsequently nominated in 2000 by R&R magazine for Independent Label of the Year. In addition to Sixpence None the Richer, Squint's roster included Chevelle, Burlap to Cashmere, The Insyderz, Waterdeep and hip-hop collective L.A. Symphony. Taylor led the company until 2001, when it was sold to AOL/Time Warner.
In 2005, Taylor wrapped production on "The Second Chance," marking his debut as a feature film director, co-writer and producer. The movie was subsequently picked up for a 2006 nationwide theatrical release by Sony Pictures Releasing.
His latest feature as director, co-writer and producer, "Blue Like Jazz," is based on Donald Miller's New York Times bestselling memoir and stars Marshall Allman ("True Blood"), Claire Holt ("The Vampire Diaries"), and Tania Raymonde ("Lost"). The movie's funding garnered national press due to its then record-setting raise of $345,000 on Kickstarter.com. It had its world premiere in March of 2012 at the South by Southwest Film Festival, was released theatrically nationwide by Roadside Attractions, and won the 2013 Wilbur Award for Best Feature Film, joining past winners "The Help," "Schindler's List" and "Dead Man Walking."
In late 2013, Taylor announced through Kickstarter that he was taking a sabbatical from movie-making to record a new rock album with longtime collaborators Peter Furler (Newsboys) on drums, John Mark Painter on bass, and Jimmy Abegg on guitar. The band — Steve Taylor & The Perfect Foil — released their debut album "Goliath" in 2014, followed by an international tour. A subsequent collaboration with Daniel Smith of Danielson Familie fame — "Wow to the Deadness" — was recorded by famed punk rock producer Steve Albini (Nirvana, The Pixies) and released in February 2016.
Taylor is currently in development on his next feature film, a political comedy entitled "The Independent."
He is the subject of both the 2011 documentary "Steve Taylor Is Not Dead" by filmmaker Sarah Gibson as well as the multi-artist tribute album "I Predict A Clone" (1995). He was given the Briner Impact Award in 2005 (named after the late Bob Briner, author of "Roaring Lambs"), and was profiled in Donald Miller's latest New York Times bestseller, "A Million Miles in a Thousand Years." He is also filmmaker-in-residence at Lipscomb University's cinematic arts program.
Taylor lives in Nashville with his wife, the artist D.L. Taylor, and their daughter.