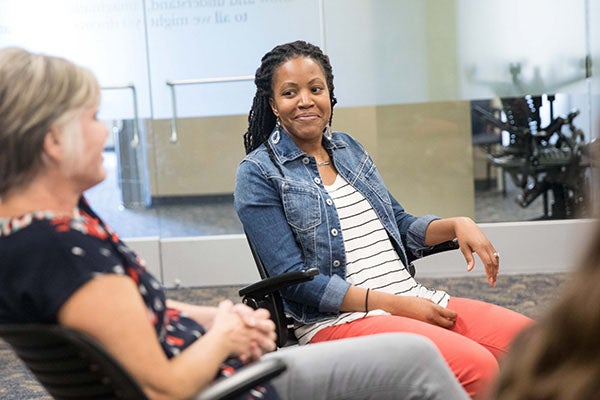 Flexible Schedule
Our courses are offered at a variety of convenient locations around Nashville or online, at times designed to work with your busy schedule. Our hybrid class model allows you the best of going to school as a working professional.
Networking
Both our deeply connected faculty and our experiential learning opportunities offer myriad ways for you to form relationships with leaders in the industry. These connections will serve and support you throughout your career.
Nashville
A big city. An even bigger opportunity. We consider Nashville an extension of our classroom, and as a leading city in many industries, that means you'll gain experience and insight you won't find anywhere else.
Frank Guertin

Assistant Dean

Frank Guertin is Assistant Dean for the Hazelip School of Theology at Lipscomb University and Assistant Professor of Theology. Guertin completed his bachelor's degree at Ohio Valley University and his...

Learn More

Lee Camp

Professor

Lee C. Camp is professor of theology and ethics. He was awarded a permanent designation as a University "Outstanding Teacher" in 2017. He completed his undergrad studies at Lipscomb and...

Learn More

Phillip Camp

Professor

Phillip Camp teaches various Old Testament text courses, OT Interpretation, and Hebrew. He is the author of "Finding Your Way: A Guide to Seminary Life and Beyond" (Cascade, 2009) and...

Learn More

John Mark Hicks

Professor

John Mark teaches theology and history courses. He received his B.A. in Bible from Freed-Hardeman University (1977), his M.A.R. in Theological Studies from Westminster Theological Seminary (1980), his M.A. in...

Learn More

Kris Miller

Assistant Professor of Bible

Kris Miller joined the faculty of the College of Bible and Ministry in 2015, serving as assistant professor of theology and director of Lipscomb's Institute for Christian Spirituality. He has nine...

Learn More

Kate Watkins

Executive Director, LIFE Program

Kate Sullivan Watkins is Assistant Professor in the College of Bible and Ministry and teaches Spiritual Disciplines for Christian Living. She is the director of the Lipscomb Initiative for Education...

Learn More

John York

Professor

In addition to his responsibilities with the D.Min. program, John teaches graduate New Testament text and ministry courses. He received his training from Abilene Christian University (B.A. M.A., M.Div.),...

Learn More
Career Paths
Postsecondary Teachers
Postsecondary teachers instruct students in a wide variety of academic and technical subjects beyond the high school level. They may also conduct research and publish scholarly papers and books.
Clergy
Conduct religious worship and perform other spiritual functions associated with beliefs and practices of religious faith or denomination. Provide spiritual and moral guidance and assistance to members.
Directors, religious activities and education
Plan, direct, or coordinate programs designed to promote the religious education or activities of a denominational group. May provide counseling and guidance relative to marital, health, financial, and religious problems.