The future is coming up granola for Skidmore sisters
Sisters and Lipscomb Bisons Anna Belle and Lila Mae are making their mark in the gluten-free snack food industry.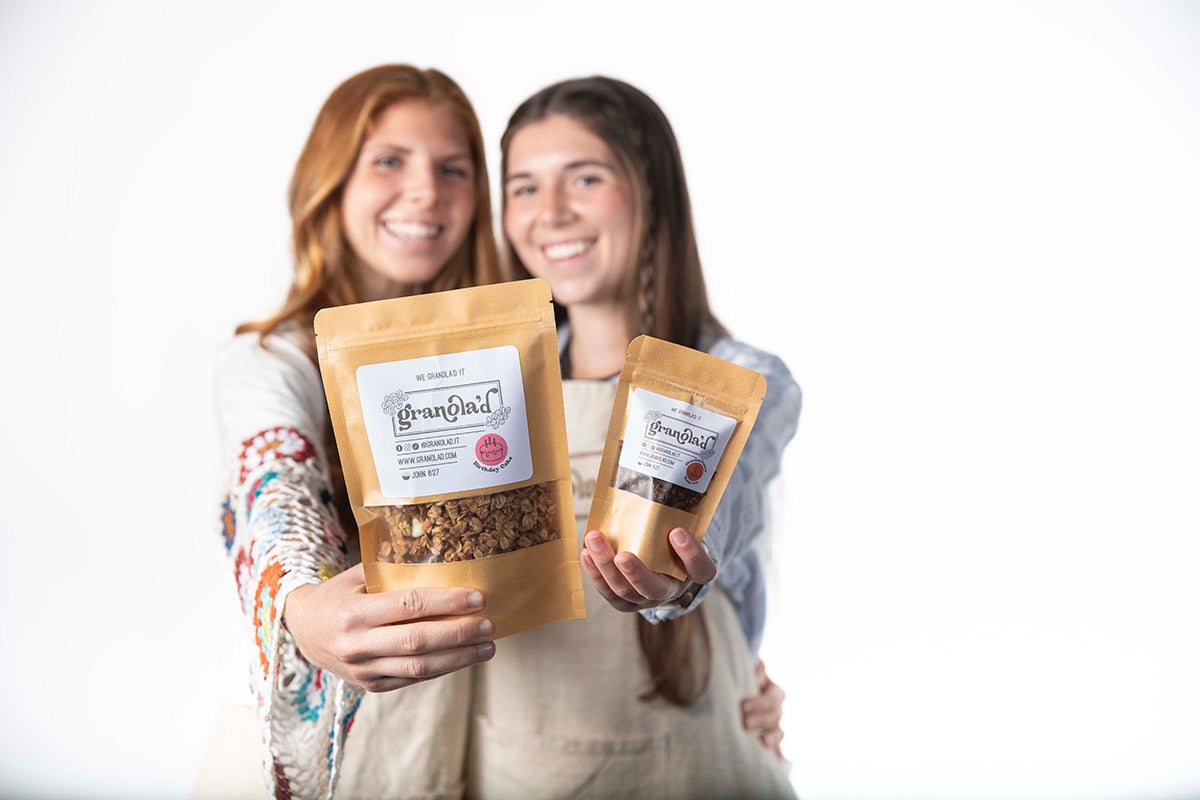 Posted Aug. 8, 2023
Lipscomb alumni's success in the world of food looks like it isn't stopping anytime soon. Today's generation of Lipscomb students are just as eager to launch companies selling food, coffee or treats.
Among the most successful so far are sisters, Anna Belle and Lila Mae Skidmore, from Murfreesboro, Tennessee. The pair began selling homemade gluten-free granola while still in high school and launched their business officially in June 2021.
Due to allergies, Anna Belle Skidmore a senior education major, is required to eat a gluten- free diet while also being a long-distance runner. "I was needing something to eat that was gluten-free, would work with my active running lifestyle, but would also taste good," said Anna Belle. "So we started experimenting with different ways to flavor granola. Every time we took our favorite flavors and turned them into new granola recipes, we said, 'We Granola'd it!' So that became our tagline!"
Today Granola'd (granolad.com) is continuing to sell online direct-to-consumer through its website as well as in several stores in the Middle Tennessee area. "We are increasing our customer audience through online marketing, word of mouth and by attending farmers markets and craft shows. Through these efforts we are seeing an increase in sales to people all across the country," said Anna Belle.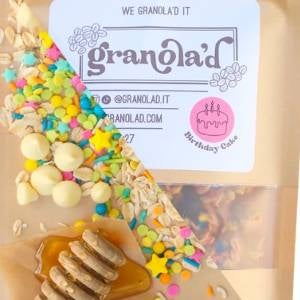 Anna Belle and Lila Mae, an incoming freshman, are sisters, built-in best friends and business partners who have been able to advance Granola'd while still in school thanks to the help of Lipscomb faculty and financial capital Anna Belle has won in several business pitch competitions in 2022.
Anna Belle went to her first meeting with Jeff Cohu, executive director of Lipscomb Center for Entrepreneurship & Innovation, expecting him to give her a book to read. "Instead, he was so relational and has been so helpful. He knows a lot about the food industry and meets with me about once a week to talk about growth and connections," she said.
With guidance from Cohu and other university support, Anna Belle won the Nashville Global Student Entrepreneur Awards (GSEA) competition (a $3,500 cash prize), placed fourth in the Collegiate Entrepreneurs' Organization (CEO) Global Conference and Pitch Competition (a $2,000 prize) and won Lipscomb's own Kittrell Pitch competition (an $8,000 prize).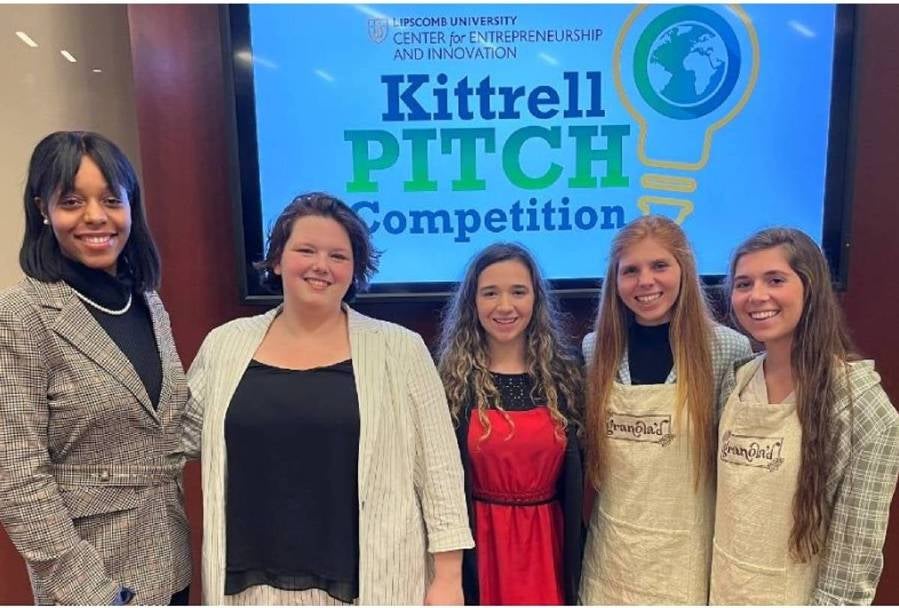 Her fourth-place finish at the CEO competition put her among the elite 25 semi-finalists selected from 600 participants nationwide to travel to Chicago, Illinois, to compete in the finals. She was the third Lipscomb student ever to make it to the final round, said Cohu.
"These outcomes are the result of dedication and hard work on her part," he said. "Anna Belle is an excellent representative of the entrepreneurship center and its co-curricular and interdisciplinary approach to developing student entrepreneurs. Results like this are the product of consistent focus and disciplined practice."
David Frederiksen, chair of the GSEA, said of the competitors: "What impressed me the most was how the students were so acutely attuned to customer demand. It's so easy to get swept up in a great idea that ultimately fails to find customers, but most of these students already have customers, revenue and a scalable business model. That is amazing for any entrepreneur, let alone one who is a full-time student."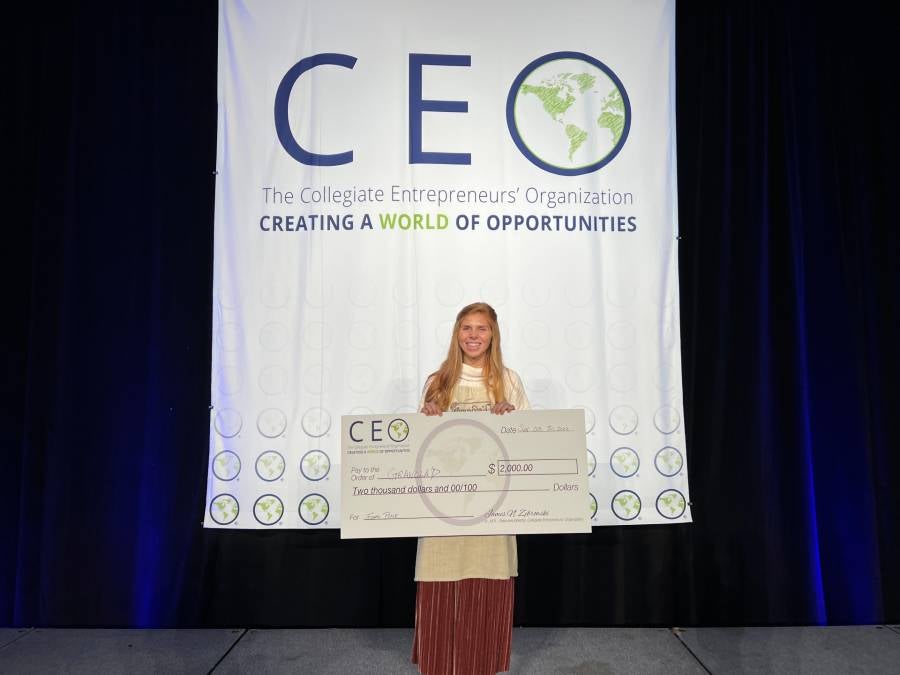 The sisters have used capital earned in the pitch competitions to become a registered LLC, to register a trademark, purchase materials for baking and packaging, and invest in our website and email development. "Without the cash prizes, we would not have been able to develop the company in areas that will grow the business. Every penny has been a blessing in helping us reach our goals," said Anna Belle.
"Anna Belle and Lila Mae have done a tremendous job of creating a much needed and fun product line while successfully navigating through multiple iterations of their business model," said Cohu. "They have also excelled at laying the groundwork for an exciting brand image. These young women are both a blessing to work with and we look forward to helping them grow and scale their business over the coming years."