Miller wins top prize at EO Nashville's Global Entrepreneur Competition, advances to nationals
Kim Chaudoin |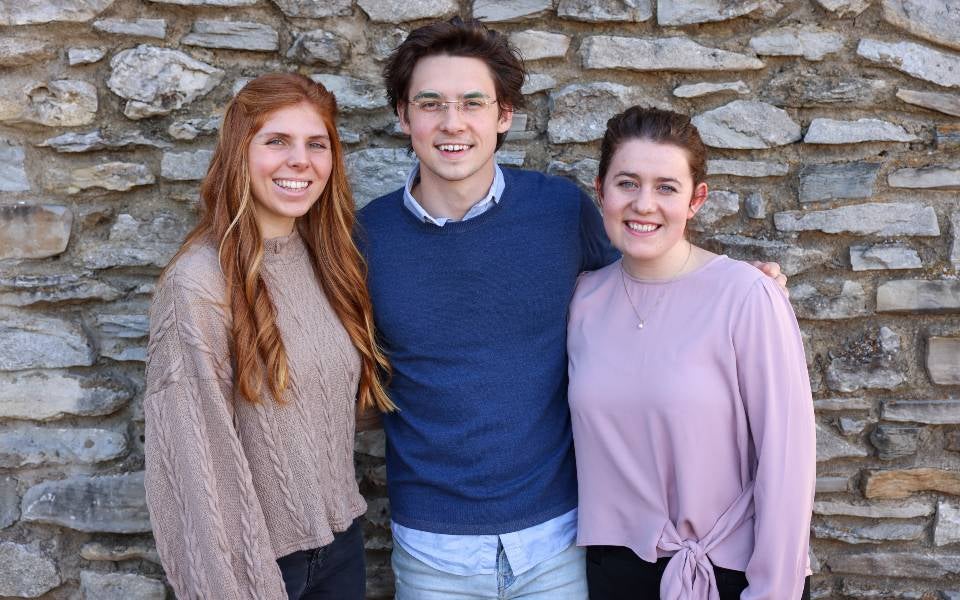 Once again Lipscomb University's budding entrepreneurs have taken top honors in competition. 
Senior Aidan Miller, founder of Kwizera Coffee, took top honors at the regional Global Student Entrepreneur Awards (GSEA) competition hosted by the Nashville chapter of Entrepreneurs' Organization (EO). In addition, three other Lipscomb students participated in this year's competition, which took place on Jan. 31. 
For his efforts, Miller received a $3,500 cash prize and advanced to represent the region at the National Global Student Entrepreneur Awards Competition. Miller's company, Kwizera Coffee, sells coffee from Rwanda via mobile coffee carts that can be rented for offices or events. Kwizera mobile exists to provide high quality coffee served by professional baristas straight to your office or venue. By working with us you directly contribute to our agricultural and economic empowerment programs bring hope to people's lives in Rwanda East Africa.
Also representing Lipscomb in the competition were:
Anna Belle Skidmore, runner up and last year's regional winner, founder of Granola'd
Lily Corley, tied for third place, founder of Bespoke Expressions
Nick Regas, founder of Enerza
"I am beyond grateful for this amazing opportunity to participate in this competition and to be recognized for my hard work and dedication," said Miller. "I would like to express my heartfelt thanks to all those who have supported me along the way, from my family and friends to my mentors and coaches. I am looking forward to using this win as a stepping stone to further my goals and continue to make a positive impact. EO has been so helpful throughout this process, and I am thankful for their support of young entrepreneurs."
Each of the students are actively involved in Lipscomb's Center for Entrepreneurship & Innovation. 
"We are very pleased with the performance of our students at this event. These outcomes are the result of dedication and hard work on their part. Aidan, Anna Belle, and Lily are excellent representatives of the Center for Entrepreneurship & Innovation and our co-curricular and interdisciplinary approach to developing student entrepreneurs," said Jeff Cohu, associate professor of management and executive director of the Center for Entrepreneurship & Innovation. "Results like this are the product of consistent focus and disciplined practice."
"The Center for Entrepreneurship & Innovation exists to support our student entrepreneurs as a business incubator and accelerator while also developing an entrepreneurial mindset and ecosystem, rooted within a Christian worldview, throughout the Lipscomb community," he continued.  
The Center for Entrepreneurship & Innovation serves as an academic hub for entrepreneurship, both on campus and in the community. The center aims to produce the next generation of innovative entrepreneurial leaders in the greater Nashville area and beyond. In August, the center opened the Entrepreneurship & Innovation House, which serves as a creative collaboration space welcoming students, faculty and staff from all colleges and academic disciplines across campus. The space is designed to encourage and stimulate creative aptitudes and supply a variety of resources for students from all Lipscomb's colleges to connect to research and industry and turn ideas into impact.
"The addition of the new Center for Entrepreneurship & Innovation student house has provided a tool to accelerate our mission and better serve the Lipscomb community," said Cohu.    
Students participating in the regional GSEA competition presented their businesses, leadership skills and entrepreneurial practices to a judging panel of EO members and sponsors that included NOW CFO and Director Craig Cook, Wizard Creations President Luke Freeman, Nashville Entrepreneur Center SVP of Connections Anthony Ragland, and EO Nashville GSEA Chair David Frederiksen. 
"Not only did the students have presentations that were polished and professional, but also they have legitimate businesses with huge potential," said Frederiksen. "What impressed me the most was how the students were so acutely attuned to customer demand. It's so easy to get swept up in a great idea that ultimately fails to find customers, but most of these students already have customers, revenue and a scalable business model. That is amazing for any entrepreneur, let alone one who is a full-time student."
Learn more about Lipscomb's Center for Entrepreneurship & Innovation. 
— Photo by Davis Brown