Lipscomb Students Compete in Global Pitch Competition Semifinals
Anna Belle Skidmore was awarded 4th place and $2,000 in prize money for her business Granola'd.
Keely Hagan | 615-966-6491 |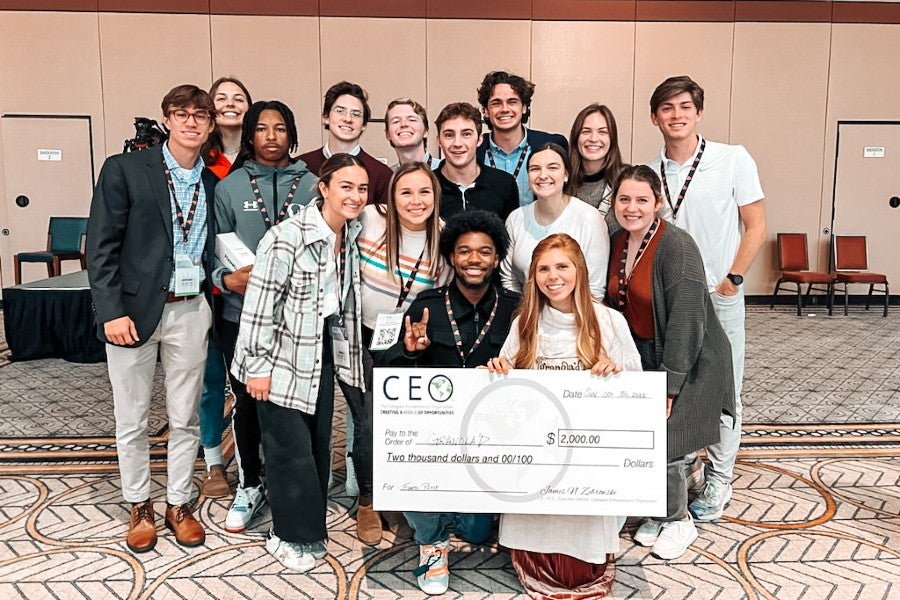 Undergraduate students Aidan Miller and Anna Belle Skidmore were among the elite 25 semi-finalists selected to compete for a chance to win part of the $20,000 in seed funding awarded at this year's Collegiate Entrepreneurs' Organization (CEO) Global Conference and Pitch Competition, October 29, in Chicago, Illinois.
More than 600 university students from across the country entered the 39th annual competition. CEO judges selected 100 finalists to submit 90-second pitch videos, from which 25 finalists were selected to attend the competition and deliver in-person five-minute pitches of their startup business ideas to a panel of judges and investors. Pitch competition submissions can be viewed at ceo.pitchpages.io.
Skidmore (junior) placed fourth, winning $2,000 in prize money for her and her sister Lila Mae Skidmore's business Granola'd. This year was the second time Miller (senior) was selected as a top 25 finalist in the competition. He pitched his company Kwizera Coffee, a revolutionary coffee supply chain that is vertically integrated, which creates larger opportunities for the farming communities. Both Skidmore and Miller plan to lead their businesses full time after graduation.
"Anna Belle and Aidan are only the second and third Lipscomb students to make it to the semi-finalists round," said Dr. Jeff Cohu, executive director, Center for Entrepreneurship and Innovation. "I am very proud of them and how they represented our program."
Cohu and Alexandria Arnette, assistant director and operations manager, accompanied Miller and Skidmore along with an additional 13 undergraduates from the Center of Entrepreneurship and Innovation to the conference and pitch competition. 
Lipscomb students Reece Collie (junior), Lily Corley (senior), Jackson Fox (freshman) and JP Coffman (freshman) finished third out of ten teams in the conference's Marketplace Simulation Challenge, where teams competed within a simulated business ecosystem to start and manage their own businesses. Their cash prize was $400. 
Dimitri Kemp (sophomore) received a small cash prize for his performance in a new entrepreneurship video game played in the extremely competitive Venture Valley Esports tournament.