Students recognized for work in multimedia journalism with regional awards
Majors and minors from the Department of Communication and Journalism recognized as finalists and winners by the Society of Professional Journalists and Tennessee Associated Press
Cate Zenzen |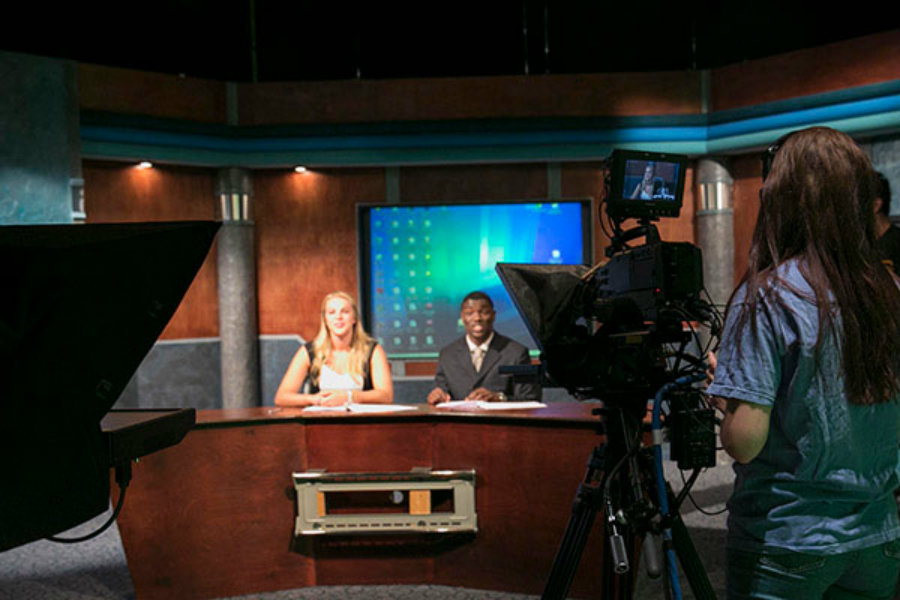 Students in the Journalism and New Media track within the Department of Communication and Journalism were awarded honors from two professional organizations for their work in multimedia journalism. The department's involvement with these external associations challenges students to submit photographs, features, stories and multimedia packages to compete with other schools.
The Society of Professional Journalists is a broad-based journalism organization that divides its national presence into twelve regions. SPJ highlights students who work to further the free practice of journalism and ethical behavior with the Mark of Excellence Awards. Lipscomb University had one winner and five finalists recognized in Region 12's awards, the region shared by Tennessee, Arkansas, Mississippi and Louisiana. 
Radio Feature, Winner: "Acoustic Pickin' Party" by Kathryn Farris.
Feature Photography, Finalist: "CMA Fest 2019" by Mckenzi Harris.
Sports Photography, Finalist: "Lipscomb guard K.J. Johnson drives against Belmont" by Mckenzi Harris.
Online Sports Reporting, Finalist: "Meet Lipscomb Basketball's Dancing Superfan, Conner Mirt" by Russell Vannozzi.
Best Independent Online Student Publication, Finalist: "Lumination Network" by Erin Franklin and Mckenzi Harris.
Best Use of Multimedia, Finalist: "Lauren Daigle Wins Big at 50th Annual GMA's Dove Awards Hosted by Lipscomb" by Mckenzi Harris, Erika Plunkett and Kathryn Farris.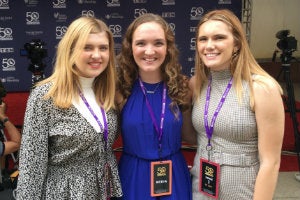 "Our winners and finalists -- in sportswriting, photography, radio, TV and multimedia -- demonstrate the broad range of excellence of our students. I'm particularly proud of the multimedia award, a runner-up to a University of Mississippi winner. Our students covering the Dove Awards on campus wrote a story, produced a video package, shot photos on both the red carpet and at the awards show and posted on social media, all in a span of a few hours," said Dr. Jimmy McCollum, professor of Communication and Journalism and adviser of Lumination Network and Lipscomb's chapter of SPJ. 
Students were also recognized for their hard work and talent in the Tennessee Associated Press Broadcasters and Media Editors Contest, a competition that honored the best in professional and college journalism in 2019. 
Online Sports Coverage/Program, First Place: "Sports Extra" by Abby Davis and Macy Deeb.
TV Newscast, Second Place: Kailey Schuyler and Tia Calvin.
 
"Both of these contests are judged by professionals. The AP awards are judged by out-of-stage journalists whose media outlets are members of the Associated Press. The Mark of Excellence Awards are judged by SPJ members in another part of the country," said McCollum.
The chance to shine is not over yet. Kathryn Farris' winning radio feature will continue on to compete in the national SPJ competition, results to be released later this summer. National winners are then honored at the annual Excellence in Journalism convention in the fall, this year in Washington, D.C. Lipscomb University was awarded Chapter of the Year within its region at this event last fall.
"We've had a national winner the last two years, and every year it's a pleasure to see our student's teamwork and talent," said McCollum. 
The school of Journalism and New Media within the Department of Communication and Journalism creates professional and reliable storytellers. Students learn by experience with classes in broadcasting, interactive media, and writing. The school also hosts Lumination Network, Lipscomb University's official student news service. Made up of students from all majors, the network publishes news in various formats to share with the Lipscomb community.