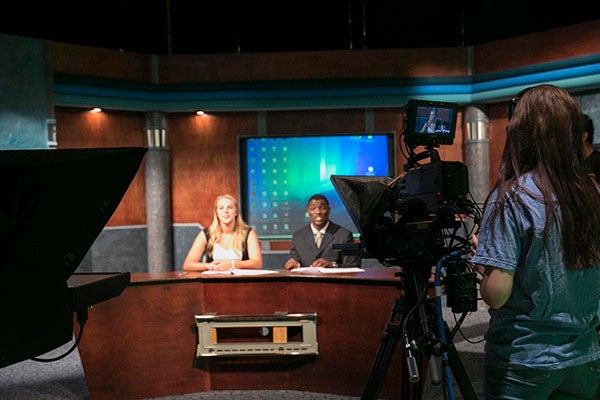 Program Overview
Program Overview
Perhaps more than ever, there's a need for reliable news sources throughout our world. Professional storytellers are needed — and we can help you become one. Learn to tell stories as a part of a traditional newsroom, as a freelancer in new environments or as a writer for broadcast, online and print outlets. You will learn how to create documentaries and videos, produce interactive media content, and write in captivating ways. 
Our graduates boast a 96 percent placement rate in the field, and that begins here. Our experienced faculty will guide and mentor you, so that you can create experiences tailored to your interests. You will have the opportunity to work for Lumination Network, our in-house, student news organization. You will have access to state-of-the art equipment and up-to-date software for editing and producing. You will learn to be an adaptable professional in an ever-changing field.
Because we're part of a university with a history of over 125 years of Christian focus and teaching, we strive to do all of this in a way that instills the importance of integrity, honesty and truth informed by a strong liberal arts core.
Courses
Courses
Specific courses required:
CO 1014 - 21st Century Media

CO 2144 - Multimedia Storytelling

CO 2223 - Image, Motion, and Sound

CO 3013 - Cross-Cultural Communication

CO 3113 - Web and Mobile Journalism

CO 3553 - Communication Law and Ethics

CO 3573 - Crisis Communication

CO 3613 - News Reporting

CO 3793 - Television Newscast

CO 3911 - Practicum in Journalism and New Media (taken twice)

CO 4023 - Internship in Journalism and New Media

CO 4113 - Data and Interactive Journalism

CO 4813 - Great Ideas: Journalism and New Media

IT 1213 - Graphic Design Studio



Six hours selected from:
CO 3413 - Media History

CO 3593 - Innovation in Media

CO 3603 - On-Camera Delivery

CO 3623 - Advanced Reporting

CO 3653 - Media and Culture

CO 4213 - Sports Reporting



Three hours selected from:
CO 3633 - Digital Audio Storytelling

CO 3643 - Video Production and Documentary Production
Internship
Become more competitive in the job market with an internship related to your interests. You'll gain experience and boost your exposure. An internship will also help you learn whether you've chosen a career you'll enjoy.
Expert faculty, small class sizes
Learn from award-winning, experienced faculty who actually care about you. Our small class sizes allow us to get to know you personally. We lead an approachable community within our respective programs. Our faculty connections are the experts on their subject matter, too.
Nashville
A big city. An even bigger opportunity. We consider Nashville an extension of our classroom, and as a leading city in many industries, that means you'll gain experience and insight you won't find anywhere else.
Jimmy McCollum

Professor

Jimmy McCollum is a professor in the department, where he has taught since 1989 (after attending Lipscomb kindergarten through college). He earned his M.S. at Tennessee and his Ph.D. at...

Learn More

Sarah Gibson

Associate Professor of Communication

Sarah Gibson earned her B.S. in Electronic Media from Abilene Christian University and her MFA in Radio, Television and Film from the University of North Texas. While at North Texas...

Learn More

Alan Griggs

Chair, Communications and Journalism

Alan Griggs is a senior manager of communications with diverse experience including television news reporting and management, political and corporate communications and teaching. In his role as a media consultant,...

Learn More

Aerial Ellis

Instructor

Aerial Ellis is a gifted speaker and strategist who launched her first public relations firm at the age of 22. Since, she has become sought-after for her ability to help...

Learn More
Career Paths
Reporters, Correspondents, and Broadcast News Analysts
Reporters, correspondents, and broadcast news analysts inform the public about news and events happening internationally, nationally, and locally. They report the news for newspapers, magazines, websites, television, and radio.
Film and Video Editors and Camera Operators
Film and video editors and camera operators manipulate moving images that entertain or inform an audience.
Writers and Authors
Writers and authors develop written content for various types of media, including advertisements; books; magazines; movie, play, and television scripts; and blogs.