Lipscomb collegiate chapter of SPJ wins Region 12 Chapter of the Year
Students attended the Excellence in Journalism Convention in Texas to accept the award
Cate Zenzen |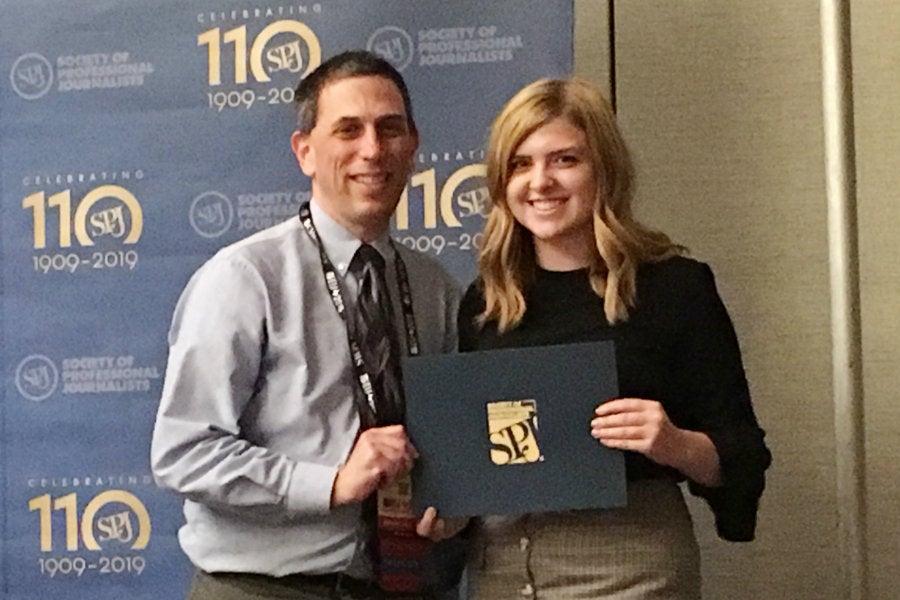 The Lipscomb University Society of Professional Journalists student chapter was awarded Chapter of the Year within its region at the Excellence in Journalism Convention earlier this month. 
The Society of Professional Journalists, or SPJ, is a national organization divided into 12 regions across the country; Tennessee lies within Region 12 with Arkansas, Mississippi and Louisiana. Each year the society holds one regional and one national conference that provides opportunities for student and professional chapter members to learn from and network with industry experts. 
This past spring, the Lipscomb chapter cohosted the Region 12 conference with the Middle Tennessee professional chapter. Jimmy McCollum, professor in the department of communication and journalism, said he values opportunities like these for students to associate with professionals in the field. He suspects this involvement was directly related to the award the chapter received at the national conference.
"To a large degree our co-hosting the regional conference is what prompted the region to give us that nice honor," said McCollum. 
Kathryn Farris, a journalism and new media major, is president of the Lipscomb SPJ chapter and accepted the award on behalf of the chapter. Farris is also on the editorial staff of Lumination Network, the campus student news service, and enjoys these events because they allow her to collaborate with and learn from other journalism students.
This year the national conference was in San Antonio, Texas, on the first weekend of September. McCollum, Farris and four student chapter members joined student and professional chapter members from across the country in a weekend of skills workshops hosted by industry experts. These included representatives from large media outlets such as CNN, NBC, CBS and the Wall Street Journal.
McCollum, a frequent attendee of SPJ events, said a highlight for students each year is the presentation of the Lifetime Achievement Awards. This year's winners, Scott Pelley of CBS News and John Quinones of ABC News, provided insights for young journalists and shared stories from their own careers. These presentations were special to Farris and her fellow chapter members. 
"We talked as a group after listening to them and felt inspired," said Farris. "It reaffirmed our love for journalism."
As an educator, McCollum said he enjoys the annual session led by Al Tompkins, known as "Al's Cool Tools." This presentation is centered around new apps, websites and tricks of the trade journalists can benefit from. McCollum said he takes Tompkins suggestions into his classroom to keep his students up-to-date. 
For Farris and McCollum, it was an honor to be recognized as Chapter of the Year in Region 12, but even more special to meet professionals and students within SPJ. 
"Being involved in the Society of Professional Journalists and Lumination have been really good learning opportunities for me," said Farris. "I've gotten a lot of experience and opportunities from them."