Student journalists capture nine awards at SEJC's Best of the South competition
Lipscomb students took home the fifth-most awards and the most in the state of Tennessee.
Logan Butts |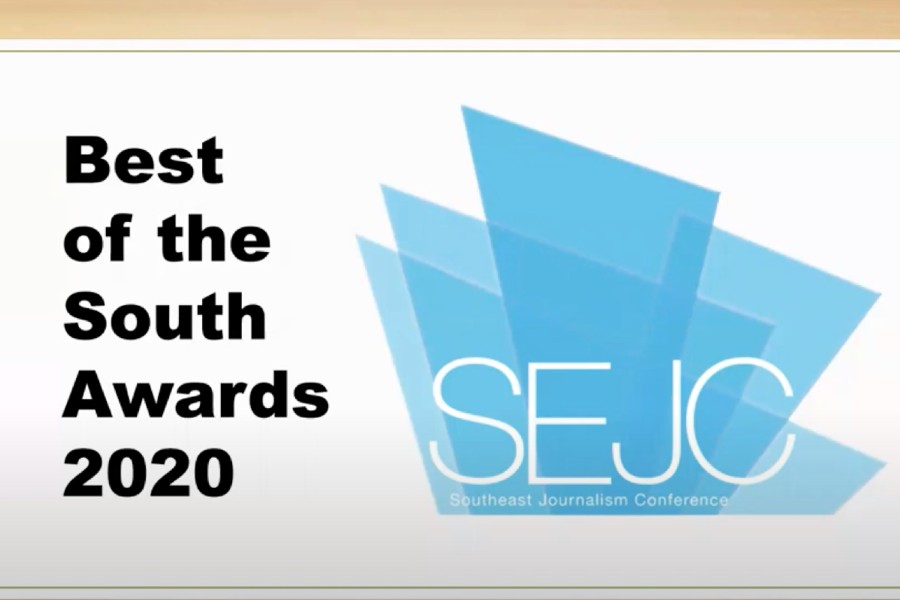 College journalists representing 29 universities were honored virtually at the 33rd annual Southeast Journalism Conference's (SEJC) Best of the South Awards on Friday. 
Students from Lipscomb's Department of Communication and Journalism earned nine awards, fifth-most among the competing universities and the highest number of any school in Tennessee. 
Five students were honored for their outstanding work that was published, aired, or distributed from November of 2019 through November of 2020. The university also earned overall awards for Lumination, the student-run news and television network, and The Bison, the student-run radio network. The individual and overall winners for Lipscomb include: 
Benjamin Browning -- First Place, Best Radio Hard News Reporter
Mckenzi Harris -- First Place, Best Multimedia Journalist
Micah Kennedy -- Fourth Place, Best Television News Feature Reporter
Danny Kotula -- Second Place, Best Radio News Feature Reporter
Erika Plunkett -- First Place (Tie), Best Sports Writer
Lipscomb University -- First Place, Best College Radio Station
Lipscomb University -- First Place, Best College Audio News Program
Lipscomb University -- Third Place, Best College Television Station
Lipscomb University -- Fifth Place, Best College Website
The awards ceremony was hosted by Lipscomb associate professor of communication and journalism Jimmy McCollum, the adviser for Lumination, as well as Belmont's Dorren Robinson. The livestream of the awards ceremony can be found here. 
Among the top winners of the night were Georgia State University with 19, Samford with 14, and Mississippi State University and the University of Mississippi each with 13.
Lumination Network is Lipscomb University's official student news service comprised of student journalists from all majors who have a desire to submit various forms of media to be shared with the Lipscomb community. 
Lipscomb University's Department of Communication and Journalism is housed in the College of Liberal Arts & Sciences. It offers undergraduate degree programs in public relations, journalism and new media, and advertising.