New online entertainment management program takes center stage
Whether on the road or at home in the studio, Lipscomb Online's new entertainment management program offers those in any aspect of the industry a flexible option for completing a college degree.
Kim Chaudoin |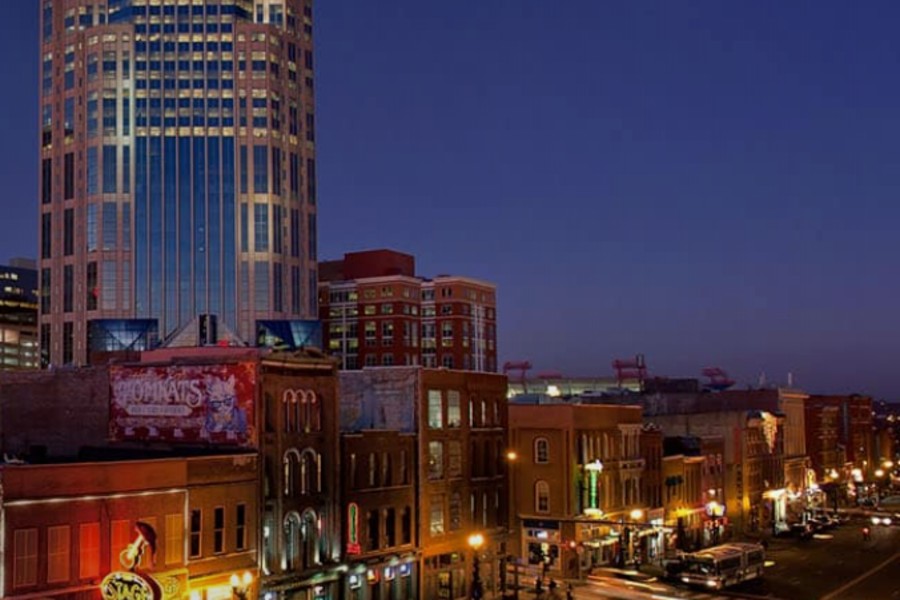 Lipscomb's online entertainment management program highlights the financial and operational aspects of entertainment, designed to produce industry-savvy business leaders. 
"Our students can build their knowledge and skill set alongside some of the field's most innovative minds," says Nina Morel, dean of Lipscomb's College of Professional Studies. "These unique skills can propel students higher in their field, allowing them to manage their own entertainment career or meaningfully contribute to a leading organization."
Students may earn up to 30 credits in the College of Professional Studies' competency-based assessment center simulation toward this 126-hour degree. The program offers a Bachelor of Science degree as well as a Bachelor of Professional Studies degree and is designed for the working artist and aspiring entertainment entrepreneurs. The online program is offered in two formats — a traditional 8-week term (SetPACE) or four months of unlimited courses (FlexPACE). With the pacing of the courses flexible, students can work more quickly. The program is offered in partnership with Lipscomb's George Shinn College of Entertainment & the Arts.
"This program is designed to produce business-savvy leaders who will be able to fit in in various aspects of the entertainment industry and equips you with skills you can use across the board," says James Bush, senior recruiter of undergrad admissions in the College of Professional Studies and Lipscomb Online. "Education matters. It makes you more well rounded and helps you meet your long-term career goals."
The competency-based courses can be done at any time, even on a tour bus or a photo shoot. Since the pacing is flexible, students can work more quickly between gigs, and slow down when time is limited. The competencies students learn will help them manage the for-profit and nonprofit business side of entertainment, but they are also transferable to other industries.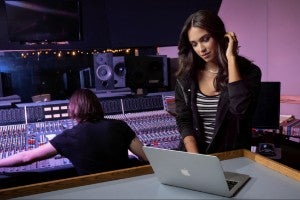 "A lot of my friends in the music industry have either tried to go to school for a while or started college but had to drop out once they started touring," says singer Moriah Peters, a recording artist since 2010. "College has always been important to me, but I could not give up touring to get my degree. Lipscomb Online lets me do both. It's very much in the same rhythm of a musician's schedule."
Peters, a student in Lipscomb's entertainment management program, earned 30 credits through Lipscomb's Assessment Center. 
"I earned that credit based on my experience of writing and releasing music," she says. "So much of what we do as musicians is to do our best to cast vision and to empower the people around us to move toward that vision and to find a connection to that vision. I just love that the day I spent in the competency center validated all of the years of investing in the communication and organization to have someone call you and say you are getting credit for actual hours toward your degree for all the work you've developed in the past five to six years that was so encouraging to me." 
Students enrolled in Lipscomb's online entertainment management program learn from practicing musicians, producers and other artists from Nashville and Los Angeles who have been successful combining their artistic talent and business skills.
 
College has always been important to me, but I could not give up touring to get my degree. Lipscomb Online lets me do both. It's very much in the same rhythm of a musician's schedule. — Moriah Peters
One of those industry veterans who is on faculty is Shun Lee, an actor, author, attorney and CEO and creative principal of Genuine Productions LLC as well as president and creative director of The Greenhouse Arts & Media, nonprofit creative arts organization. He believes a college education plays an important role in one's success in the entertainment industry. 
"The various disciplines in the entertainment industry demonstrate how entertainment is both an art and a science. These disciplines are in a constant state of change and growth as technology breaks new barriers, as creative and aesthetic trends ebb and flow, and as the entertainment business model is modified and encounters new players over time," says Lee, who holds an undergraduate degree from Creighton University and a Juris Doctor from the University of Iowa. 
"In order to be truly effective in the entertainment industry, an individual must be well versed in all of these areas," he continues. "In the years that I have been in the entertainment industry as a professional, I have seen over and over again that the individuals who invest the time and discipline into obtaining an education are the ones who are most prepared to tackle this complex industry and who move forward in their careers as a result."
Students develop the competencies of communicativeness, drive/energy, influence, organizing and planning, problem solving and decision making and relationship building. Specific courses  include servant leadership, marketing concepts, management principles, nonprofit arts management, entertainment business and entrepreneurship and the arts.
In addition to offering students flexibility, Lipscomb's online program provides students expert faculty who are fully accessible to students to provide one-on-one coaching and online library database so students can work on-the-go.
Want to know more about Lipscomb Online's entertainment management program as well as its other degree programs? Visit www.lipscomb.edu/online.