Lipscomb sets record with seven Fulbright semi-finalists
The Fulbright Scholars Program is one of the most competitive – and prestigious – study programs in the country.
Kim Chaudoin |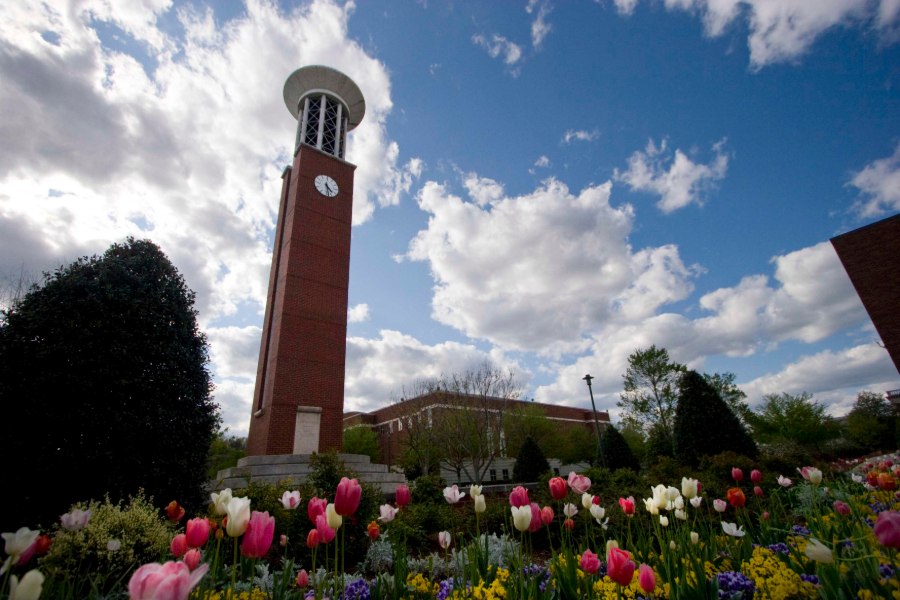 Each year, scholars are selected after a rigorous application process. In the last 12 years, Lipscomb University has produced seven Fulbright Scholars.
This spring, Lipscomb has the potential to add significantly to that count as five current students and two alumni have been selected as semi-finalists in the selection process. This is the first time in university history that Lipscomb has produced seven semi-finalists. Previously, the most semi-finalists who have been selected at one time has been two. 
"For a school the size of Lipscomb, this is remarkable," said Paul Prill, director of Lipscomb's Honors College. Most of Lipscomb's Fulbright semi-finalists and finalists in recent years have been part of the Honors College. "I'm excited for the university, but I'm more excited for the students."
The Fulbright Program, sponsored by the U.S. Department of State, places U.S. scholars in schools or universities overseas, improving foreign students' English language abilities and knowledge of the United States while enhancing their own language skills and knowledge of the host country. Lipscomb students and alumni selected as 2019-2020 semi-finalists and the programs and countries for which they have applied are:
English Teaching Assistant Program:
Lila Banach, senior English major, South Korea
Maribeth Beyer, senior Law, Justice and Society major, Honduras
Melissa Edberg, graduate student in the Master of Education: Instructional Practice program (entered teaching through Teach for America), Spain
Hannah Logsdon, graduate student in the Master of Education: Instructional Practice program (entered teaching through Teach for America), Greece
Anissa Plattner, 2016 education graduate, Colombia
Research
Lauren Borders, 2018 communication graduate, Uruguay
Caleb Reagor, senior molecular biology and applied mathematics double major, Israel
Fulbright semi-finalists were notified this week of their selection to continue in the application process to vie be selected as a Fulbright Scholar. Those selected as finalists will be notified between March and May. Fulbright U.S. Scholar Program offers teaching, research and combination teaching/research awards in 137 countries for the 2019-2020 academic year. Opportunities are available for college and university faculty and administrators as well as for professionals, artists, journalists, scientists, lawyers, independent scholars and many others.
 
For a school the size of Lipscomb, this is remarkable. — Paul Prill, director of the Honors College
Beyer said after spending time abroad and volunteering at Nashville's Casa Azafran as an ESL teacher, she knew she wanted to apply to the Fulbright Scholars Program. 
"I have always loved learning about other cultures as well as promoting sustainable programs- such as providing an English education- for youth in other countries, and the Fulbright Student program provides an opportunity to do both."
She applied to be an English Teaching Assistant in Honduras because she has served in Honduras, both with mission teams and independently through an internship. 
"The summer after my sophomore year, I lived and worked with a boys' home called Jovenes En Camino for two months. The experience changed my life, and knew I wanted to find a way to go back and continue working with the people and in the culture I had come to deeply love and appreciate," she said.
 
A student at Lipscomb since a fifth grader at Lipscomb Academy, Beyer said she has learned how to be a critical thinker through her educational experience. 
"The classes I have taken as a part of the Law, Justice, and Society program challenged me to grow, and I continue to learn how to think about issues from all sides and consider holistic solutions to societal problems," said Beyer. "I have learned how to think critically through the lens of faith and been taught how to practically apply my beliefs in the real world." 
Reagor said he applied to the Fulbright Program to "to gain a new perspective on the human experience." He has applied to do research in Israel at the Weizmann Institute of Science.
"I firmly believe that to understand what it means to be human, one has to understand the basic experiences of people drastically different from one's self. This is important in both scientific research—a process predicated on seeing the world from new vantage points—and life in general," said Reagor, a native of Denver, Colorado. "Israel is one of the most diverse countries in the world, and so by conducting scientific research there, I hope to sharpen both my scientific and humanistic skills." 
In addition to his studies on the Lipscomb campus, Reagor earned a National Science Foundation fellowship last summer. As part of that fellowship, Reagor conducted research with Dr. James Faeder, director of the Ph.D. program in computational biology at the University of Pittsburgh School of Medicine, a role he continues today.
"It's a great honor to be selected as a semi-finalist, but more importantly, it's a reflection of the fantastic mentors I've had in my life, both at Lipscomb and at Pitt," he said." The highest praise I can give to Lipscomb is that it has helped me foster meaningful relationships with countless professors and mentors. The types of relationships I've been able to maintain with the faculty have shaped my life and who I am as a researcher, thinker and person."
He added, "For the same reasons why I've gotten where I am in the Fulbright competition, I've gotten four graduate school interviews, one at an Ivy League university (Cornell). I'm pretty proud of that. I think it's a testament to how serious Lipscomb is academically." 
A senior English major from Prattville, Alabama, Banach applied to the Fulbright program after her friend, Hannah Minor ('17), was selected as a scholar (see more on Minor below).
Banach selected the English Teaching Assistant Program in South Korea because it is a place she has grown to love over the last two summers in her work there as a teacher. 
"When I first visited South Korea as a teacher, all I knew was that it was a good place to go if you want to teach English as a foreign language. I soon came to learn that, besides its wealth of opportunities to pursue English teaching, Korea has a very rich and complicated history of politics, advocacy, language and literature, all things that I love learning about," said Banach, who will graduate from Lipscomb in May.  
"Besides the fact that I want to learn more about the history of the Korean Peninsula and its relationship with the surrounding nations, my first love is linguistics, especially linguistic anthropology, sociolinguistics and second-language acquisition," she continued. "The history of the Korean language is particularly unique, and language scholars are still unsure of the origins of many aspects of the Korean language. These uncertainties create space for further research in the field. I am interested in studying the relationship between Altaic languages like Korean, Turkish, and Mongolian and European languages like Basque and Finnish. I am also interested in combining my studies in second-language acquisition with research in sociolinguistics in an effort to enrich my pedagogical skills in the classroom."
Banach credits Prill and the faculty in Lipscomb's Department of English and Modern Languages with preparing her for this opportunity. 
"The department has always encouraged us to engage in the academic world outside of the university, and professors in the department are always gracious with their time and academic resources in an effort to get us where we want to be," she said. "My experience in the major has also been extremely culturally informative, and I'm very thankful for that." 
She said her English courses provided opportunities to pursue research in her fields of interest and cultivate a love for research topics that are relevant to the Fulbright ETA grant program — areas like applied linguistics, second-language acquisition and translation theory.
Prill, who is the Fulbright advisor on campus, said the Honors College hosts workshops each year to make students aware of national competitive scholarships, including the Fulbright Program. He is quick to note, however, that preparing students for these opportunities is a university-wide effort.
"The Honors College in many cases gets people to Lipscomb and pushes them to expand their understanding of what they should be doing at the university, but the departments are the ones who are providing the research opportunities, are mentoring and teaching them, and writing letters of recommendation and so on," said Prill. 
"Preparing students for competitive programs like the Fulbright Scholars Program is a collaborative effort with the academic programs, study abroad, mission programs and other opportunities students have at Lipscomb," he continued. "And the students themselves have a lot of initiative to find and prepare for these opportunities."
The Honors College is a rigorous, highly competitive, multi-disciplinary academic challenge for students who are committed and determined to plan for their future success as soon as they set foot on campus. The honors curriculum provides students with the opportunity to enhance their academics through in-depth critical thinking projects and research studies, expand their perspective through intentional service and community engagement, and take part in summer internship and development opportunities — all of which occurs alongside a cohort of like-minded peers with similar aspirations and goals. 
Seven Fulbrights in 12 Years
Last year, Hannah Minor ('17) became Lipscomb University's seventh Fulbright Scholar to be selected by the international program in the past 12 years. Minor, from Kennewick, Washington, began her 10-month stint as a teaching assistant in Germany in fall 2018. 
Lipscomb's seven Fulbright Scholars since 2006 have gone on to exciting careers in diplomacy and international journalism. One is studying at Georgetown Law School, and two did graduate research in liberation theology and how education affects underserved girls throughout the world during their Fulbright placements.
Check out a few more interesting facts about Lipscomb's Fulbrights:
The Fulbright Scholars are: Emily Royse Green (2006), Katie Jacoby (2009), Bethany Eldridge (2011), Jared Brett (2013), Nicole Marton (2016), Courtney Stewart (2017) and Minor.
Five of Lipscomb's most recent Fulbright Scholars have held double majors, with one of the two being a foreign language.
Six have been members of the Honors College program at some point during their college career.
One, Brett, was a Teach for America participant who graduated from the University of California at Berkeley and earned his Master of Education from Lipscomb.
Six of Lipscomb's Fulbrights participated in the university's semester-long study abroad programs: five in Vienna, Austria, and one in Santiago, Chile.
Want to know more about Lipscomb University's Honors College?