Homecoming & Family Weekend to include women's ASUN soccer final championship
Homecoming & Family Weekend 2019 will take a new approach to a beloved tradition: alumni's favorite's along with new experiences for students' families.
Kalli Groce |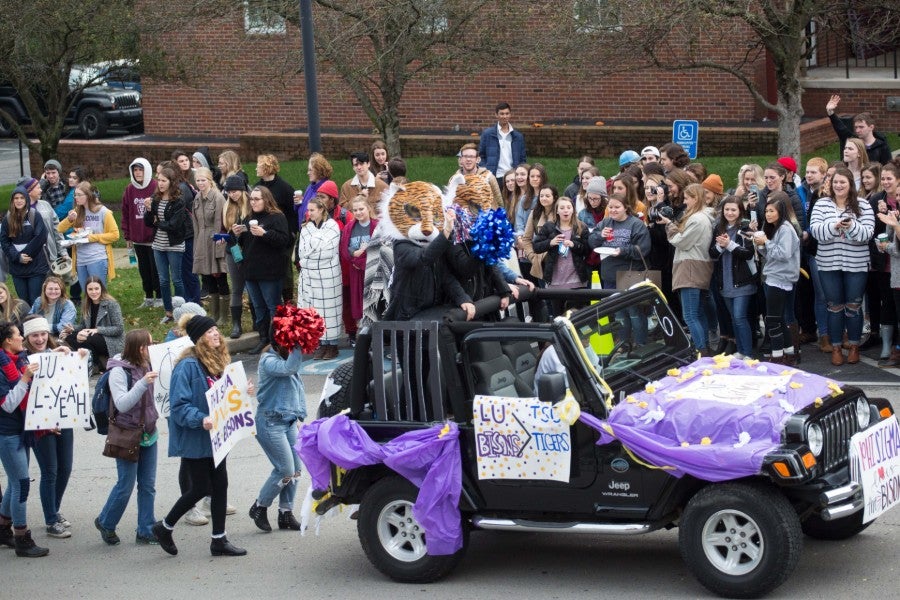 This year, Family Weekend and Homecoming are combining into one big, multi-day celebration. The celebration begins with pre-events on Thursday, Nov. 7 that roll into the full weekend schedule on Friday, Nov. 8 and Saturday, Nov. 9.
In addition, Sunday's defeat of the NJIT Highlanders by the women's soccer team means our student athletes will be playing Kennesaw State in the ASUN women's soccer championship game on Saturday, at 7 p.m. at the Lipscomb soccer complex, just in time for the Homecoming crowds to witness the competition.
But that's just one of the many special activities available on Nov. 7-9. Homecoming & Family Weekend has a packed schedule of events and activities for everyone to enjoy:
For students and their families: Receptions with the Dean and Provost, Pancakes with the President, an A Cappella Singers concert, free flu shots provided by the College of Pharmacy, the Bison Square Fair and Worldview: A Photography Exhibit of global learning student's photos from their adventures.
For alumni: Milestone reunions and activities for Golden Circle alumni, Class of 1969 and Class of 1979 reunions, HymnSing (experience chapel once again), the Young Alumni Reception and the Black Alumni Reception among other actrivities.
Athletic events and reunions: Bison Women's Basketball Alumni Reception, volleyball game verses NJIT on Nov. 8, cheerleader reunion, Athletics Hall of Fame Luncheon, men's Bison basketball alumni players reception, track reception, men's Bison basketball against MTSU on Nov. 9, plus many more events!
"Lipscomb University is busy putting the final details and touches together to welcome hundreds of alumni and current parents to Lipscomb this week," said Stephanie Carroll, assistant vice president for annual giving and alumni and parent engagement.
"The Office of Alumni and Parent Engagement is always excited to see so many alumni reconnect with one another and interact with faculty, staff and students on campus. We are especially excited this year to have combined Homecoming weekend with Family Weekend. This has allowed us to have even more events for everyone and created some new family-friendly events."
The weekend is filled with activities for parents and students as well as reunions, receptions and events that bring alumni back to campus. Homecoming & Family Weekend is the biggest Lipscomb family gathering of the year. This is your best opportunity to gather with old friends, current students and their families, and former mentors to fellowship together, cheer on the Bisons and enjoy a variety of special activities, including the following: 
Homecoming & Family Weekend Parade
Friday, Nov. 8 at 1:30 p.m.
On-campus  
Come one, come all to the Homecoming & Family Weekend Parade! This parade, filled with students, faculty and staff, will kick off a weekend filled with fun, friends and new memories. The route will travel throughout the Lipscomb campus, so pick a spot and get ready for the fun.
Lipscomb Honors Reception, Dinner and Program
Friday, Nov. 8
5 p.m.: Lipscomb Honors Reception
6:30 p.m.: Lipscomb Honors Dinner and Program
George Shinn Center
Cost: $150 per person.* Business attire. RSVP required.
The Lipscomb Honors is the signature event of Homecoming weekend. Lipscomb Honors are the highest honor conferred upon alumni and recognize the inspiring ways Lipscomb alumni are making a profound impact in the world.
The recipients of the fourth annual Lipscomb Honors include Lipscomb University alumni Ernie Clevenger of Brentwood; Jeffery W. McGruder II of Brentwood; and Jean Shelton Walker of Suffolk, Va. Clevenger is president of CareHere, LLC and is publisher of "MyHealthGuide Newsletter," a weekly newsletter with a distribution of more than 4,500 subscribers in the self-funded health community. McGruder is a financial advisor with Pinnacle Financial Partner and covers the greater Nashville market. Walker, who practices in her maiden name of Jean E. Shelton, M.D., is a professor of physical medicine and rehabilitation at Eastern Virginia Medical School, where she is a leader in pediatric rehabilitation medicine.
Come experience the brand new George Shinn Center and cap off the evening with dinner and the awards program in the beautiful event hall. Read more about this year's honorees!
Note: $100 is tax deductible. Gifts to Lipscomb University are tax-deductible to the extent allowed by law.
IDEAL Fourth Annual Bison Boogie 5K
Saturday, Nov. 9 at 7:30 a.m.
University Park Drive
Cost: Entry fee is $15 per student and $25 per non-student. Options to indicate your T-shirt size and purchase extra shirts are available when registering. 
Come and join the fun for the fourth annual Bison Boogie 5K to benefit the IDEAL scholarship fund. Igniting the Dream of Education and Access at Lipscomb (IDEAL) is a two-year certificate program that is uniquely designed for students with intellectual or developmental disabilities who want to receive the full Lipscomb experience to prepare for their future. 
This year along with the 5k, participants have the opportunity to play in a number of games for prizes. Games include a Bungee Run, a Rock/Paper/Scissors competition and more. All entry fees include a race day T-shirt, snacks and drinks. If you are interested in donating to the IDEAL scholarship fund, please reach out to Andrea.Pewitt@lipscomb.edu.
Lipscomb Athletics Hall of Fame Reception and Luncheon
Saturday, Nov. 9 at 11:30 a.m.
George Shinn Center
 
Cost: Tickets are $25 per person and registration is required.
This year's Hall of Fame induction luncheon will honor: Katie Beth Pate Allen (Women's Basketball), Mickey Barker (Men's Golf), Robbie Davis (Meritorious Service), Kristin Peck Ryman (Softball/Volleyball) and Courtney Boynton West (Women's Basketball).
Homecoming Musical "Bright Star"
Saturday, Nov. 9 at 7:30 p.m.
Collins Alumni Auditorium
Cost: Tickets are $15 for adults, $10 for faculty, staff, alumni and current parents of undergraduate students. Tickets are free for current Lipscomb students.
Inspired by a true story and featuring the Tony®-nominated score by Steve Martin and Edie Brickell, "Bright Star" tells a sweeping tale of love and redemption set against the rich backdrop of the American South in the 1920s and '40s. When literary editor Alice Murphy meets a young soldier just home from World War II, he awakens her longing for the child she once lost. Haunted by their unique connection, Alice sets out on a journey to understand her past, and what she finds has the power to transform both of their lives. An uplifting theatrical journey that holds you tightly in its grasp, "Bright Star" is as refreshingly genuine as it is daringly hopeful.
Please join us for this fun weekend at Lipscomb.