Graduate Spotlight: Early interest in airplanes propelled Yeazell to pursuit of engineering degree
Kim Chaudoin |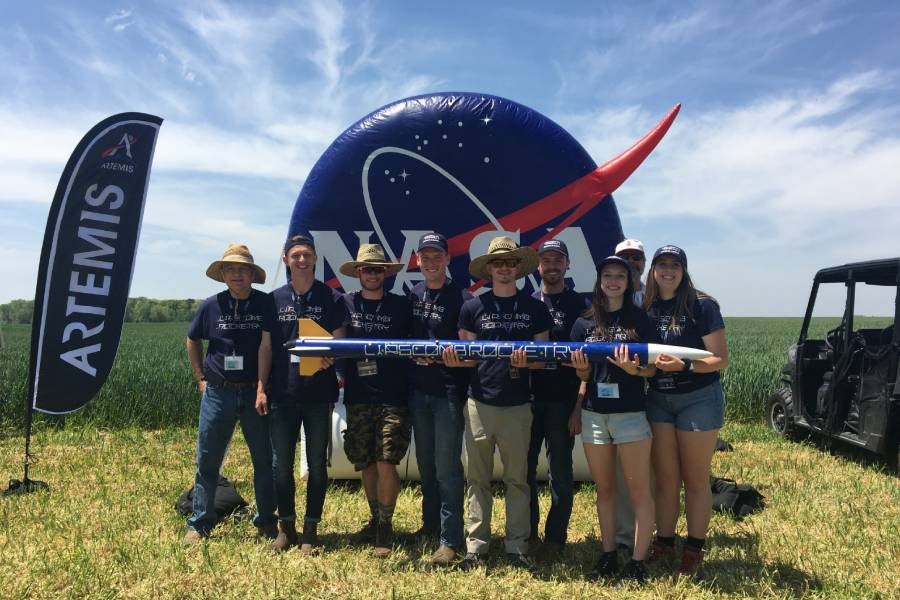 When Eric Yeazell was a toddler, he discovered airplanes. He quickly became intrigued with learning how objects fly. 
"The thought of flight fascinated me so much that I attempted to make myself fly with different designs consisting of trash bags, dowel rods and cardboard," recalls Yeazell, of Greensboro, North Carolina. "Feeling the aerodynamic drag against the fabricated wings was enough to convince me that I fell for a longer period of time and thus flew." 
As Yeazell got older, he became interested in a multitude of hobbies such as model airplane building, homemade go-karts and motocross. 
"These hobbies were useful when I began to drive since I was able to learn how to repair vehicles from the community members that I was in," he says. "Fixing cars is what sparked my passion to help others using my technical skills since I would volunteer to fix vehicles for friends, family, coworkers and complete strangers for no money. This is something that I still do to this day since it still brings me joy." 
During his senior year in high school, Yeazell took a physics class in which everything he learned "fascinated" him. 
"This influenced me to seek a career that involved similar science and thinking, and mechanical engineering was what felt right," explains Yeazell. 
So, Yeazell decided to pursue a degree in mechanical engineering at Lipscomb University's Raymond B. Jones College of Engineering.
"I chose Lipscomb because it had ABET-accredited engineering programs, was within driving distance of my home and allowed me to get closer to God," remembers Yeazell. "Interestingly, it was the only college I applied to. After I submitted my application, I prayed for it to be accepted so that I could get closer to God and achieve a happy, successful career."
It feels great that I finished my degree but it's also sad because during this journey I have made one-of-a-kind connections with amazing people. It is easy to leave the place but hard to leave the people. — Eric Yeazell
During his sophomore and junior years, Yeazell was involved with the college's BAJA SAE team. He worked in the shop and did whatever was needed to get the vehicle together. This past year, Yeazell was part of the NASA USLI team, for which he was the vehicle technical lead. He was responsible for the design, analysis, simulations, motor selection, testing and construction of the rocket itself as well as for reporting all of this in the reviews the team submitted and presented to NASA.
Yeazell credits a number of professors with shaping his experience and life while at Lipscomb.
"Dr. (Mark) Miller and Dr. (Joseph) Tipton are the sole reasons why I was able to get into my degree. Dr. (Carroll) Wells inspired me to make what I learned in class a basis of my knowledge instead of just getting through it and forgetting it," he says. "Dr. (Richard) Gregory taught me that a good engineer is both confident and humble and that a failure in class is much safer than a failure in the field. Dr. (Kirsten) Dodson's professionalism, patience and conflict resolution skills have rubbed off on me." 
"Dr. (Fort) Gwinn showed me how to be comfortable when working in an inexact environment and provided wisdom from years of experience working as an engineer. Dr. (Max) Collao consoled me on career decisions and connected me with his previous colleagues so I can learn more about computational fluid dynamics," Yeazell continues. "Dr. (David) Elrod was able to bring everything together when it was in disarray and helped prepare me for job interviews. Both Professor Sam Wright and Machinist Mark Chandler were key mentors in teaching me how to make my designs a tangible product that worked. All of these wonderful people built the steps to my success. My experience at Lipscomb has been very positive."
This spring, Yeazell completed a Bachelor of Science degree in mechanical engineering and a minor in applied mathematics. 
"It feels great that I finished my degree but it's also sad because during this journey I have made one-of-a-kind connections with amazing people," shares Yeazell. "It is easy to leave the place but hard to leave the people."
Up next for Yeazell is the launch of his engineering career. He has accepted the role of test engineer at Blue Origin in Huntsville, Alabama. He says he is ready for this next challenge. "My degree has prepared me by teaching me fundamental engineering concepts and how to think like an engineer so I can tackle problems that I have encountered," he says. 
Yeazell has a message for those who may be embarking on a new venture or starting their college journey. 
"Growth is uncomfortable. Whether it is growing taller or growing academically, it is not comfortable," he says. "But one day you will go to put a new mark on the door sill and look down to see how much you have really grown."