Fall commencement marks beginning of new journey for more than 400 graduates
Lipscomb University honors graduates at virtual fall commencement

Kim Chaudoin |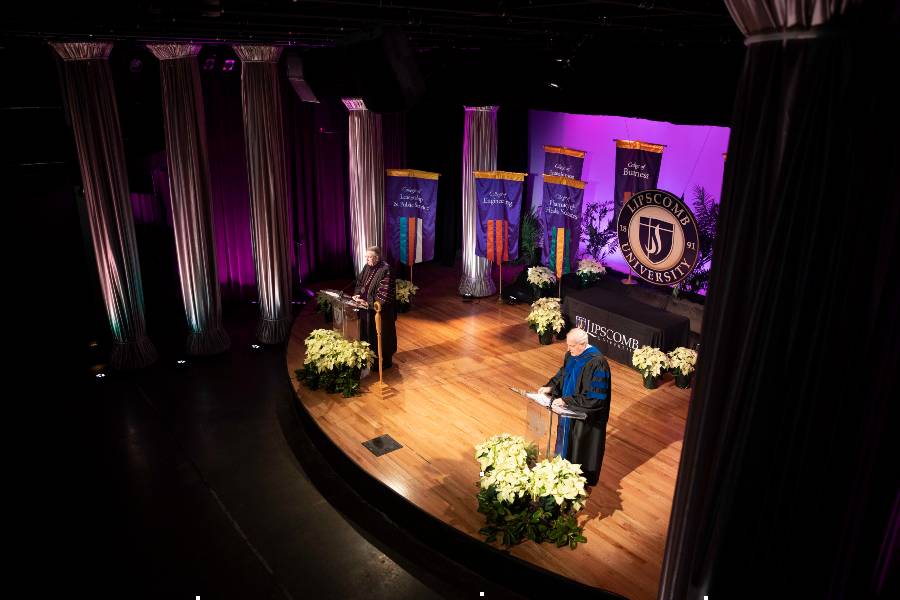 The Lipscomb community celebrated the academic achievements of its students at virtual commencement on Sat., Dec. 19. During commencement, 168 undergraduates and 250 graduate students were awarded degrees in the ceremony, which was hosted live by Lipscomb President L. Randolph Lowry and Provost W. Craig Bledsoe and featured the live reading of every graduate's name in addition to prerecorded segments. 
Students received their caps, gowns and hoods prior to graduation so they could wear their academic regalia and celebrate with family and friends at home as Al Sturgeon, vice president of student life and dean of students, and Catherine Terry, associate provost for institutional effectiveness, read all graduate names. Graduates were recognized by college. 
Carroll Wells, professor of mathematics, led a prayer and Beth Conway, professor of biology, read scripture to begin the ceremony.
READ MORE: Graduate Ruby Aguilar empowered to impact education system
In his charge to graduates, Lowry congratulated students for completing their degrees during the challenges related to the ongoing global pandemic. "Graduates, you did it," he began. "Despite these challenges you persevered."
"There are lots of great moments in an academic community but this one has something special to it," Lowry continued. "It recognizes your accomplishments. It's a statement of why we have existed as we have prepared for you to come. It really does complete what we started and what you started. This experience, whether it is at the graduate or the undergraduate level, is about transformation. It's about this experience that in some way changes who you are and captures who you can be."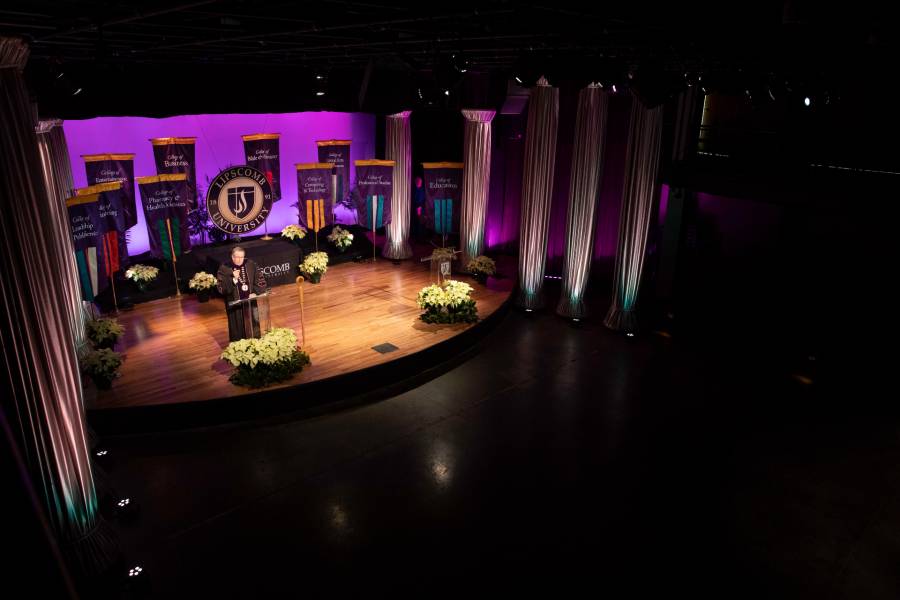 READ MORE: Graduate Kendall Austin made history as youngest delegate in DNC history
Lowry encouraged graduates to think about the degrees that were conferred as a symbol.
"It is a symbol of not only your competence, but also your character," he said. "In addition to the competence in your field, you formed a sense of character while you were here. It is something that we are very intentional about here. Competency and character come together to define who you are and what you can be and what you will take with you."  
The Lipscomb community is celebrating a historic milestone at December commencement with its first class of students to graduate from the School of Physician Assistant Studies. The 33 students that comprise the Class of 2020 will receive the first-ever Master of Physician Assistant Studies degrees awarded by Lipscomb University. This cohort of students made university history in October 2018 as they were the first students to enroll in Lipscomb's new PA School and continue to make history as its first graduates. This culminates 27 consecutive months of work, which included earning 124 academic credits and completing a rigorous clinical component.
READ MORE: School of Physician Assistant Studies graduates first class in December 2020
Those recognized during the virtual fall commencement, along with their degrees and programs of study, include:
College of Bible & Ministry
Master's of Divinity 
Ministry and Theology: Adam Dudley Brewer, Richard Douglas Carpenter, Randy Clifford Crawley Jr., Shannon Talor O'Brien, Dawn Renee' Wisniewski
Master of Theological Studies: Melissa A. Brooks, Tyler Gregory Culp, Steven Lee Grant
Bachelor of Arts
Children's Ministry: Bailie Fite 
Theology and Ministry: Tucker Birge Keen, Johnathan Sottek 
Youth Ministry: Jane'e Allegra Duncan 
College of Business
Master of Accountancy 
Emily Marie Coates, Mahlia May Fritz, Matthew Aaron Leet, Phillip Andrew Charles McDonald, Alex William Plunk, Ying Qi, Austin Wayne Strout
Master of Business Administration
Taylor Necole Avery, Jacob Wilson Barkley, Davis Michael Brown, Micah Ryan Cantrell, Jacob John Dines, Marissa Nicole Dunn, Zuriel Santiago Godínez Almaguer, William Brandon Horton, Tyler Kent Huntzinger, Clayton Daniel Joyce, Benjamin, Connor Locke, William Blake Morgan, Margaret Oluchi Ononuju, Travis Logan Shumard, John Nicodemus Slos, Charles Lawrence Smith, David Peyton Snodgrass, Micah Raymond Spiers, Daniel Scott Steines, James Terry Jr., Thabile Shannon Tshatedi, Chandler Fitch Wavro, Lucas Daniel Young
Master of Management
Michael James Peterson 
Bachelor of Business Administration 
Accounting: Emma Joy Andrews, Maria Elena Arellano, Kelsy Ellamae Campbell, Noah Adron Schier Clark, Brittany Nicole Knox, MaKayleigh Kyanne Lackey, Zayne Christian Mills, Carlos Manuel Carrillo Tonche 
Finance: Collin Michael Brown, Zachary Jonathan Israel, Christopher John Kachmar,Spencer Marsh, Jorge Ortegon Ruiz, Caleb Ethan Papiez, Jonathan Schwind
 
Management: Mohammad Jaffar Almadan, Luisa Arteaga, Hutchins Bailey, Spencer Wyatt Burge, Morgan Nicole Burns, Ethan Charles Gray, Richard Luke Hartselle, Seth Howlett, Sabrina Nicole Keating, Thekla McCarty, Brayden Parker Melton, John Matt Merritt, James Thomas Murray, Dianna Vuong
Marketing: Chloe Caroline Allen, Kendall Austin, Madison Juliana Botsch, John Michael Comegna, Mallory Paige Grant, Kayla J Holste, Lauren Elisabeth Jolly, Samantha Joyce, Maggie Elizabeth Smith, Sarah Namubiru Taylor, Melina A. Watson, Marlea Denise Williams, Cate Zenzen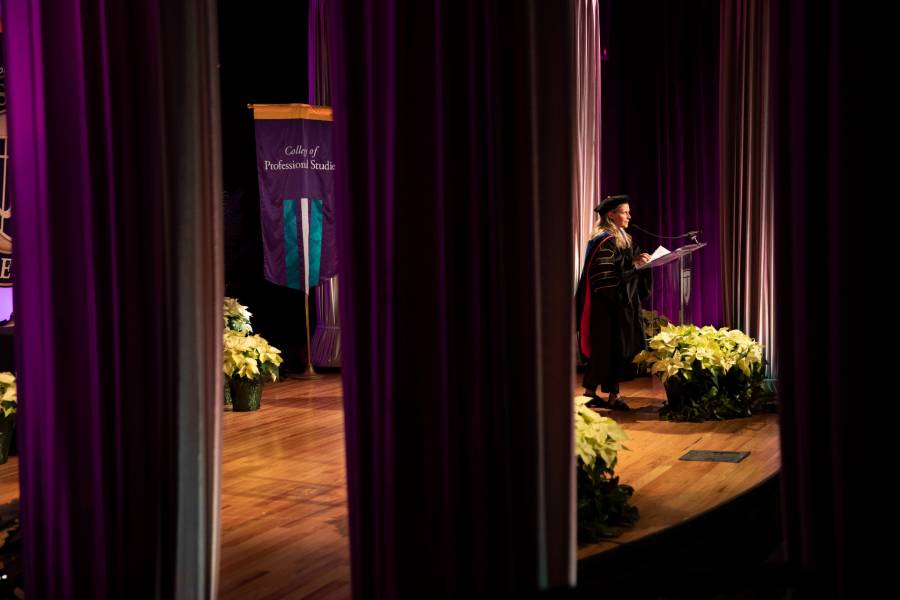 College of Computing & Technology
Master of Science
Data Science: Olivia Caroline Samples 
Information Technology: Joseph Franklin Burden, Brandon Todd Epperson, James Marvin Pugh Jr., Keely Christine Schult
Software Engineering: Sushma Firoj Shaikh 
Bachelor of Science
Game Development: Jacob Thomas Hisscock 
Information Security: Spencer Blake York 
Information Technology Management: Shantel Practice Frierson, Chandler Gillikin 
Software Engineering: Addison Bean, William Kenneth Tidwell, Paige Weber, Zachariah Westover 
College of Education
Doctorate of Education
Learning Organizations and Strategic Change: Caroline Clark Amonson, Olivia Lynn Amos-Wordlaw, Prentice C. Ashford, Alex Donyell Atkinson, Amanda LeAnn Cole, Elizabeth Layne Halbrooks Dillard, Brian Paul Ellis, Nicole Halane Glaze, Jenna Sue Hagen, Lindsay Patrice Halford, Samantha Nicole Hamilton, Alesha Marie-Christine Harmon, Karen Elaine James, George Michael Johnson II, Caleb Lee Jones, Jennifer Brooks Jones, Namayo Solomon Kendrick, Anna Lauren Levy, Yvette Reene Mallory, Audria Elise-Woodard McClure, Otis McGresham, Bryson Tre McGuire, Stacy L. Ott, Amelia Lois Elizabeth Owen, Michael Addison Pate, Sheryl Rae Reid, Carla Crigger Richards, Cassietta Marie Rogers, Ronald Christopher Stabile, Daniel Spencer Taber, Kellie Anders Tanner, Julianne Elizabeth Teap, Brittany Trapani, David Pax Wiemers, Cicely Ann Woodard
Education Specialist
Reading: Kaitlyn Margaret Benavides 
English Language Learning: Kimberly Michelle Davidson  
Instructional Coaching: Hannah Victory Fitts 
School Counseling: Carla Ann Triplett 
Technology Integration: Dan-na Ann Drew, Tanya Ann Tyus  
Master of Education
General: Danielle Rose Golub, Jianna Mirabelli  
Educational Leadership: Katherine Gay Howe, Victoria Suzanne McClure 
English Language Learning: Nancy Pendleton, Kristin Renee Pogue 
Instructional Coaching: Rebecca Elizabeth Hunter 
Instructional Practice: Brejjette Aljabi, Hannah Bellamah, Christine Black, Oscar Anderson Boochever, Jordan Boom, Stephanie Ann Borgia, Lynnette M. Brinson, Patrice Renee' Briscoe, Greg Burns, Anne-Elise Walker Cain, James Skyler Cannon, Sabrina LaSha Catlett, Michael Benson Collins, Mary Alison Cox, Joseph N Czarnik, Jillian Marie Doherty, Rachel Nicole Dyer, Lydia Kathryn Ethridge, Tianna Marie Ewing, Brooke Madeline Gavin, Jennifer Jon George, Elizabeth Marie Green, LaraLynn Bullen Goodman, Madeline Jane Haimes, Angela Eugenia Hays, Joanna Hernandez, Hans Dierks Hodes, Rachel Hoefflin, Caleb Thompson Hooper, Katherin Jeans, Alicia Dawn Jones, Christine Keech, Keenan Elizabeth Kennedy, Abigail Klett, Isabel Rebecca Krause, Todd Ross Lamberth, Ryan William Lee, Andrew Michael Marino, Jamison Matney, Amy Beth McAllister, Raheem-Asad Merriweather, Keyana Janae Miller, Patty Morales, Hayley Page Murdoch, Tess Azita Murphy, Jennifer Owen Pearman, Callie Marie Phillips, Katie Ann Racki, Christian Joseph Jackson Reynolds, Brianna Taylor Rifkin, Meredith Grace Schmidt, Laura Rose Nightingale Sedlak, Haley Mechele Stoever, Emily Suzanne Tibbs, Jonathan M. Vandivere, Marissa S. Varnado, Jaycee Dallas Webb, Amelia Moore Willingham
      
Reading Specialty: Erin Leigh King, Wendy Lynn Rampy 
School Counseling: Spencer Burke, Loren Elizabeth Cataldo 
Special Education: Markisha Nicole Brown, Rachel Harriett Burton, Jonah Reese Cavalier, Amber Dey Cherry, Stephanie Lynn Gaines, Tearsa Joy Gardner, Kelly Sweetman Gleason, Rachel Elizabeth Kant, Chelsea Sarah Morriso, Hayden Scott Pentecost , Damian C. Perry, Mary Katherine Prendergast-Helms, Eric Quentin Shadrick, Sara Stapleton Matthews, Emily Ruth West
Technology Integration: Merritt Elizabeth Fitz Chandler 
Teaching, Learning and Leading: Mallory Leigh Mitchen, Leslye Simone Williams 
Bachelor of Arts
Interdisciplinary Studies in Education: Kaitlyn Ashlee Bean, Hannah Hawkins, Alexandria James 
Interdisciplinary Teaching: K-5: Katherine Allysse Harris 
Interdisciplinary Teaching: Pre-K-3: Audrey Claire Raines 
Special Education Interventionist: 6-12: Lauren Nicole Smith 
Raymond B. Jones College of Engineering
Bachelor of Science
Mechanical Engineering: Nathan Klemz 
Electrical and Computer Engineering: Princess Uchechi Ukazim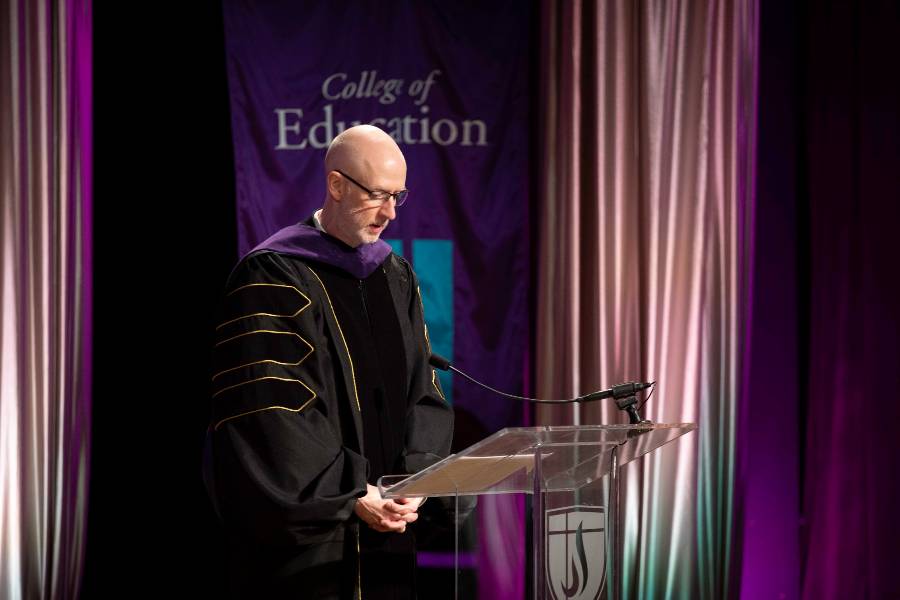 George Shinn College of Entertainment & the Arts
Master of Arts
Film and Creative Media: William Henry DeGray, Christopher Robert Capp  
Master of Fine Arts
Writer and Director Track: Katelyn Leigh Ann Botsch, Michelle Awu Eno 
Bachelor of Arts
Animation: Rachel Brumbelow, Reed Martin Sears  
Art Therapy: Caleb McCain Clemente 
Contemporary Music: Emily Bridget Hebert, Austin William Jones 
Contemporary Music-Songwriting: Athanassios David Karounos 
Fashion Design: Madison Juliana Botsch 
Graphic Design: Teanna Jules  
Theatre: Miranda Clare Eversole 
Bachelor of Fine Arts
Film Production: Rockie-Monterey J Britzmann, Samantha Elisabeth Gerard, Elizabeth Rainey 
Graphic Design: Brandon Hartley, Bailey Renee Shafer 
Theatre-Acting: Caroline Marie Garber 
Theatre-Design and Production: Samantha Allison Higdon 
Theatre-Directing: Katherine Anne Broome 
Theatre-Musical Theatre: Annika Marie Burley, Katherine Bridget Chance, Hatty Ryan King, Haille Houston Wallace 
Bachelor of Music
Music-Commercial Music: Joshua Ryan Short, Abby Linn Siler 
Music Teaching-Vocal/General: Payton Michael Dishman, Hannah Lucille Dukles 
Music Teaching-Vocal/General: Olivia Nicole Zemer 
College of Leadership & Public Service
Master of Arts
Civic Leadership: Wendell Montrell Toney  
Conflict Management: Alharbi Asem Ateq A, Steven Bonner, Katherine Elizabeth Onks Stone, Grace Larkin Li Rong Swihart, Jason Paul Weijola, Candace Renee Williams, Jennifer Carvalho Zepparelli  
Leadership and Public Service: Michael Anton Anastasi, William Jake Bynum, Tyler Olivia Dixon, Deise Ronchi Duque-Estrada, Casey Joel Hopkins, Amanda Pharr James, Ogechika Adimabua Oselukwue, Phillip Robert Peck, Matalin Belle McKechnie Varner 
Master of Science
Sustainability: Saad Ibrahim Albazei, Ahmed Alhaddad, Donta Busch, Aaron Michael Butler, James Brian Chapman, Shannon Alexis Jones, Karl Thomas Koch, Mary Elizabeth Riddle, Emily Lillian Rutter, Clifford A Terrell
Bachelor of Arts
Law, Justice and Society: Nicholas Bacon, McKenna Lee Ligon, Brittany Nicole Lombardi, Victoria Anna Smith
Bachelor of Science
Environmental and Sustainability Science: Megan Bourland, Sierra Joy Gonzalez
Law, Justice and Society: Josiah Allen Jordan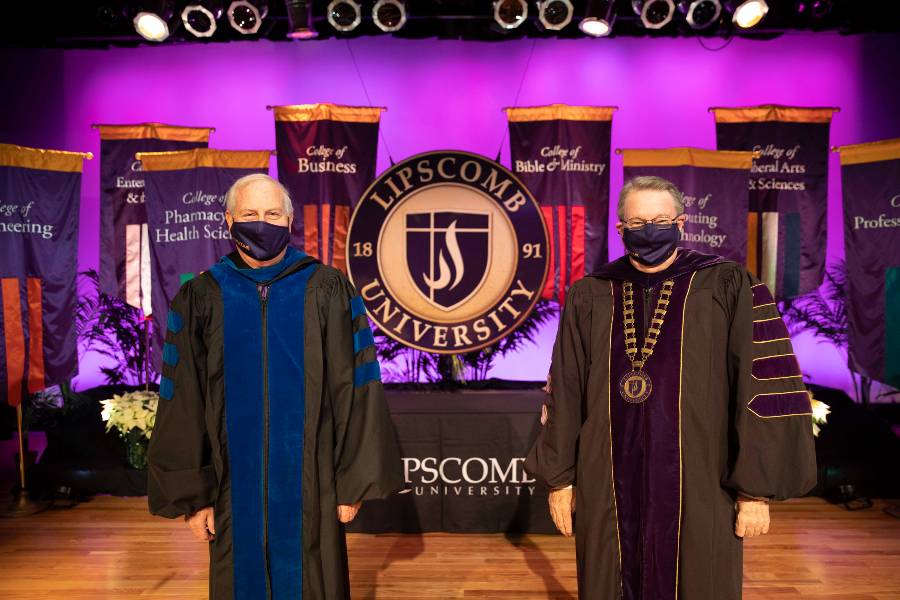 College of Liberal Arts & Sciences
Masters of Marriage and Family Therapy
David Neale Drennon 
Master of Science
Biomolecular Science: Deana Campbell, Oluwatoyin Opeyemi Duyile, Zuhaila Abdullahi Hired, Puja Jivani, Taryn Drew Lester, Allison Katherine Lewis, Ross Evan Mathis, Richard Carlton Maynard, Rylie Nash, Maria Olicia, Viveke Praksah Rai, Alison K. Richards, Sanad M. Serdah, Nathan Addison Stein, Kimberly N Stone, Emilee Nicole Swanson, Jessica Layne Tedder, Rachel L.Turgeon, Kristen Ann Wiblishouesr 
Clinical Mental Health Counseling: Bethany Lauren Alcorn, Miranda Lee Buell, Caroline Ann Crosson, Abby Dickson, Alexandra Catherine Felber, Kinzie Nicole Frasier, Jacqueline Carmela Fullwood, Alyssa Nicole Gabriel, Maria Elizabeth Genduso, Rachel Faith Holloway, Ankita Lele, Elise Marie Greenleigh Rhodes, Jennifer Dearing Rubens, Carly Nicole Stamey, Jordyn Olivia Strahm, Samantha Studley, Morgan O'Neal Thomas, Laura Kaye Thorson, Marian Anymone Trella Wakefield, Jeffrey Jay Waller Jr., Christin LeeAnn Warren   
Psychology: Katerina Bowder, Christina Renee Jezioro, Alana Marie Lauck 
Bachelor of Arts
Biology: Madison Vivian Pardue 
Chemistry-Professional: Robert Lawrence King 
English: Marah Grant, Hannah Faith Peeler 
English Teaching: Ruby Esmeralda Aguilar 
German: Jonathan Edward Chrysostom Geeslin, Richard Luke Hartselle 
History Teaching: Carlton George Ross
International Affairs: McKenna Lee Ligon 
Journalism and New Media: Grant Hayes Bricker, Tia Lashonda Calvin, Taylor Kennedy McKnight  
Philosophy: Seth Howlett 
Political Science: Eden Miriam Melles 
Public Relations: Zachary Flener, Katrina Rachel Hughes, Abigail Leigh Miller, Lenita Sheffield, Makena Kay Sneed  
Spanish: Sarah Nan Hill 
Strategic Communication: Kathryn Elizabeth Christ, Jasmine Alexandra Moore 
Bachelor of Science
Biochemistry: Applied: Kendra Lozano Angulo 
Biology: Lilia Francesca Arlen, Tiffany Thuy Nguyen Dang, Jonathan Edward Chrysostom Geeslin, Aiyza Hanif, Bishoy Hanna, Sarah Nan Hill, Deranique Jones, Sabira Mohammadi, Shivani Mukesh Patel, Callie Ashlyn Rogers, Lydia Irene Rubenic, Blessing Marie Short, Mfonobong Edet Udofia, Adriana Viscarra Fossati, Ela Ruani Wickremasinghe  
Bioscience and Philosophy: Katelyn MacKenna Lee, Christopher Kamel Metry, Blair Abigail Wilcox
Family Science: Cassidy Delaine Schow
Mathematics: Caleb Graham Miller
Mathematics-Applied: Paul Thomas Swindell, Paige Weber 
Molecular Biology: Sydney Fasha Clark, Mina George Tadrous Gerges, Sarwar Mohammed Kokoy, Ameer Emile Moussaed, Christopher Nicholas Roach, Kelly Roy 
Philosophy: Blake Underwood 
Psychology: Dalenna Huong Dang, Megan Franz, Haley Elizabeth Hensley, Juan Manuel Oliva, Raegan J. Ripley, Mason Dianne Rudolph, Lara Marie Schultz
College of Professional Studies
Master of Professional Studies
Organizational Leadership: Kacey Leigh Darling, Daniel Lee Jenkins, Alese Nicole Taylor 
Bachelor of Professional Studies
Business Leadership: Jeremiah Luis Borrajo, Priscilla Claude, Joanne Lynn Graves, Bradley Eugene Popejoy Jr., Jack Harrison Skipper, Deidre Mosley Thomas, Brianna Hope Whitehead, Rebecca Lynn Whitney 
Data Analysis: Joshua Keith Vick 
Integrated Studies: Leslie Noemi Acosta Gonzalez, Camilla Scholz, Renarda Lynn Singleton
Organizational Leadership: Hannah Elizabeth Brumagin, Brandy Carter, Valentin Galvan Duran, Kaylan B Johnson, Brittani Corine Kertchaval, Terrence Lee Riche, Natasha M. Whitt
Psychology and Leadership: Cassandra Lee Anello, Traci Turner Bryant, Laura Evangeline Dodd, Madison Abigail Shelley 
Strategic Leadership: Leda Corrine Jorgensen 
Technology Management: David Elliott Knight 
Bachelor of Science
General: Tradessa Harris 
Business Leadership: K.C. Holiday
Integrated Studies: David Anthony Abbott, Amanda Holt Carter,Valencia Paulette Quinannetta Sanders 
College of Pharmacy & Health Sciences
Doctor of Pharmacy
Christopher Glovich 
Master of Physician Assistant Studies
Jessica L Baker, Matthew Thomas Beauregard, Ashley Beyke Best, Madelaine Paige Blankenship, William J Bradshaw, Haili Breann Byington, Benjamin Ramsey Crisp, Joshua George William Davenport, Cade Calvin England, Evan S. Forhetz, Destinee Briana Fowler, Fariha R. Ghazi, Kaitlin Phuong Judge, Michelle Yvette Karp, Megan Elizabeth Knoernschild, Jessica Lauren Krupinski, Terra Lomber, Morgan Long, Elizabeth Christine Mathers, Maia Christine Matyas, Scout Hunter Monteith, Jennifer Kay Muesing, Cory Dylan Oegema, Ashton Ewing Perez, Shannon Postle, Jon Michael Rapacz, Athena Catherine Reese, Jana Kay Reichenberger, Jordan W Schenk, Timothy Donald Schorkopf, Morgan Katherine Mills Schroeder, Payton Mackenzie Tidwell 
Master of Science
Healthcare Informatics: Chezka Mae Largosa Baker, Matthew Adam Chrisholm 
Exercise and Nutrition Science: Madison Sloan Colson, Nathan Carter Fields, Taren, Camille Hennessee , Drew Tyler Howerton, Stephen Lunney, Sara Anne Malliet, Ariel Marie McGinnis , Samuel Clark Washington, Madelin Rose Willerer 
Bachelor of Science 
Dietetics: Hawra Saeed Alsuliaman 
Fitness and Sports Studies: Audrey Ann Beck 
Exercise Science: Maxie Alexandra Cagle, Victor Chaw, Natalie Miller, Blake Underwood
Bachelor of Science in Nursing
Gillian Elise Coleman, Rebekka A. Homa, Jinal Patel, Mary ThangEi, Myrka Nicolle Weber
View the entire December commencement here. Follow Lipscomb on Instagram and Facebook for more photos and tributes to our graduating class.