From the Graduation Files: Austin made history as youngest delegate in DNC history
Kendall Austin's passion for making change helped him make history as the youngest delegate in Democratic National Convention history
Kim Chaudoin |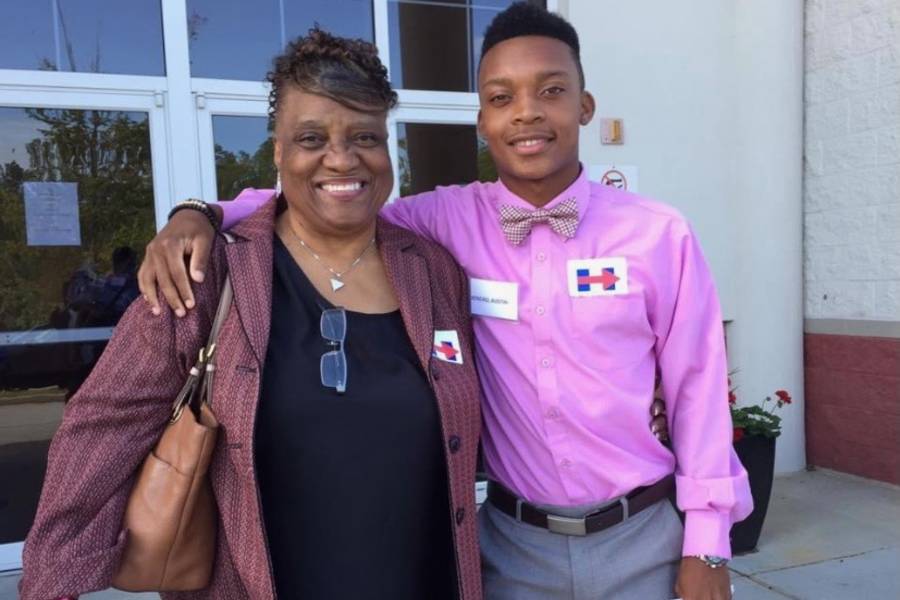 Before Kendall Austin set foot on the Lipscomb campus as a freshman in fall 2016, he was blazing a trail for others to follow. Today, Austin is prepared to graduate from Lipscomb University with a degree in marketing and corporate management and begin the next chapter of his journey. 
A native of Decatur, Georgia, Austin made history as the youngest delegate to attend a Democratic National Convention when as a then-18-year-old he attended the 2016 gathering in Philadelphia, Pennsylvania. He said the experience was a once-in-a-lifetime opportunity that continues to drive him today. 
Austin's passion for politics and advocating for young people is in his DNA. His grandmother, Sandra Austin, served as the chair of the DeKalb County (Georgia) Democratic Party for longer than any other female, which was nearly seven years. The two shared a special bond as Austin affectionately says his grandmother was his best friend. So, he spent many hours as a young boy attending weekly precinct meetings, caucus events and state and national conventions with his grandmother, who passed away during his freshman year at Lipscomb.
"Growing up in that environment and going to meetings the first Thursday of every month with my grandmother, got me very excited about politics," recalls Austin, a graduate of Greater Atlanta Christian School. "I realized that as young people, we have influence and a voice that needs to be heard."
Through the years, Austin had the opportunity to meet influential leaders such as Presidents Barack Obama and Jimmy Carter, Michelle Obama, the late Congressman John Lewis and Hillary Clinton among others.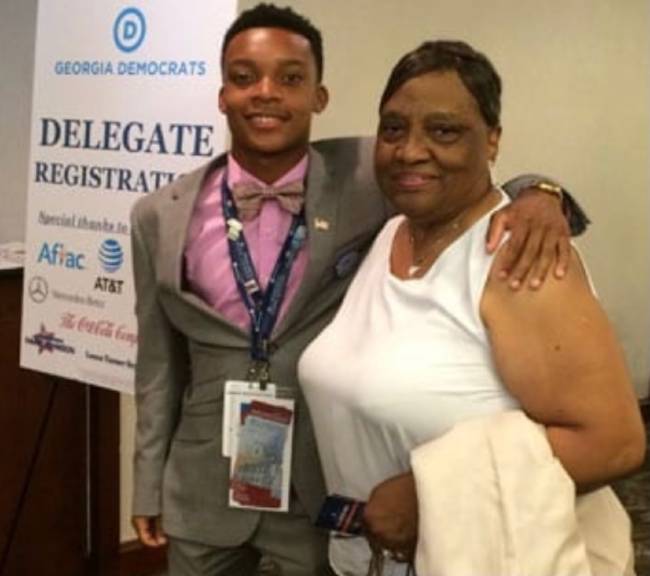 "People grew to know me through just being in these places," says Austin. "I was always meeting a lot of very influential people. I remember looking up to these people because they were making change in our world, in our country. And they're using their voice. I thought to myself, wow, I can do this. So, I felt like I could be a voice for the people." 
Austin's grandmother encouraged him to run for a delegate position. "She told me, 'you know, a lot of people would love to see you do this, and it would be a very impactful thing for you to do. I think you would do really well.'"
Initially, he dismissed the idea. But as the words of his grandmother kept returning to him, Austin changed his mind. "I realized that I had the chance to do something special. Why not just give it a try?" he says. 
Two weeks before the 4th Congressional District election in Rockdale County, Georgia, Austin turned 18; so he got his delegate application papers, registered to vote and made the decision to run for delegate.
"I had always been a good public speaker and knew I wanted to make a difference," said Austin. "In my speech I pushed the idea of young people being the future of our country, and how having young people in politics matters because they have an important voice. At certain points throughout my speech people cheered and at the end I got a standing ovation, and that felt really good inside."
"It's interesting how over the last several years things have kind of shifted that way as young people are so much more outspoken now and so much more involved in politics," he continues. "Young people are seeing what's going on in our world and are wanting to be a part of it and to be a part of that change. So it's really cool to be able to say that I was one of the first young individuals to do that." 
Five delegates were chosen out of 36 candidates, and Austin was one of the three males selected to represent Georgia. Although Austin attended the 2008 Democratic National Convention with his grandmother in Denver, Colorado, the 2016 convention marked his first time attending as a delegate. He was a pledged delegate to Hillary Clinton, Democratic Party presidential candidate.
 
I realized that as young people, we have influence and a voice that needs to be heard. — Kendall Austin
"It was humbling to realize that people wanted me to represent them and that they trusted in me to do that," Austin says of being selected as a delegate. "I couldn't believe it at first to realize that they wanted me and they chose me."
The experience is one that Austin describes as "once-in-a-lifetime." During the convention, he participated in numerous media interviews including with the Associated Press, Time Magazine for Kids, ABC News, PBS News Hour and he was also part of a panel discussion with MSNBC. His credentials gave him access to private events, special activities just for delegates and entrance to convention sessions. He even had his own security detail during the convention."I felt pretty important," he recalls with a smile.
 
Although Austin had a good experience at the 2016 convention, he decided not to run for a delegate spot in the 2020 election as he was in his senior year as a student in Lipscomb's College of Business working to finish his degree and was busy with university life. He says his experience as a delegate is helping prepare him for the next step on his life's journey following his graduation on Dec. 19. In addition to his business studies, Austin is also very active in theater and the creative arts.    
 
"The connections and networking from that experience and the years spent with my grandmother in her political work continue to help me today as I am in the process of deciding what the next step is professionally," says Austin. "Even though I have moved away from politics over the last few years, my passion has not waivered for wanting to be a voice for the people and for making change in this world, whether that's through politics, leadership positions in an organization I work in or through acting. I'm very involved in the interviewing process at the moment and right now I am just seeing where that leads me."
 
Austin says Lipscomb University was "the perfect school for me."
"Coming from Greater Atlanta Christian, I knew I wanted to stay in a similar environment — mission, size and such," he says. "I knew that wherever I went for college that I wanted to be able to help make change and to be heard. My experience has been great here at Lipscomb and I've met a lot of great people. It has also been very beneficial to be in Nashville. I've been able to have great experiences learning and doing different things around the city." 
During his time at Lipscomb, Austin launched a new social club, Sigma Alpha, that has grown quickly in its two years of existence, is a member of the American Marketing Association and is a National Leadership Success inductee.
Joseph Bamber, clinical professor of marketing in the College of Business, had a particular impact on his experiences at Lipscomb, says Austin.
 
"He poured a lot into me and he always cared about me. I always appreciated when we were in academic advising sessions how he would always ask if I had anything he could be praying for on my behalf and asked about how things are going in my life. Every single time," Austin shares. "We talked about my interests and passions and he has always encouraged me to chase those. Those conversations grew our relationship from professor-student to a true friendship. He cares about me as a student and a person. He saw something in me that he believed I should never give up on and he always encouraged me in that way. I really appreciated it."