Behavioral Health Initiative grant, largest in university history, renewed with $1.36 million award
Research sparked from this rare initiative on how to prepare students' for integrated health care practice has reached a national audience. 
Logan Butts |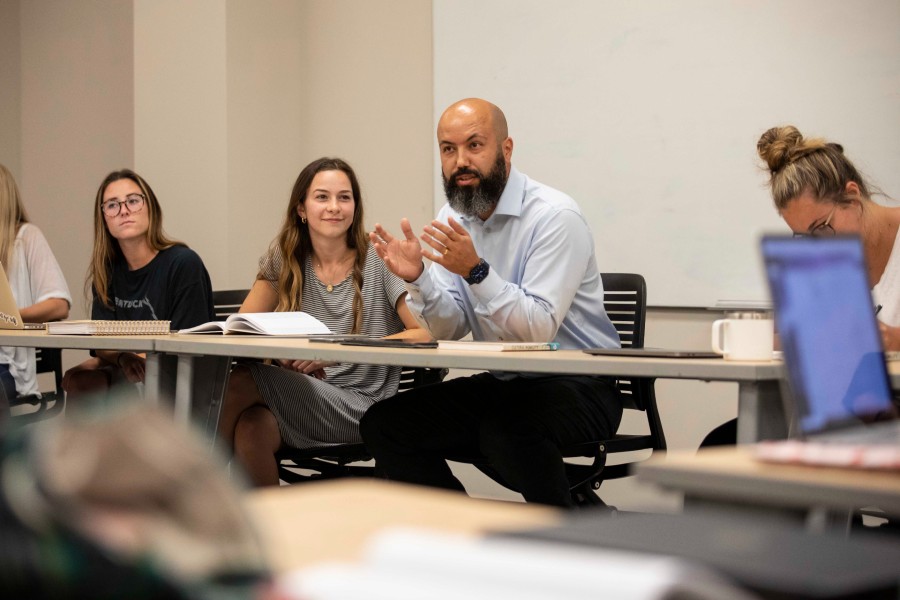 Lipscomb University received a $1.8 million grant from the U.S. Department of Health and Human Services in 2017 to improve mental health services in Nashville. In 2018, the program received an additional $400,000 in funding to combat the opioid epidemic, totaling $2.2 million. With news of the grant's $1.36 million renewal, Lipscomb's clinical mental health counseling program will be able to continue making an impact on the citizens of Nashville with a total of $3.56 million in federal funding.  
The original grant, based on a project proposal by Douglas Ribeiro, an associate professor in Lipscomb's counseling program, sought to expand the behavioral health workforce in Nashville. The program uses an innovative training approach that utilizes the integration of behavioral health and primary care in order to better meet the mental health needs of the community. 
"This program is focused on a new frontier for counseling," Ribeiro said. "It moves counselors beyond traditional settings, like a private practice or a mental health agency, into hospitals and primary care clinics. This model envisions Counselors working side by side with doctors and nurses in the treatment of their patients."
Over the past four years the Lipscomb Initiative for Behavioral Health Integration has placed mental health counseling interns into primary care health centers throughout Middle Tennessee. The program is focused on serving patients who live in areas with low numbers of mental health providers as well as individuals and families who are economically or medically vulnerable. 
Nearly 150 clinical mental health counseling students have been accepted into the first four-year cycle of the program. Each intern completes a minimum of 600 hours of supervised clinical work with patients in community clinics that otherwise would not have access to mental health services.
"What is fascinating about a grant like this is that it helps us incentivize or encourage students to go into settings that they wouldn't be able to go before," Ribeiro said. "It broadens the horizons of what they are able to do with their counseling degree."
These students are earning valuable skills, knowledge and training while serving an underserved community, forming an integrated relationship to the city's mental health care landscape that is mutually beneficial, he said. 
"Our students value social justice, and they know that this is bringing resources to people that in the past would not have been able to benefit from mental health services," Ribeiro said. "While they do this work for our community, our students receive some outstanding interprofessional training from local professionals who are also passionate about the most vulnerable among us. They get to work with physicians, pharmacists and nurses in ways that maybe in a private practice or a mental health agency they wouldn't be able to." 
The program not only helps patients from underserved backgrounds, but students as well. Recruited students who complete their internships receive a $10,000 stipend for living expenses. 
"A big motivation for this grant work has been our ability to recruit students that, because of socioeconomic difficulties, going through graduate school may have been out of their reach," Ribeiro said.
In 2018 the initiative used its additional funding to help take on the opioid crisis in Davidson County, where the overdose rates are higher than the national average, by partnering with Nashville's Matthew Walker Comprehensive Health Center and Neighborhood Health.  
The initiative's innovative integration isn't limited to its off-campus endeavors - it has also created seamless collaboration with other programs across campus with the goal of providing students with a multidisciplinary experience that reflects the clinics where they work by integrating the College of Pharmacy and Health Sciences and the clinical mental health counseling program.
"In the past, most health care was siloed," Ribeiro said. "So you had the physicians in one corner, the counselors in another corner, the pharmacists in their corner, and that has really been the model of training for many, many years. However, this is changing rapidly. We at Lipscomb are at the leading edge of a transformation of health care towards multidisciplinary team-based care."
The faculty from multiple health care-related programs have created simulated patients for students to "treat" throughout the semester. Students from each participating program form multidisciplinary teams that treat the simulated patient in a collaborative effort, providing all students with a view of this new model of health care. 
Ribeiro and his colleagues have presented the research from this collaboration at a national level, hoping to help other counseling educators implement this kind of work. 
"It is a big curriculum effort," Ribeiro said. "There's not many case examples already available that conceptualize health care at this level of integration. Much of what happens behind the scenes is really figuring out how you teach students to function and become providers in multidisciplinary teams so that when they begin their careers, health care integration is the norm and not a novel idea."