About the Hazelip School of Theology
Choosing a school of theology goes beyond a particular degree you can obtain.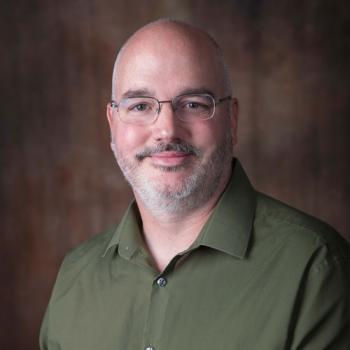 It's about the personal journey you take as you study Scripture, church history, Christian thought and personal formation. At the Hazelip School of Theology, you will explore important subjects in our discipline while learning how it affects the pursuit of ministry in all its forms. Come here to gain a deeper understanding of theological discourse and grow as a Kingdom witness wherever you may find yourself. As one of only a handful of ATS-accredited graduate schools in the region, Hazelip offers the academic rigor you would expect as well as an integrated approach to learning that will enrich your faith.
Frank Guertin
Director of the Hazelip School of Theology and Assistant Professor of Theology
Key things to know about Lipscomb's Hazelip School of Theology
Accredited by the Association of Theological Schools
Offers the Master of Christian Ministry (MACM) Master of Theological Studies (MTS), Master of Divinity (M.Div.), Doctor of Ministry (D.Min.)
Taught by faculty with life experience in congregational ministry
Online and alternative class formats that fit busy lifestyles
Faith-affirming learning that engages the important questions of contemporary society
Mission
The mission of the Hazelip School of Theology is to support learning that integrates intellectual formation, pastoral leadership, and character development. We believe these three areas must interact richly in the seminary experience so that our students are well prepared to live out their calling in whatever context they serve.
In light of this vision, the seminary experience at Hazelip focuses on these student-centered outcomes:
A robust theological imagination rooted deeply in Scripture and shaped by the broad Christian tradition
Formational habits that support a life of ministry
Organization-building skills sustained by Christian understandings of leadership
Relationship-building skills that nurture forms of authentic community
Reflective habits which illuminate the complexities of people-centered ministry
No matter what degree program students pursue at Hazelip, they can expect to grow in these abilities. The integrity of our academic offerings is measured by how prepared our students are for the challenges of today's ministry.
Hazelip instructors take advantage of multiple venues for learning. Students engage in traditional classroom settings, online platforms, and on-site contexts so that they can practically and creatively engage the complex realities of Christian ministry. Students at Hazelip benefit from formative conversations with spiritual directors, coaches, and ministry mentors alongside teaching faculty.
The first graduate Bible degree at Lipscomb was offered in 1983. In 2005, the university named the graduate theology department in honor of former Lipscomb President Harold Hazelip. In 2010, the school was admitted into the Association of Theological Schools as a full member.  
The Churches of Christ continue to be a primary constituency for the Hazelip School of Theology. About half of our students come from this heritage. The students at Hazelip also represent a broader range of Christian traditions which reflects the Christian diversity in Middle Tennessee. Thus our key theological commitments reflect an awareness of our own history as well as other voices within our learning community.
Accreditation
The Hazelip School of Theology at Lipscomb University is accredited by the Commission on Accrediting of the Association of Theological Schools in the United States and Canada, and the following degree programs are approved:
Master of Divinity
Master of Theological Studies
Master of Arts in Christian Ministry
Doctor of Ministry
The Commission contact information is:
The Commission on Accrediting of the Association of Theological Schools
in the United States and Canada
10 Summit Park Drive
Pittsburgh, PA 15275 USA
Telephone: 412.788.6505
Fax:  412.788.6510
Website: www.ats.edu