Pionero Scholars Program
Creating a local pipeline of teacher candidates who plan to teach in the Nashville area community.
The Pionero Scholars Program is a scholarship and outreach program at Lipscomb that seeks to increase the number of local students who enroll at Lipscomb, with the long-term goal of creating a local pipeline of students returning to teach in their home communities.
In the News!
Recruiting teachers in general must become a focus for Colleges of Education – enrollment in teacher preparation programs is at its lowest point in 45 years. (1) Each year Metro Nashville begins the school year with over 100 empty classrooms as there is a mismatch between teachers graduating with degrees and the needs of the district. Beyond that, the diversity of our teaching population is an important topic nationwide – low-income students, first generation students, students of color, male students, and English Language Learners need role models in their schools who understand where they come from and the challenges they are overcoming.
In Metro Nashville Public Schools, only 20% of teachers in 2015-2016 were male. (2) In terms of racial & ethnic diversity nationwide, while the numbers have steadily improved, nationwide teachers of color only make up 17% of the workforce. Meanwhile, the population of students of color is growing even faster – minority students now account for more than half of all public school students. (2) Also, almost one in four (12 million) schoolchildren ages 5 to 17 speak a language other than English at home, according to an analysis of census figures. (3) In Nashville, we are home to a vibrant and rapidly growing immigrant and refugee population, with sizeable communities of Kurdish, Egyptian, Mexican, Central American, Somali, Sudanese, Burmese, Thai, Laotian, and other nationalities from around the world. There are over 24,000 English Language Learners in Metro Nashville Public Schools, and the most diverse high school in the state of Tennessee, Overton High School, boasts over 60 languages spoken. (4)
Research has demonstrated that as a teacher population in a school becomes more diverse,  all students in the school show positive gains in test scores, attention, retention, and college persistence. (Pitts, 2007). We believe that local students who grew up in Nashville have a unique perspective on working in communities with so much religious, ethnic, nationality, income, and linguistic diversity. We believe that local students, regardless of their own background, will ready to hit the ground running as teachers, confident in the context and strengths of their community.
Sources: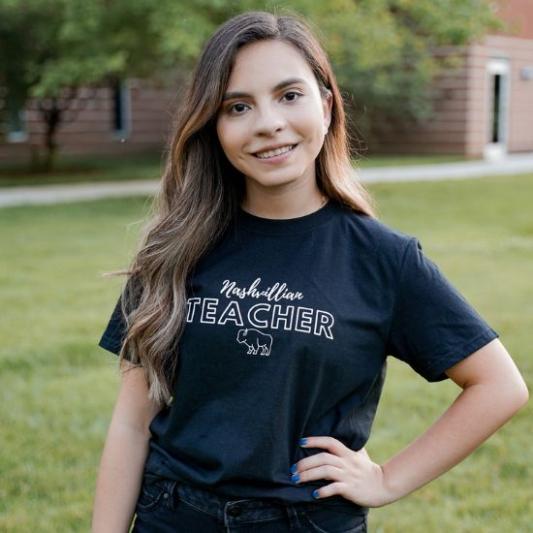 Meet your Recruiter
Pionero holds a special place in my heart, not only as the Scholars Recruiter, but as a Pionero Alumni. When I was a student here, Pionero helped me in ways I will always be grateful for. After graduating from Lipscomb, I went on to teach for 3 years in MNPS, so I have an educational and professional background that helps me be a resource for future students. Pionero opened the door to my educational experience and teaching experience as a whole. This scholarship is more than just financial aid, it is a community of students and staff who are dedicated to bringing resources and experiences into the classroom. As a first generation student myself, I know it can get stressful navigating through college. I am beyond excited to extend my helping hand to future generations of Pioneros - whether that be helping you submit your college application to helping you draft your essay or filling out FAFSA or even finding your classes. Never be embarrassed to ask for my help. My job is made for you, so use me as a resource whenever possible. Thank you for letting me be a part of your college experience! I am so thrilled to work alongside you!

In appreciation,
Alondra Piña