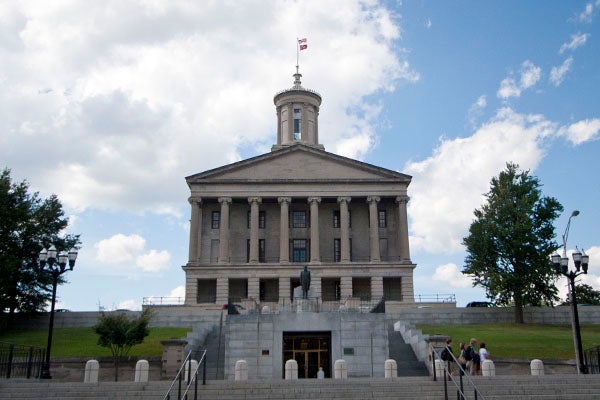 Program Overview
Program Overview
Whatever industry or field you find yourself in, public policy plays a part within it. Let us help you understand the principles upon which all social laws are based. You'll gain a comprehensive look at our current systems through American Government, Public Policy and Public Administration courses. Topics include creating policy, budgeting, Congress and the courts, policy issues and policy analysis. You'll be exposed to these concepts on the national, state and local levels, allowing for application in a variety of settings. You will be able to create ethical, legal and effective boundaries within your organization. Assert yourself as a distinguished professional in your field as you apply this knowledge. 
 
Courses
Courses
Specific courses required:
PO 1023 - Liberties, Rights, and the Constitution
PO 3123 - Public Policy
PO 3323 - Public Administration II
Twelve hours chosen from:
PO 2253 - American State and Local Government
PO 4813 - Washington Seminar
EC 3303 - Natural Resource Economics
ESS 2123 - Principles of Sustainability
ESS 4213 - Environmental Law and Policy
HI 4153 - Urban History and Politics
Expert faculty, small class sizes
Learn from award-winning, experienced faculty who actually care about you. Our small class sizes allow us to get to know you personally. We lead an approachable community within our respective programs. Our faculty connections are the experts on their subject matter, too.
Service learning
We provide you the opportunity to enhance your academic understanding by applying what you've learned in class to service projects that benefit our community. Before graduation, you'll participate in at least two SALT (Serving and Learning Together) projects.
Internship
Become more competitive in the job market with an internship related to your interests. You'll gain experience and boost your exposure. An internship will also help you learn whether you've chosen a career you'll enjoy.
Study Abroad
See the world — whether it's Italy, Austria, Costa Rica, England or another country. Career opportunities will open for you as you sharpen your foreign language skills. Gain the international experience and cross-cultural communication skills you'll need in our global economy.
Marc Schwerdt

Chair of History, Politics and Philosophy

Marc Schwerdt joined the Lipscomb political science faculty in 2004. His research has concentrated on perceptions of public service in children's literature and has been published in peer-reviewed journals Social...

Learn More
Career Paths
Political Scientists
Political scientists study the origin, development, and operation of political systems. They research political ideas and analyze governments, policies, political trends, and related issues.
Legislators
Develop, introduce or enact laws and statutes at the local, tribal, State, or Federal level. Includes only workers in elected positions.
Lawyers
Lawyers advise and represent individuals, businesses, and government agencies on legal issues and disputes.