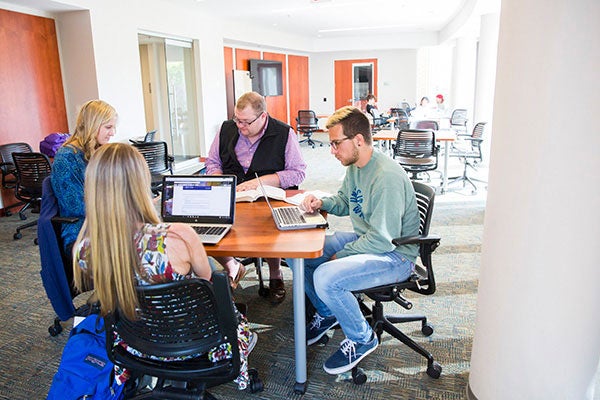 Program Overview
Program Overview
Nobody deserves to see life in a fog. So, lay the groundwork you'll need to eventually correct vision challenges or diagnose ocular diseases. Now is the time to learn about the patterns and behaviors of eyes and the muscles behind them.
With extensive academic training and real-time networking opportunities, you'll gain a full grasp of where your interests lie. This early exposure allows you to hit the ground running with your particular passion when you enter professional school. Plus, you may have the opportunity to be nominated for prestigious Ward Scholarships and Ward Research Fellowships, or earn one of our Health Professions Advisory Committee (HPAC) scholarships. 
And you probably have more platforms than you'd expect to use your skills — governmental agencies, private practices, consulting firms, doctor's offices and more. With this flexibility, you're sure to establish a versatile career wherever you may land.
 
Courses
Courses
Our office can assist you in determining which courses you need to satisfy professional school requirements. Looking at the website for the professional program you're interested in is also helpful in learning more about the additional courses or requirements of the program.
Course requirements can vary from one health professional program to another. Generally, these are the courses required by most medical and dental schools:

General Biology: Eight semester hours with labs
General Chemistry: Eight semester hours with labs
Organic Chemistry: Four semester hours with labs
Physics: Eight semester hours with lab(s)
Microbiology: Four semester hours
Biochemistry: Three semester hours
General Psychology: Three semester hours
Statistics: Three semester hours
Math: Usually through Calculus I
English: Six semester hours
Job placement
With a top-tier university education on your resume, you'll be in high demand, whether you choose to launch your career or begin graduate school. Most of our programs have a placement rate of at least 90 percent within six months of graduation.
Expert faculty, small class sizes
Learn from award-winning, experienced faculty who actually care about you. Our small class sizes allow us to get to know you personally. We lead an approachable community within our respective programs. Our faculty connections are the experts on their subject matter, too.
Service learning
We provide you the opportunity to enhance your academic understanding by applying what you've learned in class to service projects that benefit our community. Before graduation, you'll participate in at least two SALT (Serving and Learning Together) projects.
Study Abroad
See the world — whether it's Italy, Austria, Costa Rica, England or another country. Career opportunities will open for you as you sharpen your foreign language skills. Gain the international experience and cross-cultural communication skills you'll need in our global economy.
Our Faculty
No matter what major you choose, we are ready to advise you on your path to becoming an optometrist.
Career Paths
Opticians
Opticians help fit eyeglasses and contact lenses, following prescriptions from ophthalmologists and optometrists. They also help customers decide which eyeglass frames or contact lenses to buy.
Optometrists
Optometrists examine the eyes and other parts of the visual system. They also diagnose and treat visual problems and manage diseases, injuries, and other disorders of the eyes. They prescribe eyeglasses or contact lenses as needed.
Medical Scientists
Medical scientists conduct research aimed at improving overall human health. They often use clinical trials and other investigative methods to reach their findings.