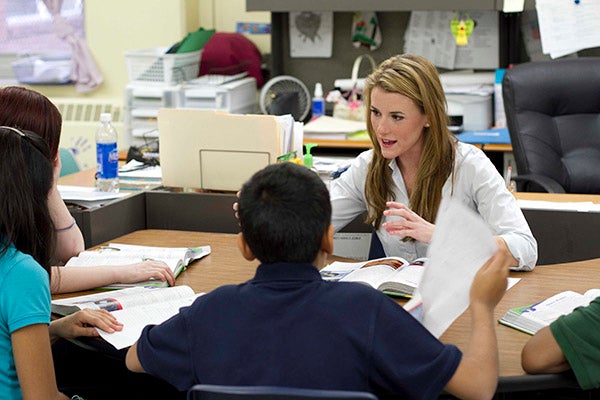 Interdisciplinary Teaching
Program Overview
Program Overview
As advancements in education continue to be a large focus in the U.S., teachers are in demand more than ever. It is evident that an early foundation is crucial to student success. So, join forces with our accomplished faculty on the path to become a confident and competent teacher. Depending on your preferred licensure range, you will gain teaching experience within appropriate grades of Nashville-area schools. Whether you choose licensure in PK-3, K-5, or 6-8* grades, you'll have broad career potential based a solid foundation of effective teaching methods and practices.
The Nashville community provides opportunities for diverse experiences that include urban, suburban, and rural settings. You can add one or more areas of emphasis to gain certifications. If you choose to add an English Language Learner endorsement, you'll find you're even more marketable as a teacher. Lipscomb offers the opportunity for you to do a portion of your student teaching abroad through an international organization.
Lipscomb's interdisciplinary teaching programs meet Tennessee licensure standards. You'll gain the knowledge and practical experience you need to be well-prepared to pass the required content exams (Praxis) and the performance assessment of pedagogy (edTPA). You'll be ready to teach in a wide variety of settings, sharing the content you love and making a difference in the lives of students and their families.
* Under Tennessee state law, teachers with 6-8 Licensure can also teach fifth and ninth grades within certain parameters.
Job placement
With a top-tier university education on your resume, you'll be in high demand, whether you choose to launch your career or begin graduate school. Most of our programs have a placement rate of at least 90 percent within six months of graduation.
Expert faculty, small class sizes
Learn from award-winning, experienced faculty who actually care about you. Our small class sizes allow us to get to know you personally. We lead an approachable community within our respective programs. Our faculty connections are the experts on their subject matter, too.
Nashville
A big city. An even bigger opportunity. We consider Nashville an extension of our classroom, and as a leading city in many industries, that means you'll gain experience and insight you won't find anywhere else.
Career Paths
High School Teachers
High school teachers help prepare students for life after graduation. They teach academic lessons and various skills that students will need to attend college and to enter the job market.
Middle School Teachers
Middle school teachers educate students, typically in sixth through eighth grades. They help students build on the fundamentals they learned in elementary school and prepare them for the more difficult curriculum they will face in high school.
Kindergarten and Elementary School Teachers
Kindergarten and elementary school teachers instruct young students in basic subjects, such as math and reading, in order to prepare them for future schooling.
---
Career and Technical Education Teachers
Career and technical education teachers instruct students in various technical and vocational subjects, such as auto repair, healthcare, and culinary arts. They teach academic and technical content to provide students with the skills and knowledge necessary to enter an occupation.
Special Education Teachers
Special education teachers work with students who have a wide range of learning, mental, emotional, and physical disabilities. They adapt general education lessons and teach various subjects, such as reading, writing, and math, to students with mild and moderate disabilities. They also teach basic skills, such as literacy and communication techniques, to students with severe disabilities.
Postsecondary Teachers
Postsecondary teachers instruct students in a wide variety of academic and technical subjects beyond the high school level. They may also conduct research and publish scholarly papers and books.