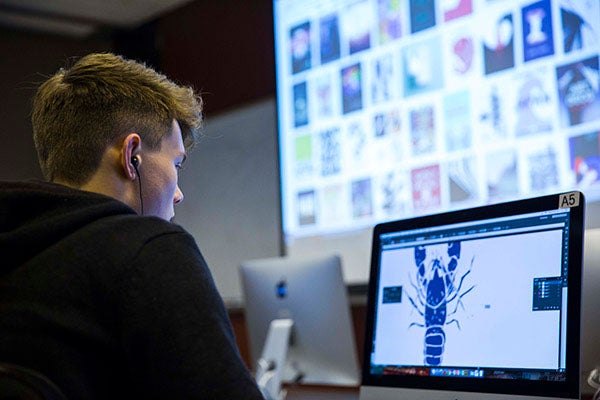 Program Overview
Program Overview
Become the design visionary you were created to be. Hone your skills and talent by learning from respected creative professionals in the graphic design industry. We'll teach you theory, professionalism, and how to stay current with emerging technology — so you can inspire change.
You'll learn industry best practices with an emphasis on business ethics. You'll be grounded in a Christian, service-minded worldview. You'll grow in the design principles of hand, eye, mind and heart — to fully live out your purpose. And in a creative city like Nashville, you'll never lack inspiration. 
You will be sought after by businesses to take on high-profile internships. Our students have gained experience at Bonnaroo Music and Arts Festival, Redpepper creative agency, Frist Art Museum, Native magazine and more. The rigorous education you will receive here will prepare you for success.
Internship
Become more competitive in the job market with an internship related to your interests. You'll gain experience and boost your exposure. An internship will also help you learn whether you've chosen a career you'll enjoy.
Study Abroad
See the world — whether it's Italy, Austria, Costa Rica, England or another country. Career opportunities will open for you as you sharpen your foreign language skills. Gain the international experience and cross-cultural communication skills you'll need in our global economy.
Job placement
With a top-tier university education on your resume, you'll be in high demand, whether you choose to launch your career or begin graduate school. Most of our programs have a placement rate of at least 90 percent within six months of graduation.
100%
Graduate School Acceptance Rate
Angela Lee

Associate Professor

Angela D. Lee holds two MFA degrees, one from Azusa Pacific University and one from Austin Peay State University, and a BFA from Belmont University. Lee's area of specialty is...

Learn More

Maureen O'Brien

Maureen O'Brien studied illustration and visual design at Kendall College of Art and Design of Ferris State University in Michigan, and the Hartford Art School at the University of Hartford...

Learn More
Career Paths
Graphic Designers
Graphic designers create visual concepts by hand or by using computer software to communicate ideas that inspire, inform and captivate consumers. They develop the overall layout and production design for various applications such as advertisements, brochures, magazines and corporate reports.
Advertising, Promotions and Marketing Managers
Advertising, promotions and marketing managers plan programs to generate interest in products or services. They work with art directors, sales agents and financial staff members.
Desktop Publishers
Desktop publishers use computer software to design page layouts for newspapers, books, brochures and other items that are printed or published online.