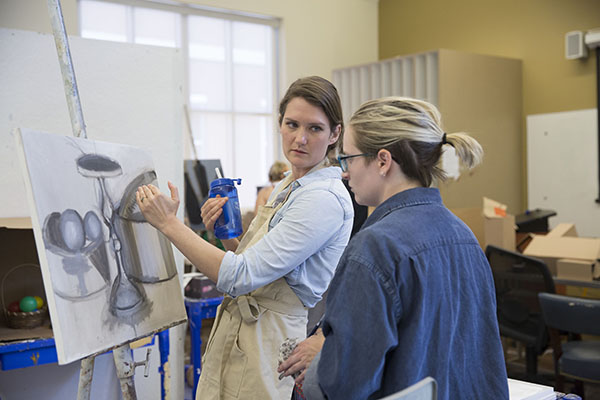 Program Overview
Program Overview
The art you encounter, and even create, has more worth than what is seen by the eye. Gain a greater appreciation and understanding of art through studying its origin. Our distinguished professors will provide thorough expertise on the background, history and meaning of art. You'll even get to choose specific areas of art that you're most passionate about. Use your garnerd knowledge to excel in your field of study and further engage with the art around you.
Courses
Courses
Specific courses required:
AR 4813 - Survey of History of Art I
AR 4823 - Survey of History of Art II
AR 4843 - Art Since 1940
Choice of three additional art histories/theories
Honors College
Complete your core educational work in an exceptional way. We'll help you dive deeper into your studies and compete at the highest levels. Our honors courses allow independent exploration and discovery rather than simply lecture presentation. You'll graduate as an Honors College Scholar or Honors College Fellow.
Internship
Become more competitive in the job market with an internship related to your interests. You'll gain experience and boost your exposure. An internship will also help you learn whether you've chosen a career you'll enjoy.
Expert faculty, small class sizes
Learn from award-winning, experienced faculty who actually care about you. Our small class sizes allow us to get to know you personally. We lead an approachable community within our respective programs. Our faculty connections are the experts on their subject matter, too.
Study Abroad
See the world — whether it's Italy, Austria, Costa Rica, England or another country. Career opportunities will open for you as you sharpen your foreign language skills. Gain the international experience and cross-cultural communication skills you'll need in our global economy.
Cliff Eanes Tierney

Chair, Visual Arts

Cliff Eanes Tierney is an artist and currently holds the position of associate professor of art at Lipscomb University in Nashville, where he chairs the Department of Visual Arts. Professionally, his...

Learn More

Rocky Horton

Interim Director of the School of Art & Design

Rocky Horton received his undergraduate education at Harding University in Searcy, Ark. He received an MFA in Studio Art from West Virginia University in December of 2003. Since that time,...

Learn More
Career Paths
Craft and Fine Artists
Craft and fine artists use a variety of materials and techniques to create art for sale and exhibition. Craft artists create handmade objects, such as pottery, glassware, textiles, and other objects that are designed to be functional. Fine artists, including painters, sculptors, and illustrators, create original works of art for their aesthetic value, rather than for a functional one.
Historians
Historians research, analyze, interpret, and write about the past by studying historical documents and sources.
Archivists, Curators, and Museum Workers
Archivists appraise, process, catalog, and preserve permanent records and historically valuable documents. Curators oversee collections of artwork and historic items, and may conduct public service activities for an institution. Museum technicians and conservators prepare and restore objects and documents in museum collections and exhibits.