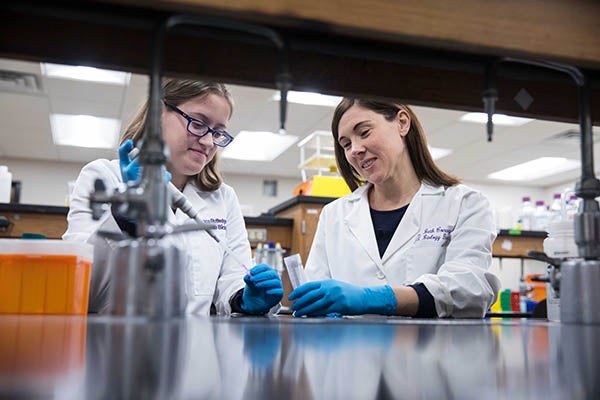 Bioscience and Philosophy
Program Overview
Program Overview
Investigate the workings of the natural world, building a deeper understanding of bioscience and a deeper appreciation for the processes of life. Assess the theoretical implications of the field from a philosophical perspective while remaining grounded in scientific knowledge.
Explore the complex relationships between ethics and biology. You'll debate about subjects like informed consent, medical confidentiality, and allocation of resources, as well as hot topics like euthanasia and abortion. Consider the set of moral principles that medical professionals are faced with every day. 
You'll work with the best and brightest of our biology, chemistry and philosophy faculty to gain a comprehensive knowledge of the history, psychology, theory and science that revolves around the field of bioscience, specifically as it relates to health and medicine. Emerge from the program as a conscientious, informed researcher or scientist.
Courses
Courses
Biology Core*
BY 1134 - Principles of Biology: Cell and Genetics
BY 1144 - Principles of Biology: Diversity and Ecology
BY 2114 - Cell Biology
BY 3114 - Genetics
BY 3333 - Molecular Basis of Human Disease
BY 4802 - Capstone Course
Biology Electives: choose three of the following
BY 3214 - Microbiology
BY 3223 - Virology
BY 3323 - Immunology
BY 3514 - Human Anatomy and Physiology I
BY 3524 - Human Anatomy and Physiology II
BY 4014 - Molecular Biology
BY 4023 - Cancer Biology
BY 4213 - Developmental Genetics
BY 4323 - Histology
BY 460V - Special Topics in Biology**
Philosophy Core *
PL 1003 - Introduction to Philosophy
PL 2013 - Logic
PL 3433 - Ethical Theory
PL 3533 - Biomedical Ethics
Philosophy Elective: Choose one of the following
PL 3213 - Ancient and Medieval Philosophy
PL 3223 - Modern Philosophy
PL 4013 - Philosophy of Religion
Psychology
PS 1113 - Introduction to Psychology
and one course selected from
PS 2423 - Life Span Development
PS 3413 - Social Psychology
PS 3453 - Death and Dying
PS 4523 - Cognitive Psychology
PS 4543 - Biological Psychology
Chemistry
CM 1113 - General Chemistry I
CM 1123 - General Chemistry II
CM 1211 - General Chemistry Laboratory I
CM 1221 - General Chemistry Laboratory II
CM 2113 - Organic Chemistry I
CM 2123 - Organic Chemistry II
CM 2211 - Organic Chemistry Laboratory I
CM 2221 - Organic Chemistry Laboratory II
Physics ***
PH 1214 - Elementary College Physics I
PH 1224 - Elementary College Physics II
Note:
* A minimum grade of "C" in each of the core courses is required
** Variable credit courses used to satisfy the major elective requirement must be 2 credit hours or above and are subject to approval by the academic chair of Biology.
**** Students may substitute Physics 2414 and 2424 in place of Physics 1241 and 1224. 
Expert faculty, small class sizes
Learn from award-winning, experienced faculty who actually care about you. Our small class sizes allow us to get to know you personally. We lead an approachable community within our respective programs. Our faculty connections are the experts on their subject matter, too.
Nashville
A big city. An even bigger opportunity. We consider Nashville an extension of our classroom, and as a leading city in many industries, that means you'll gain experience and insight you won't find anywhere else.
Job placement
With a top-tier university education on your resume, you'll be in high demand, whether you choose to launch your career or begin graduate school. Most of our programs have a placement rate of at least 90 percent within six months of graduation.
J. Caleb Clanton

Professor of Philosophy

J. Caleb Clanton has been on faculty at Lipscomb University since 2012. He taught previously at Pepperdine University, where he served as the Director of the Philosophy Program and was...

Learn More

Kent Gallaher

Director, Biomolecular Science Graduate Program

Kent Gallaher earned a Ph.D. in Plant Physiology from the University of Tennessee at Knoxville. Over the course of his academic career he has received numerous awards and recognitions. These...

Learn More

John Lewis

Associate Professor

John Lewis is associate professor of Biology in the College of Liberal Arts and Sciences. He received his bachelor of science degree in Wildlife and Fisheries Science from Tennessee Technological...

Learn More

Jon Lowrance

Professor

Jon H. Lowrance is a professor of biology in the College of Liberal Arts and Sciences at Lipscomb University. He received his bachelor of science (B.S.) degree in Biology from...

Learn More

Florah Mhlanga

Associate Dean, College of Liberal Arts and Sciences

Florah Mhlanga serves as the Associate Dean and Professor of Biology the College of Liberal Arts and Science at Lipscomb University. She also serves as the Director of the Lipscomb...

Learn More
Career Paths
Medical Scientists
Medical scientists conduct research aimed at improving overall human health. They often use clinical trials and other investigative methods to reach their findings.
Postsecondary Teachers
Postsecondary teachers instruct students in a wide variety of academic and technical subjects beyond the high school level. They may also conduct research and publish scholarly papers and books.
Librarians
Librarians help people find information and conduct research for personal and professional use. Their job duties may change based on the type of library they work in, such as public, academic, and medical libraries.