Biography
L. Randolph Lowry became Lipscomb University's 17th president in September of 2005.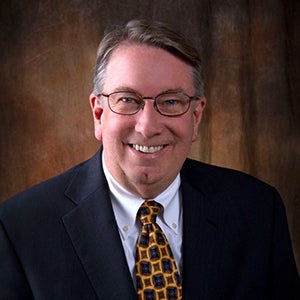 A hallmark of Lowry's presidency at Lipscomb has been his dedication to connecting the university to the Nashville community. His guiding perspective can be summed up by his commonly known mantra: the city is our campus and the world is our classroom. This means that the borders of learning at Lipscomb go beyond the campus walls and into the city of Nashville, and when we invest in our city, the whole world opens up with opportunities for learning. This has been made manifest in his presidency through multiple projects, including the addition of six colleges and seven institutes that offer academic degrees and benefit the Nashville community through their services, the addition of Middle Tennessee's first College of Pharmacy, as well as the establishment of Lipscomb's downtown Spark center which provides off-campus learning and corporate executive education facilities.
Lowry has led Lipscomb into a fruitful season during which the institution has seen upwards of 86 percent growth in enrollment numbers, and the numbers keep climbing. Because of this growth, Lipscomb has been ranked one of the top universities in the Southeast and in the nation for its business, biology, visual arts, and teacher prep programs among others.
Dedicated to the spiritual and academic development of all students, staff, and faculty at Lipscomb, Lowry leads with boldness, innovation, and determination to see through his vision to successfully grow the university into the future. This vision includes a commitment to being intentionally, courageously and graciously Christian by expanding Lipscomb's reach to serve many. Some of his top priorities have been increasing diversity in the campus student body and making it possible for anyone who wants a college degree to receive it at Lipscomb through non-traditional programs.
Lowry is a member of the Agenda for Nashville's Future, the Rotary Club of Nashville and the Middle Tennessee Council of the Boy Scouts of America's executive committee. He co-chaired the Nashville Mayor's Green Ribbon Committee and serves on the boards of multiple community organizations including United Way of Metropolitan Nashville, the American Heart Association and the leadership council for the Nelson and Sue Andrews Institute for Civic Leadership.
Lowry holds a bachelor's degree in political science and a master's degree in public administration from Pepperdine University, and a juris doctorate degree from Hamline University. A native of Oregon, he and his wife, Rhonda, are proud to now call Nashville and Lipscomb home. They have three grown children and five grandchildren.
"We must serve the community before we sell our services to the community." — L. Randolph Lowry, III, Lipscomb President
Previously, he served on the faculty at the Pepperdine School of Law, Vermont Law School, the City University of Hong Kong, Shantou University in Beijing, Bond University in Australia, Hamline University and the University of Modena in Italy.
Lowry has established himself as one of the nation's leaders in the dispute resolution field, a designation he's held for more than 20 years. After developing an innovative program at Willamette University School of Law in Salem, Ore., Lowry founded the Straus Institute for Dispute Resolution at the Pepperdine School of Law. It has consecutively been named the top graduate program of its kind, consistently achieving the number one ranking by U.S. News & World Report. In 2004, Lowry formalized his longstanding consulting and training practice into the firm now called Strategic Resolutions Group, LLC. A lawyer, mediator, author, consultant and teacher, he has served clients across the country and the world in conflict management consulting, systems design and training.
Today, he's one of the country's most sought-after speakers on the topic and has been featured in a variety of national media outlets including CNN, Bloomberg Businessweek, Huffington Post and Washington Monthly.