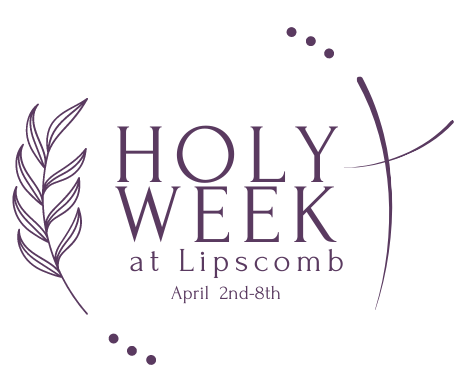 The Lipscomb community will have the opportunity to commemorate the death and resurrection of Christ during a series of events on campus beginning Sunday, April 2 and concluding with an all-campus Good Friday Service at 11:00 a.m. on Friday, April 7th in Collins Auditorium.
 
Activities for the Week
Holy Week Hike
An audio-guided meditation through the Gospel of John's telling of Jesus' journey to the cross. Listen while on a hike or simply walking around campus.
Stations of the Cross
Find and reflect on pictures depicting Jesus' journey to the cross. Artwork featured from
Scott Erickson
. 
Sacred Space
For all but a few hours of the week, Ezell Chapel has been reserved as a quiet space for prayer, reflection and meditation. In the midst of busy lives filled with technology, noise, and increased anxiety, "sacred spaces" like this are more important than ever. This space will offer an opportunity to slow down and encounter God in stillness.
There will also be a schedule of short times of guided activity and prayer posted throughout the week, such as Imaginative Prayer led by Emily Wilhelm on Monday at 3:00 p.m.
Day by Day Reflections
Daily devotionals and reflections written by some of your classmates on the journey to the cross. Access them
here
.
Communal Art Project
Come visit the Welcome Desk in the Campus Center to contribute to a communal "stained glass" beginning Sunday night at 9 p.m. Check out the schedule for the other times throughout the week! 
Daily Schedule
Saturday, April 1st
10:00 a.m. Discovery Retreat (CVD)
Sunday, April 2nd
8:00 p.m. Worship Night (Collins Auditorium)
9:00 p.m. Bonfire (The Square)
9:00 p.m. Launch of art project (The Campus Center)
Monday, April 3rd
8:00 a.m. - 1:50 p.m. Sacred Space (Ezell Chapel)
11:00 a.m. - 1:00 p.m. Art Project (Campus Center) 
3:00 p.m. Imaginative Prayer with Emily Wilhelm (Ezell Chapel) 
4:00 p.m. - 7:50 p.m. Sacred Space (Ezell Chapel) 
Tuesday, April 4th
8:00 a.m. - 9:20 a.m. Sacred Space (Ezell Chapel)
10:55 a.m. Gathering (Allen Arena)
11:45 a.m. - 2:00 p.m. Art Project (Campus Center) 
11:45 a.m. - 6:50 p.m. Sacred Space (Ezell Chapel) 
7:00 p.m. Own Your Power Workshop (CVD)
Wednesday, April 5th
8:00 a.m. - 1:50 p.m. Sacred Space (Ezell Chapel)
11:00 a.m. - 1:00 p.m. Art Project (Campus Center) 
3:00 p.m. - 11:30 p.m. Sacred Space (Ezell Chapel) 
Thursday, April 6th
8:00 a.m. - 10:00 a.m. Sacred Space (Ezell Chapel) 
11:00 a.m. - 1:00 p.m. Art project (Campus center) 
11:30 a.m. - 1:30 p.m. Service Project (The Campus Center)
12:00 p.m. - 7:50 p.m. Sacred Space (Ezell Chapel) 
Friday, April 7th
7:00 a.m. - 10:00 a.m. Sacred Space (Ezell Chapel) 
8:00 a.m. (All day) Easter Egg Hunt (Across campus)
11:00 a.m. Good Friday Service (Collins Auditorium)
5:00 p.m. - 11:30 p.m. Sacred Space (Ezell Chapel)