VeggieTales creator brings his Big Idea experience to today's film students
Mike Nawrocki ('19), the voice of Larry the Cucumber, guides students in courses and on his latest animated series 'Dead Sea Squirrels'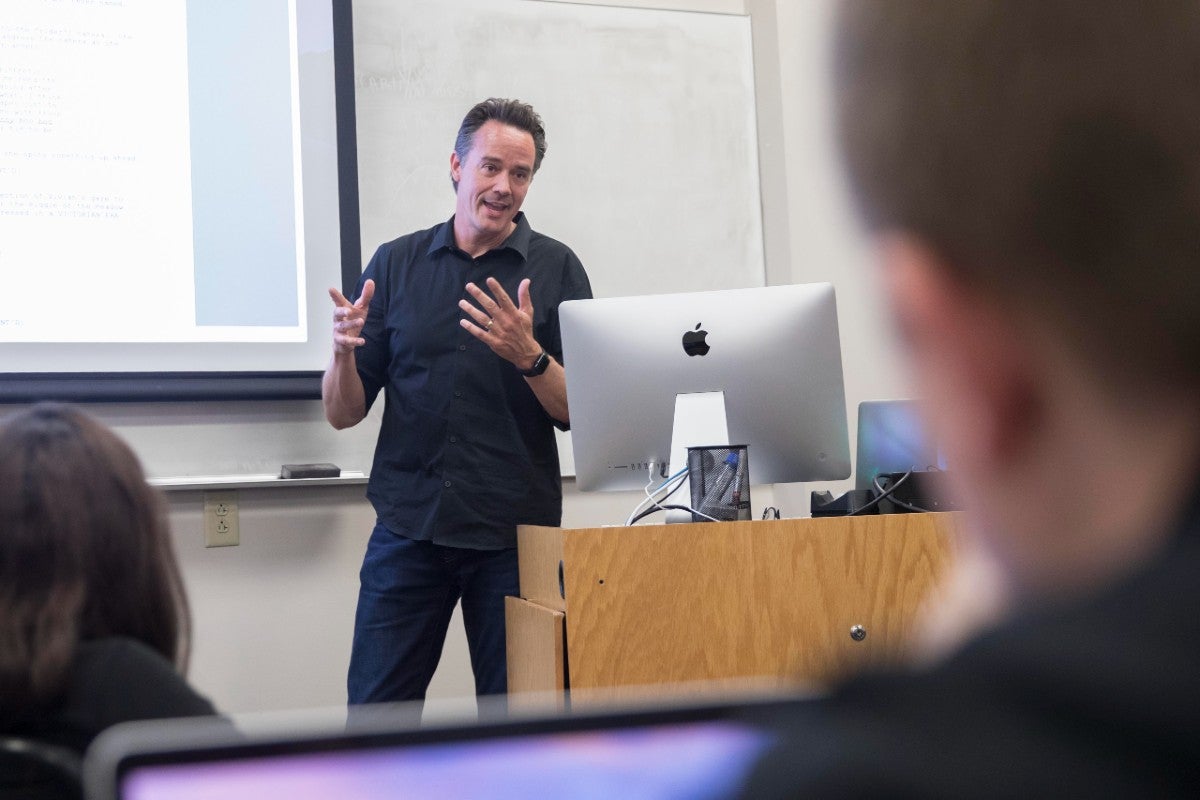 Published in November 2022
In 1993, Mike Nawrocki (MFA '19) was one-half of a team that came up with a really big idea: teaching children Biblical values… through talking vegetables.
And thus a generation of youngsters grew up learning moral behavior and Christian tenets through the goofy and gregarious VeggieTales, produced by Big Idea Entertainment. Nawrocki was not only the co-creator, writer and director for VeggieTales, but he also created the voice of the beloved Larry the Cucumber.
Today Nawrocki is still teaching future generations, but now he's teaching Lipscomb students the art of animated film… through squirrels. Dead Sea Squirrels to be exact.
As visiting professor in the George Shinn College of Entertainment & the Arts, Nawrocki teaches courses in screenwriting, voice-over acting and career creativity and works one-on-one with upper-level animation students to produce his latest animated series: The Dead Sea Squirrels, based on his series of books for early readers.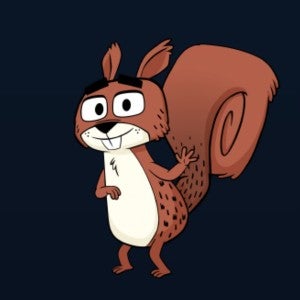 In the books, a couple of friends sneak into the Dead Sea caves near an archaeological dig and find two 2,000-year-old squirrels—old enough to have heard Jesus' teaching in real time—petrified in sea salt. Hijinks and character-building lessons ensue as the pair try to bring the Dead Sea Squirrels back to the U.S. hidden in a backpack.
"In each episode, there is a two-minute flashback sequence, which is being animated by Lipscomb students," said Nawrocki. "Students work in a real-world production environment (with real-world deadlines) and along with animating, are involved with voice-over acting, and character and location design."
The production team, which also includes Lipscomb professors Steve Taylor, a musician, filmmaker and producer and Disney animators Tom and Tony Bancroft, plans to release the series for streaming in 2023.
"As with my work with VeggieTales, I'm interested in telling stories for kids with a Biblical worldview; the assumption that God made us, loves us and wants a relationship with us," said Nawrocki. "Through engaging characters, animation, comedy and music, I feel well-told stories can provide a great resource for parents to pass on Biblical lessons and values to their children."
Nawrocki brought his famous voice and prestigious writing and directing talents to Lipscomb in 2017. After his 25 years as a cucumber (not a pickle) came to an end in 2016, Nawrocki reached out to his former colleague in the entertainment industry Taylor, who wrote the VeggieTales Silly Song "Sippy Cup" and a song for Jonah: A VeggieTales Movie. Taylor said he should consider teaching at Lipscomb.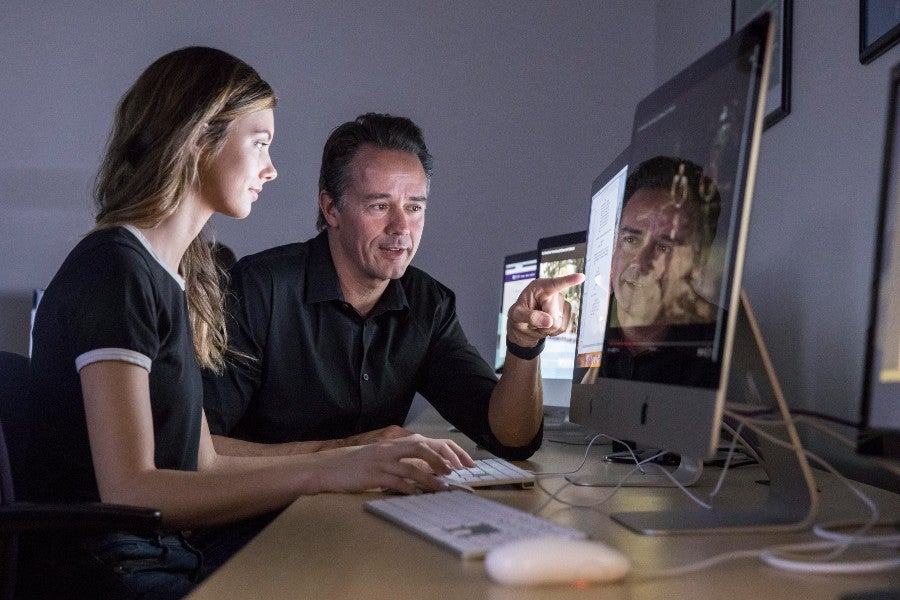 Nawrocki wanted to improve his live action film and educator skills, so he decided to not only come on as an artist-in-residence in 2017, but to also enroll in Lipscomb's Master of Fine Arts program, where the writer and director of the "Silly Songs with Larry" segment and Jonah studied in the writer/director track.
"It was really fun being a student again. I loved the environment, loved the culture of Lipscomb and the philosophy of what they were building," he said. "Their message to faculty is: we want you to be committed to the students, but we also want you to keep one foot in the industry. Our hope is that graduating with real-world experience and credit will give Lipscomb students a great head-start in their careers."
The seed of the VeggieTales idea came to Nawrocki and co-creator Phil Vischer from puppetry, a creative art Nawrocki was involved in during his undergraduate years at Crown College, where he was involved in student ministry with his friend. After both transferring to Chicago (Nawrocki graduated from the University of Illinois Chicago), they worked in video post-production together to fund their college studies and future career prospects.
"We wanted to take what we did in puppetry and put it into video," said Nawrocki. "Larry's voice, I originally used in puppetry. Phil was a little more serious and driven, and Larry was a little more goofy like me. We related to each other as friends the same way Bob and Larry relate to each other."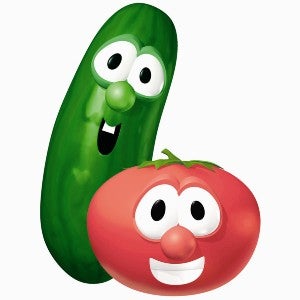 Over the years, Nawrocki wrote and directed most of the extremely popular "Silly Songs with Larry" segments, including fan favorites "His Cheeseburger" and "The Hairbrush Song," as well as episodes such as "Madame Blueberry" and "The League of Incredible Vegetables," and both of Big Idea's theatrical release films, "Jonah" and "The Pirates Who Don't Do Anything." Jerry Gourd and Jean-Claude Pea were among the other VeggieTales characters he gave voice to. 
Since coming to teach at Lipscomb, Nawrocki has remained involved in professional production including work on Esme and Roy, an animated series for Sesame Workshop, a children's storybook Bible through KLOVE, and continued involvement with VeggieTales. 
"It's such a joy to now see that so many students grew up on Veggie Tales, and it really made a mark on their life, especially if they want to study art and animation," he said. (The No. 1 thing fans ask him to say: "I'm not a pickle. I'm a cucumber.") "It's a thrill for me that I got to speak to this generation and now I get to equip this generation to tell their stories."

In fact, story development has always been his specialty, he said.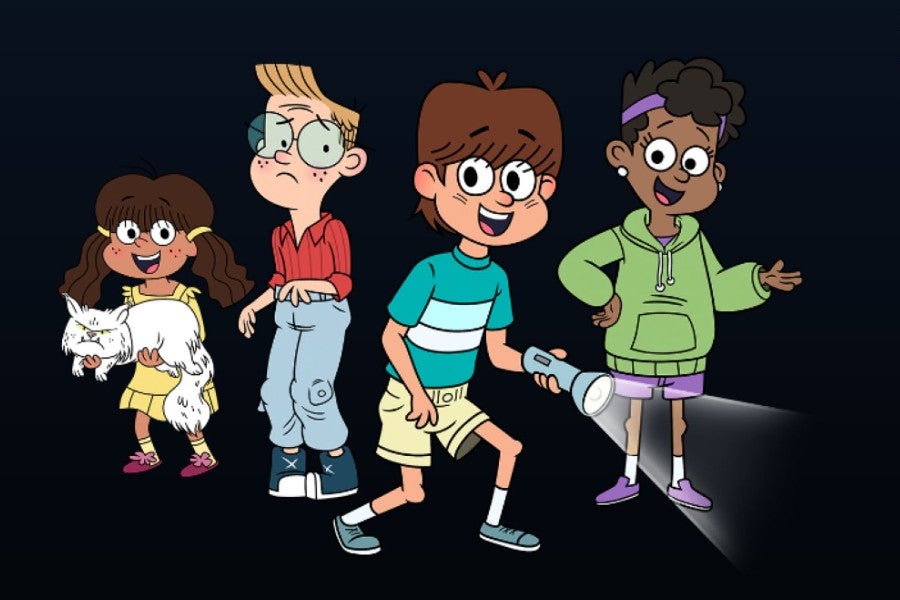 "When you tell a story, you want to convey the ideas and the values that are important to you. I think every story has something to say," he said. "A lot of Lipscomb students grew up in Christian homes and want to tell stories that reflect their faith. Learning the value of storytelling is important to learn how they will be received by an audience.
"The Jonah and Pirates movies were my favorite projects because we got to dig into the story and characters and spend two years making everything in the story the way we wanted it," he said. "I love what is happening now with streaming and the ability to tell stories over a long period of time. I love movies, but it's neat to see an over-arching story develop over many books or episodes."
For both Nawrocki and Lipscomb students, it looks like forthcoming Dead Sea Squirrels could be just the beginning of the story.