The World is Our Classroom
From fashion in Italy to archaeology in Cyprus and a history-making moment in London, Lipscomb's students are once again using the world as their classroom post-pandemic.

Keely Hagan | 615.966.6491 and Janel Shoun-Smith | 615.966.7078 |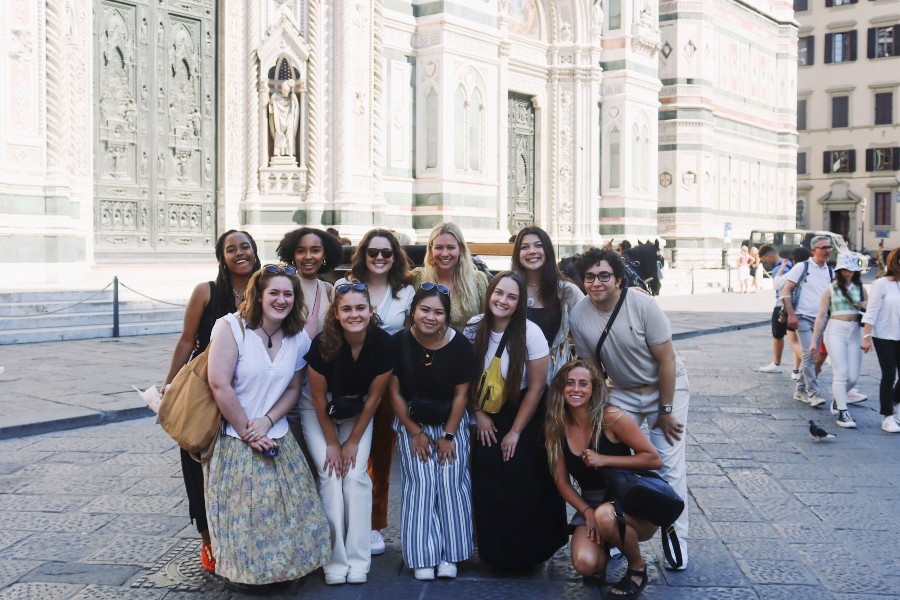 Lipscomb students experience world renowned art exhibits and gain exclusive access to fashion industry leaders in Italy
This past summer marked the re-launch of global travel at Lipscomb, post-pandemic. Eleven of Lipscomb's art and fashion students seized the opportunity to travel to Italy for a distinctive program through the university's summer 2022 short-term trips offered through the Global Learning program. 
For these creative students, four weeks in Italy included:
Studying museum masterpieces,
Visiting the Venice Biennale, one of the largest and most important contemporary visual art exhibitions in the world,
Attending the San Giovanni Festival in Florence with fantastic fochi or fireworks, 
Experiencing the design process of Kering Eyewear's collections for Gucci and other luxury brands, and
Meeting with world renowned leaders in their fields of study, and so much more.
The trip was one of seven summer short trips held this year in addition to four semester-long study opportunities this fall. Led by George Shinn College of Entertainment and the Arts faculty Sissy Simmons, fashion and design assistant professor and department chair, and Rocky Horton, art professor and director of the School of Art and Design, the trip included five fashion and six art students who used Lipscomb's villa in Florence as a base and took multiple-day trips to Milan, Venice and Rome.
"Rocky would take the art students to museums and I would lead trips that focused on fashion," Simmons said. "But fashion and art are so interdependent; fashion is really art you're wearing, so a lot of what we planned fit well for both groups." 
Together, they attended Milan Design Week where fashion brands Versace, Hermès, Dolce & Gabbana Casa and others displayed their best interiors and homeware.
Fashion students visited the Milan headquarters for Loro Piana. They were present for the launch event of the new furniture collection designed by Raphael Navo and met with Beckany Kilbourne, vice president of interiors North America. "Beckany's insights and experience emphasized the value of the interior merchandising component of our degree," said Simmons.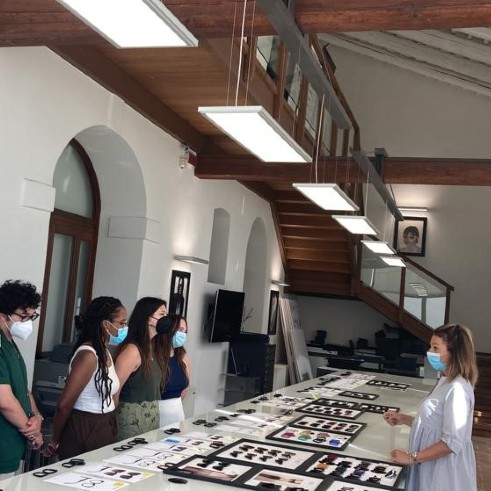 Kering Eyewear hosted the group at its headquarters outside of Venice. During the visit, students learned how eyewear collections and products come to life in an exclusive session with the Global Head of Human Resources Luca Marchioretto, followed by a tour of the Barchessa, Kering's creative hub, with the Head of Product Development Nadia Rossi. Students were led through the design process–step by step, using the 100 samples currently being designed for Gucci. 
"It was a fascinating process and so exciting to see all of the machinery, tools and raw materials used to produce the prototypes. We all appreciated the details and the careful workmanship. The fashion design students were overwhelmed by the collection of eyewear–the drawers were full of vintage pieces and past collections!" 
Students were also invited to learn more about a multi-generational family business that uses feathers in its unique designs. At the time of the visit, they were working on a project for Versace and a coat for celebrity musician Harry Styles. Perhaps their most recognizable creation has been angel wings for the Victoria's Secret fashion shows. Students were invited to watch a demonstration of the special sewing machine created by the owner's grandparents to create a tapestry of feathers and to try on some of the designs for fun pictures.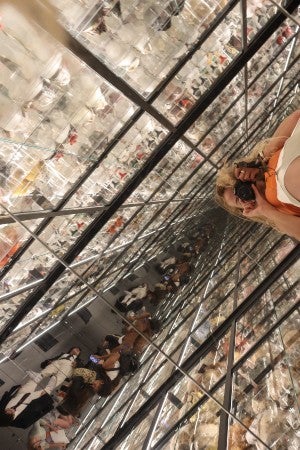 "Some of the places we visited and enjoyed were new to us," said Horton. "Sissy wanted to take the students to a small, industrial town outside of Florence for the textile museum there. It was a big and pleasant surprise."
This was the third time Horton has taken Lipscomb students to the Venice Biennale, arguably the most prestigious contemporary art exhibition in the world. "The exhibit space is larger than Lipscomb's campus, with a lot of collateral shows, new installations and new artists. It is always a new experience," he said. 
Having made this trip with students over the past 11 years, Horton says it is always both an exhilarating and exhausting trip with so much to see and do. The best way to study anything is to experience it yourself, and this was a great group who were so appreciative for that opportunity.
"The conversations with students I've had in class as well as others I met on the trip exceeded my expectations," said Horton. "They were positive in all circumstances–even with the insane heat wave in Europe at the time. They made it a great experience for all of us."
DON'T MISS: Lipscomb 2022 Fashion Week is scheduled for October 24-28.

Fall study abroad students get to experience history-in-the-making in London
Lipscomb students are also studying long-term in Vienna, London, Costa Rica and Florence, this fall.
Students in Lipscomb's semester-long program in London experienced history in the making as they arrived in London to start their three month-stay on Sept. 8, the day Queen Elizabeth II died at age 96. Since that time they have witnessed a nation mourning the loss of the longest reigning British monarch.
Short-term trips from Indonesia to Israel teach students how to live and learn in a global society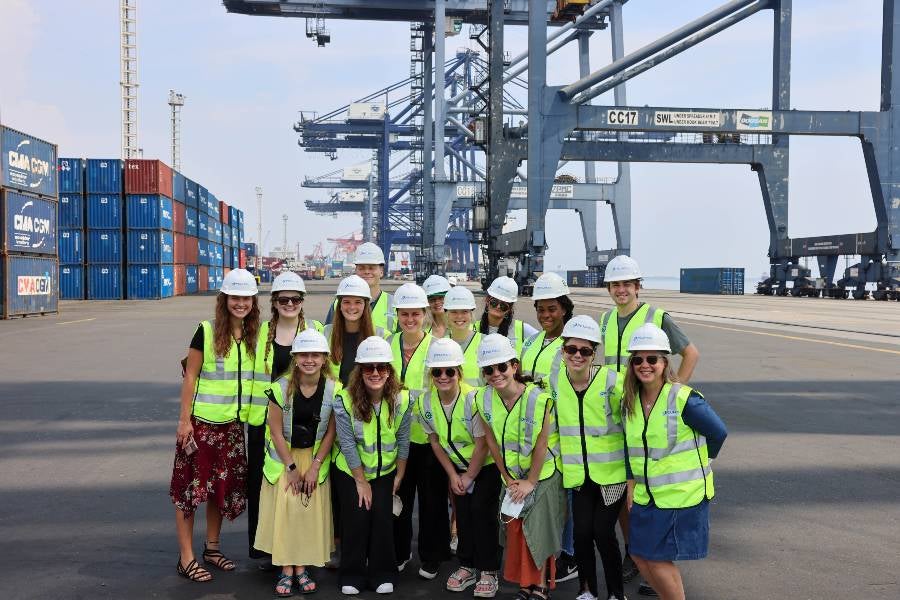 Indonesia
College of Business faculty led a group of 15 students to Indonesia for a Maymester learning experience focused on supply chain management and international business. The group spent time in Jakarta, Bali and Yogyakarta visiting a wide variety of business and cultural sites.
 
The COO at Hypermart, one of the largest superstore chains in Indonesia, highlighted their unique grocery partnership with Disney. Students toured M Bloc Space, a community creative space and event venue. The CEO of Barita Satu, a leading news and mass media organization, discussed content creation, moderation and distribution. Operations managers with the Pelindo Marine Service gave a presentation on international supply chain and logistics with a tour of a large international port.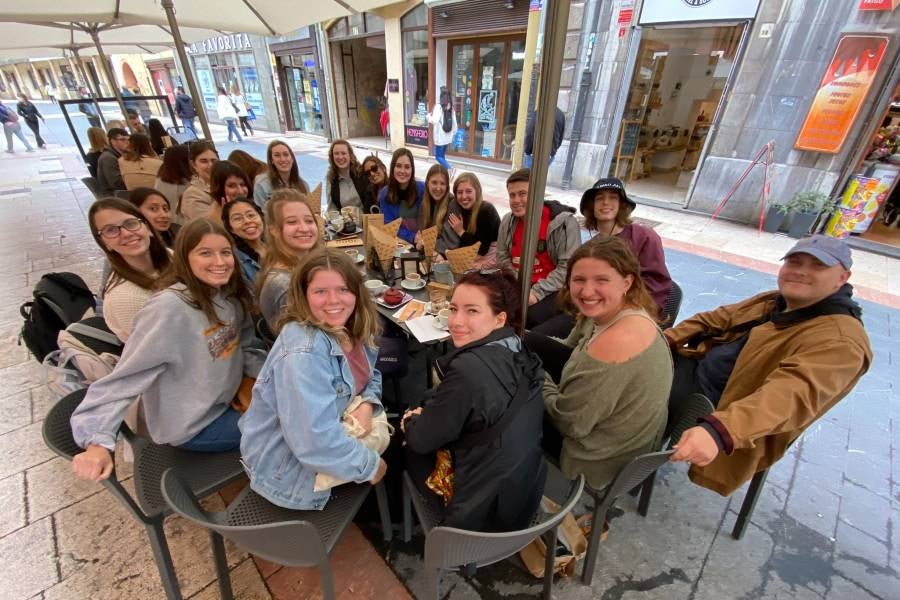 Oviedo, Spain
In the Maymester in Oviedo, Spain, the Department of English and Modern Languages sponsored 17 Spanish majors and minors to study at a Spanish university and to live with a Spanish family for a month.
 
The learning experience focuses on cultural immersion and building relationships, to experience Spain from the inside out, with accelerated courses but long afternoons to stroll Oviedo's medieval streets. The opportunity included two day-trips to the mountains and coast.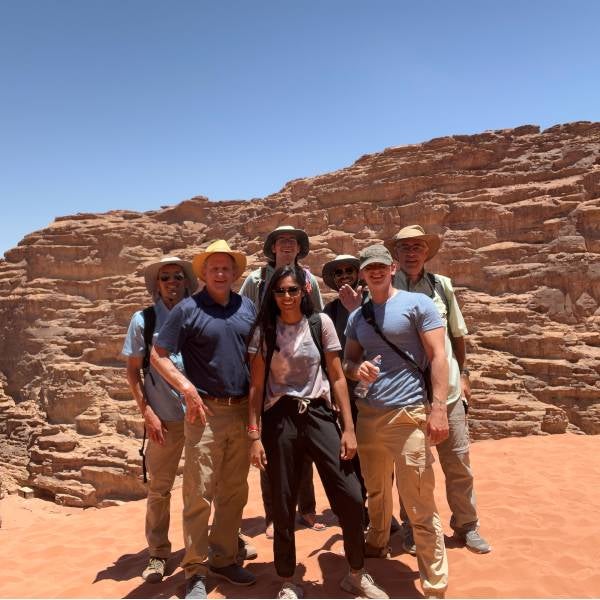 Israel
Faculty members Alan Bradshaw, Kris Miller, Richard Goode and Scott Sager led a trip May 15-30 that traveled to four countries: Israel, Palestine, Jordan and Sinai. Twenty-nine students enrolled in the Biblical Worldviews engagements course participated.
Cyprus
May 2022 brought new milestones for the Lanier Center for Archaeology (LCA) as it launched its first excavation since the COVID-19 pandemic halted international travel.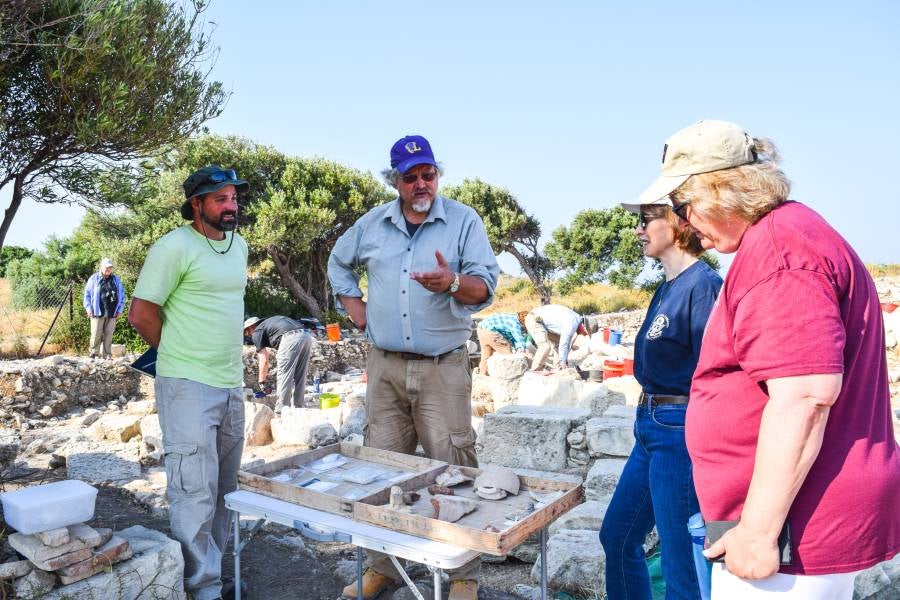 The first LCA excavation since moving to Lipscomb was held in May at the Kourion Urban Space Project (KUSP), a multinational effort in the Republic of Cyprus seeking to better understand the transitional period of the 4th century AD when Christianity replaced the traditional Roman religion, paganism, as the dominant religion of the island. Eleven students contributed to a 20-person team that went on the Kourion dig.
Kourion is of particular interest because a series of earthquakes in the 4th century served as a catalyst for the shift from paganism to Christianity. The excavation yielded a significant and unusual discovery as the team found a sculpture of a young boy lying face down on a mosaic floor and covered by large, tumbled wall stones in the remains of one of the buildings being excavated there.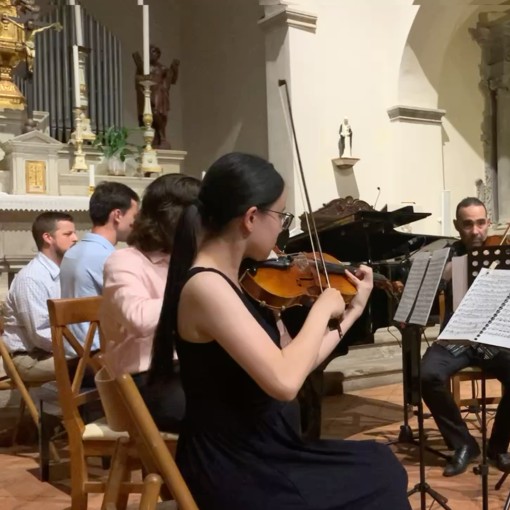 Italy
The School of Music's Avalon Trio traveled to Rome in July to study and perform at the Clazz Music Festival, a new festival sitting at the intersection of classical and jazz idioms. The musicians studied in Arcidosso, Italy, situated in the heart of Tuscany, and enjoyed day trips to Siena and the beach in Porto Santo Stefano. Faculty at the festival included highly acclaimed international artists. Students also performed at the InterHarmony International Music Festival, international artist-in-residence concert.