Lipscomb in London students witness history as world mourns Queen Elizabeth II
As the world mourns the passing of Queen Elizabeth II, a group of Lipscomb University students are getting a unique perspective of this historic time.
Kim Chaudoin |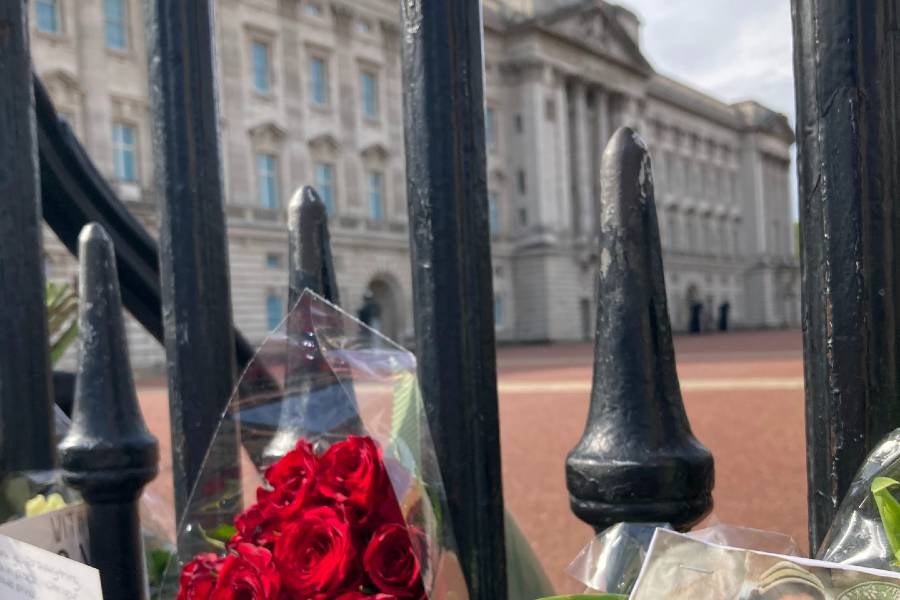 Lipscomb's global learning program offers students once-in-a-lifetime experiences and learning opportunities. But students in Lipscomb's semester-long program in London this fall are experiencing something unique  — history in the making. 
The group arrived in London to start their three month-stay on Sept. 8, the day Queen Elizabeth II died at age 96. And since that time they have witnessed a nation mourning the loss of the longest reigning British monarch. 
Alan Griggs, associate professor of communication and journalism who is the faculty leader of the Lipscomb in London group this semester, said as they left Nashville "I knew in the back of my mind that this might happen but I didn't expect it so soon, nor did I wish for it."
"These are extraordinary times in the U.K. and especially here in London. Never have I seen such a mass outpouring of love and emotion as I have on the part of her people toward the queen. Simply remarkable," reported Griggs. "I visited Green Park and witnessed firsthand the field of flowers left by thousands of grieving individuals and families. I saw the tears and heard the hushed whispers of respect and loss for the person who led them over the past seventy years."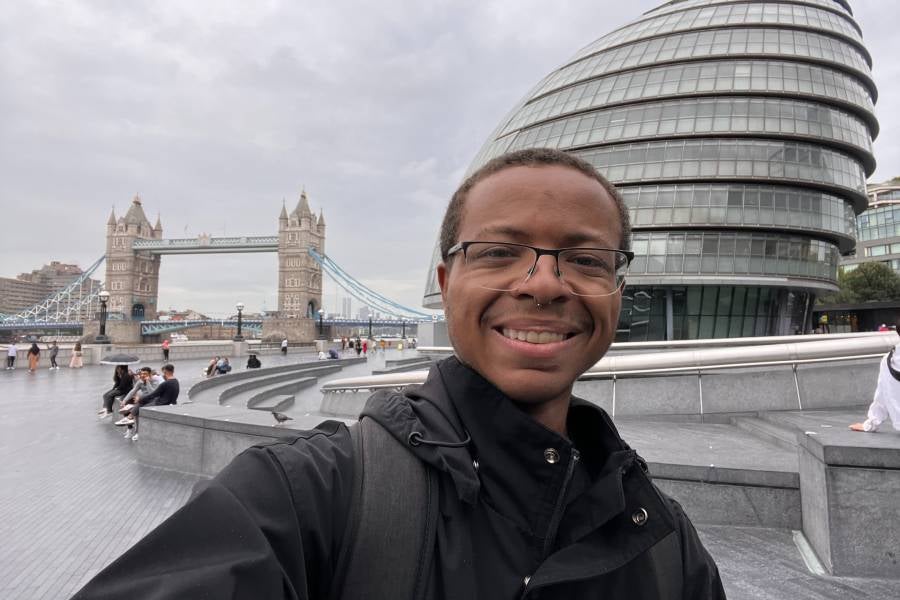 Griggs saw the area leading up to Buckingham Palace, known as The Mall, packed with people, sometimes ten deep, hours before the procession began to move the queen's coffin to Westminster Hall where she lay in state for four days. "The solemness of the occasion along with the chance to see their new king left an indelible mark on each person," he said. 
"The line of mourners waiting to pay their respects to the queen as she lies in state in Westminster numbers into the hundreds of thousands with the line stretching for three to five miles. Night and day they shuffle patiently ahead, determined to see her one last time," Griggs continued. "For an American like me, I find myself wishing our country to come together to honor a beloved figure in such a way."
Student Caleb Davis, who is studying English while abroad in London, said when the news first broke that the queen had passed away it felt surreal. 
"It hadn't fully processed that we made it to London the day history was being recorded until we were getting off the tube and saw newspapers headlining the queen's death, and it occurred to me that I should grab one or two for sentimental purposes," Davis shared. "I've only been around a few of the queen's mourning activities that have taken place so far because of how crowded it's gotten because of it. I have, however, been around a few of the places where things would take place. The day after her death was announced we biked past Buckingham palace. The area was extremely packed with mourners – to the point where it was hard to even walk around. I also passed the area where she would be lying in state a while before she would arrive and there were so many people gathered hoping to catch a glimpse of her."
Now probably more than ever, studying abroad will give me and the other students here a better in-depth understanding of the social and political climate than we would get in a classroom. — Caleb Davis
Davis said he is grateful that he is able to study abroad when such a momentous series of events began to happen. 
"Now probably more than ever, studying abroad will give me and the other students here a better in-depth understanding of the social and political climate than we would get in a classroom, or even if we were to study abroad any other semester," he said. "I really hope I can take advantage of being here at a time like this and really involve myself in the culture here. By the end of this semester abroad, I want to have a deeper understanding of how the general population thinks and acts on things happening in the political and patriarchal sphere and be able to discern the different perspectives. Just learning about the way this side of the world works outside of things like history we can learn in class is interesting to me and what I hope to see while here."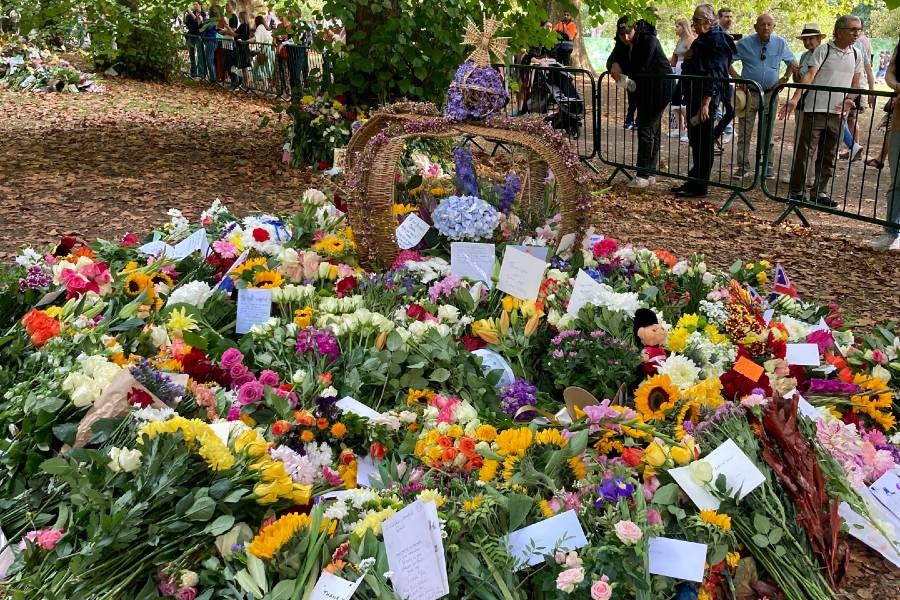 Abigail Miller, an environmental and sustainability and French major, agreed that being in London at this time feels surreal. The Lipscomb in London group was eating dinner when news broke that the queen died. 
"I looked around as people checked their phones and saw the news. I was expecting some apocalyptic scenario where everything stops. What actually happened was that people went about their day, but it was clear that something had shifted," Miller recalled. "That's how it's been ever since the queen's death. There's been a huge and noticeable shift, yet normal life goes on. It's a strange combination."
During the course of the nation's official mourning period, Miller visited Green Park, the park near Buckingham Palace where mourners have laid thousands of bouquets of flowers in memory of the queen. The area was packed with people and reporters. There were rows of bouquets, artwork in all directions. Miller said some people were crying, some taking a moment to themselves, and others laughing and talking.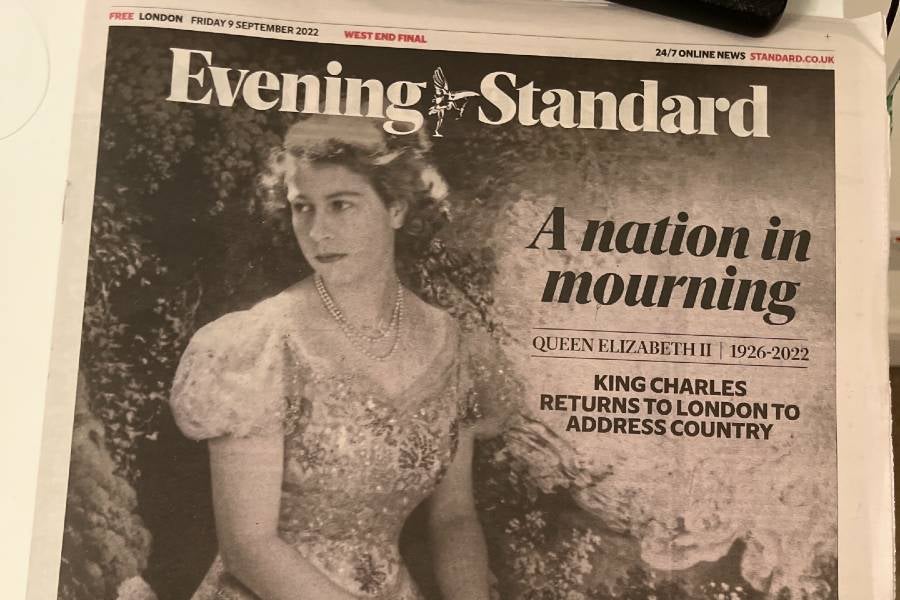 "Visiting Green Park was an incredible experience because of the unity I felt while being there. There were children, elderly people, families, Londoners, tourists, and more. It felt like everyone was there," said Miller. 
"I've already learned so much, but while studying abroad I hope to gain a better appreciation for the different lifestyles that exist across Europe, she continued. "I'm also excited to see what the U.K. and other countries are doing to make cities more sustainable."
Natalie Blickensderfer, a finance and data analytics major from Plano, Texas, said "being immersed into a changing culture is unlike anything I've ever experienced." 
"Not only are we navigating a new environment, but that environment is changing as we are living in it. Furthermore, we cannot even fully comprehend the extent of what this nation is going through because our only frame of reference from before Queen Elizabeth II passed is the hours between landing at Heathrow and walking to dinner," explained Blickensderfer. "We are truly experiencing this piece of history firsthand.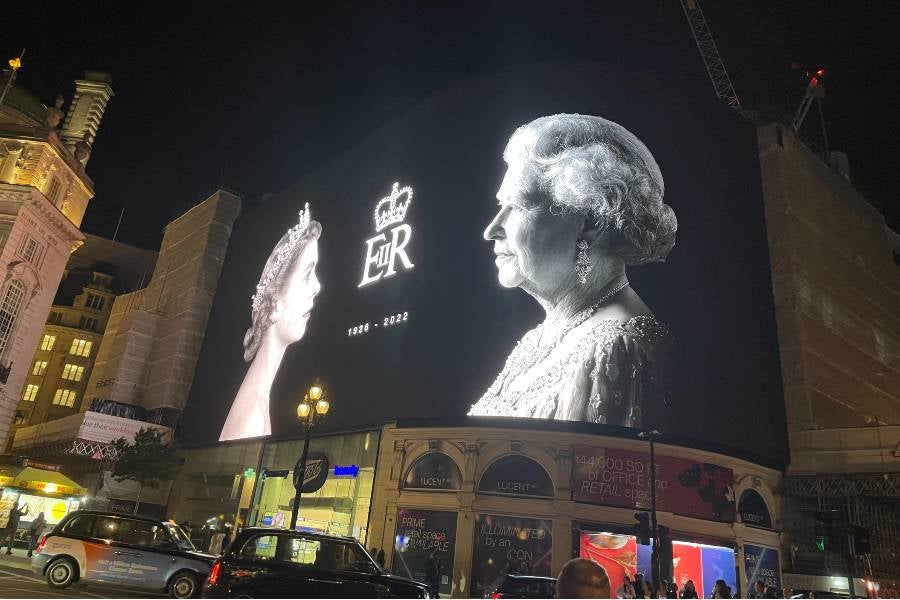 On Sept. 9, the day after the Queen's passing, the London group rode through some historical places in central London on a bicycle tour. Blickensderfer said sites like Buckingham Palace, Westminster Abbey, Leicester Square and St James's Park were overflowing with people paying respects and grieving the late Queen. 
"We witnessed people from all over the world traveling to London to be near the mourning activities. Electronic ad spaces have been filled with memorial photos, every church offers a book of condolence to sign, theatres offer a minute of silence before the shows, and there is a communal relevance people seem to have for the Royal Family, the UK and the Commonwealth," continued Blickensderfer. "Everyone here has been incredibly respectful of all the memorial events. We know there are people who may disagree with the monarchical system or other aspects of the crown, but for the most part, those individuals have kept respectful silence during this period of mourning."