Two business college alumnae honored as 2023 Women of Influence
Nashville Business Journal named April Britt ('13) and Sydney Ball ('12, MBA '14) honored as 2023 Woman of Influence in Nashville.
From staff reports |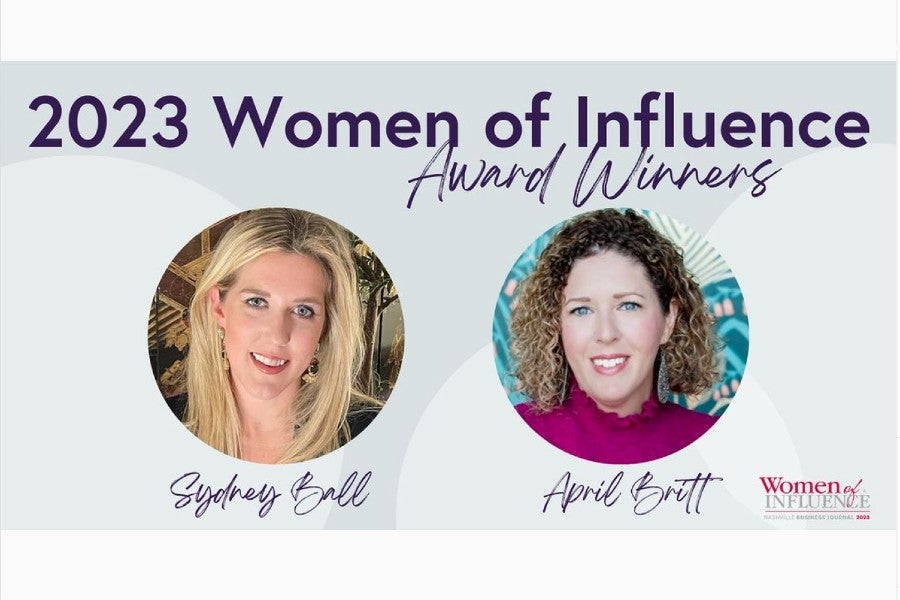 April Britt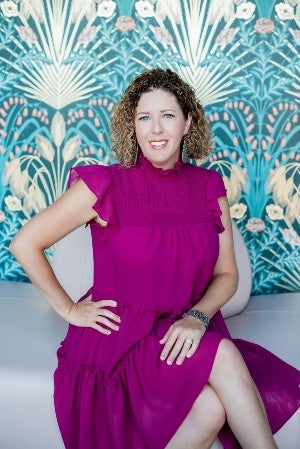 When you hear the word "creative," most people don't immediately think: "banking." But that's what April Britt (MBA '13) and a group of friends thought of immediately in 2017.
"Humans are social creatures. Creating is more fun with others!" says Britt, today a 2023 Woman of Influence Award winner. "We think a bank can serve as a unique nexus point for bringing together people from all walks of life and different industries — where they have a common connection (such as Studio Bank). We want to build community."

Britt and that founding group started building that community in 2018, when Studio Bank—a bank that is "uncommonly modern and surprisingly human"—was born. The group spent 14 months planning and preparing with their focus firmly based on the principle that the clients should be at the center of everything. Asking "what if a bank could become a force for creativity, instead of an obstacle to it," they vowed to provide the best service possible.
Studio Bank, a subsidiary of bank holding company Studio Financial Holdings Inc., was founded as the first true new bank in the Greater Nashville area in over a decade. It is a locally owned and operated Tennessee state-chartered bank with consolidated assets of $939 million, serving the banking needs of small businesses, professionals and individuals in the Middle Tennessee market. It offers a full range of deposit and credit services with a digital platform and a high level of personalized service. 
"We provide a member experience centered on personal service. It's a service mentality unlike any other bank in Nashville today," said Britt. In its first five years in business, Studio Bank has been recognized as one of the Nashville Business Journal's Best Place to Work companies. 
 
Britt has a lot to do with that as the bank's Chief Experience Officer, overseeing marketing and the brand, human resources and culture, bank operations and technology, and the retail banking division. 
"What makes all of us unique humanly is our capacity to create something purposeful for the benefit of others. Our role as bankers is to empower creators with resources—whether that's capital, accounts, education, advice or simply safeguarding and managing your finances. After all, finances are both fuel for, and the result of, creativity," she said.
Britt came to Studio Bank with banking experience spanning more than two decades. She started as a part-time teller with First Tennessee Bank in 1996 while pursuing her Bachelor of Business Administration degree in finance at the University of Memphis. Moving to Nashville in 2001, she served in various banking and leadership roles at both local and regional financial institutions.
In 2012, Britt was recognized as the sole recipient of Lipscomb's inaugural Business with a Purpose Scholarship, a full tuition scholarship awarded by Lipscomb's College of Business and its Dean Institute of Corporate Governance and Integrity. This scholarship awarded commitment to the Nashville community and passion for developing others.
This honor influenced Britt's decision to pursue her MBA at Lipscomb. "I felt Lipscomb's MBA programs would allow me to further develop my leadership skills and my commitment to making an impact on the Nashville community." She graduated in 2013 with her MBA and a concentration in leadership and was also recognized as one of the Nashville Business Journal's Top 40 Under 40 that same year.  
 
Britt credits her Lipscomb MBA for developing her leadership principles and establishing lifetime connections with the faculty and other students in the program. "My MBA from Lipscomb inspired me to grow as a leader and enhance my impact on my community," she said.
 
Expounding on her passion for creativity and community, in 2020 Britt launched the Studio Women's Collective, a community of more than 700 Middle Tennessee women business owners and executives, as a space for women to connect, create and collaborate together.  
She has served as a volunteer and board member for several non-profit organizations throughout her career including MBA Women International, Habitat for Humanity, American Society of Training & Development, Nashville Cable, Young Leaders Council, The Women's Fund, and the March of Dimes.
Cable recognized her for community and professional leadership by nominating her for the Nashville ATHENA Young Professionals honor in 2016 and awarding her Cable's Rising Star Award in 2015. Britt was also recognized as a 2019 Women in Music City honoree by the Nashville Business Journal.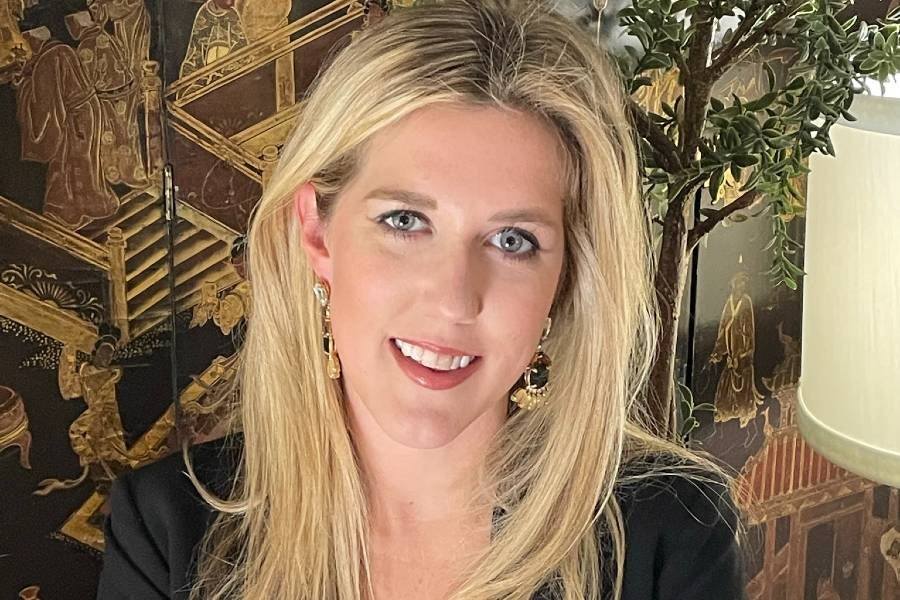 Sydney Ball
The Nashville Business Journal's 2023 Woman of Influence Award is just the latest honor for  Sydney Ball ('12, MBA '14), vice president of business development at NFP Executive Benefits.

She was awarded a 2019 Sterling Award for being one of the "20 Most Influential Women in West Tennessee" and has been a finalist for the Chamber of Commerce Nashville Emerging Leader Awards in 2019 and 2022. In 2021 she was the winner of the Nashville Business Journal 40 Under 40 honor. 
In 2022 she was named the Lipscomb Young Alumna of the Year honor recognizing demonstrated leadership capability, a commitment to service of others and commitment to the mission of Lipscomb University. Ball was valedictorian of her 2012 graduating class at Lipscomb. Ball has been a member of the College of Business Alumni Advisory Board for six years. 
At NFP Executive Benefits, with a focus on relationship management in the health care, nonprofit and banking sectors, she equips organizations with the required tools to help attract top talent, optimize protection-based retention strategies and formulate reward plans for key executives.
Prior to her role at NFP, Ball served in various leadership roles at First Citizens National Bank for five years including regional business development manager, assistant vice president and business development officer. 

"My time at Lipscomb was an investment (financially and academically), but it has paid dividends over and over. Lipscomb is a valuable community to be a part of and I did not want to lose my connection post-graduation," said Ball.

She points to her mentorship class with Leanne Smith, associate professor in business, as one of her defining moments at Lipscomb. "That course taught me the importance of a mentor/sponsor and I have sought those relationships in my professional career. Due to God's blessing, my network and hard work, my career has accelerated post MBA graduation," said Ball.
Ball also serves on the Heritage Foundation of Williamson County board, the Kirkland Cancer Center advisory board, Rocketown and Orlando World Outreach Center.
"I seek to be involved philanthropically and civically in my local community. I want to make a difference, personally and professionally, within my sphere of influence," she said.