Theatre student played leading role in Nashville Rep's production of 'Ragtime'
Sophomore Shelby Smith played Sarah in the topical musical that explores race and class issues.

Janel Shoun-Smith | 615.966.7078 |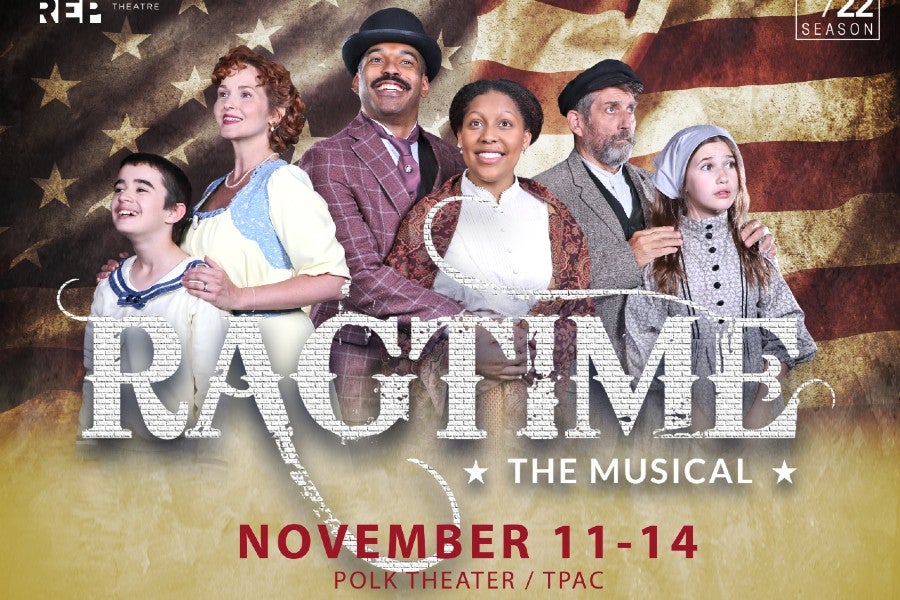 The November Nashville Repertory Theatre's production of Ragtime was a first, not only for new Nashville Rep producer Micah-Shane Brewer, who is directing the play, but also for Lipscomb theatre student Shelby Smith, who was cast as Sarah, one of the leading roles.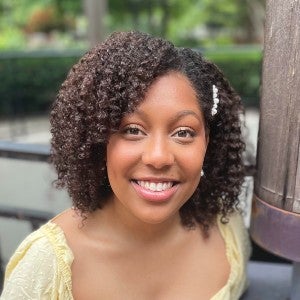 The musical, based on the book of the same name by E.L. Doctorow, is certainly a thought-provoking choice for our times, as it tells the story of ethnicity in America in the 20th century by focusing on three family groups: a White upper class family, a Jewish immigrant family and an African-American family.
Ragtime, which showed Nov. 11-14 at the Tennessee Performing Arts Center, was the first production Brewer has directed since coming to the Nashville Rep a few months ago.
Smith, a sophomore theatre major from Murfreesboro, starred in her first stage production since beginning her college studies in fall 2020, and was excited to be playing Sarah, the romantic partner of Harlem pianist Coalhouse Walker Jr.
"It's been an incredible experience so far, and Ragtime, in so many ways, is incredibly relevant to our times," said Shelby, a finalist in the National Young Arts Competition for 2021, in October. "Sarah has been a dream role of mine for so many reasons."
Ragtime takes place in the year 1906 and explores themes of race, class and police brutality.
Participating in the production stoked Smith's thoughts of "what it meant to be a Black American in 1906 and what the concept of the American dream really meant specifically for the people of Harlem," she said. In addition, she learned a great deal about the expectations and best practices of professional actors, she said.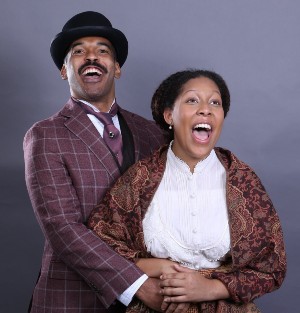 "I've been watching how some of the more experienced actors talk and work with the director, and asking them how they do their character analysis. A lot of people arrived for the first rehearsals nearly off-book with everything planned out for their character. Watching how they conduct themselves in a professional space is really valuable, allowing me to take bits and pieces of that model for myself."
With such a topical play, the cast spent a lot of time working with a dramaturg, "discussing together what the show means to us individually and how that relates to modern day," said Smith.
The Nashville Repertory Theatre has included various Lipscomb theatre students in its productions in the past, said Brewer. Ragtime will also include Lipscomb alumni Hatty Ryan King, Sarah Zanotti Jackson and Haille Wallace.
"Lipscomb University Theatre is proud that for at least a decade, students and alumni have regularly performed in Nashville Repertory Theatre shows each season," said Lipscomb Theatre Chair Beki Baker. "We are also proud to have co-produced Inherit the Wind at TPAC in 2018. They are a tremendous company that offers great opportunity to growing artists in Nashville."
It is valuable for not only theatre students, but also for professional casts to include students within their productions, Brewer said.
"I remember my first professional production," said Brewer, who was a theatre educator at the University of Mississippi before coming to Nashville Rep. "Being in a room with other creative people challenged and inspired me all at once. I wanted to be at the top of my game, so it is a great opportunity to have student actors in my production."
"All of our student actors come with lots of talent and lots to offer the production," he said. "Shelby is such a gifted actor and singer and she brings a lot of honesty and sensitivity to the character of Sarah."
Smith was involved in theatre throughout her middle and high school years as well as other focused arts programs. Because no Lipscomb Theatre productions were held in-person in 2020, and because Ragtime is keeping her busy during the fall semester, Smith has not yet performed for audiences on the Lipscomb stages. However, she is already taking and applying lessons from her freshman theatre courses, she said. 
"In my first acting class, the professor put a huge emphasis on the character's objectives, knowing why a character is doing what they are doing," she said. "I have taken that and used it in my character process. I need to really consider the words and the story I am telling my audience."
"Shelby arrived at Lipscomb Theatre ready to work, and she has done just that since day one," said Baker. "She is talented, smart, and focused, and we are proud to support her in this production."
Brewer has directed Ragtime before but hopes that this time the question of American identity will come to the forefront of the show. 
"My hope is that it will challenge the audience to ask themselves, 'How am I going to be part of the solution?' to help move the nation to one that accepts all backgrounds and races," he said.