Tears of joy replace tears of pain
God brings Lipscomb's health science alumni and students together to serve the people of Malawi.

Janel Shoun-Smith | 615.966.7078 |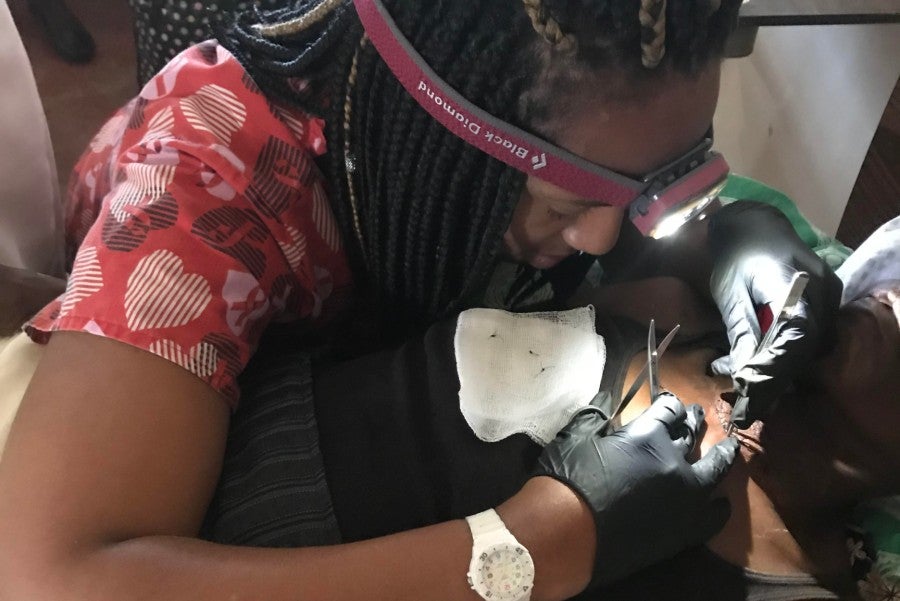 Keonya Milam, a senior nursing major, a working LPN and mother of two, doesn't seem like a likely candidate to devote a month of her life away from family and livelihood to work in Malawi, Africa.
But then Sara Walker ('00), also a wife, mother and a health care provider, didn't seem a likely candidate to inspire hundreds of people to donate money, time, muscles and their health care skills to citizens of another nation across the sea, yet with a Divine influence, that is what has happened, with Milam becoming just the latest of hundreds of Lipscomb students to use their patient care skills at Blessings Hospital in Malawi.
Milam wasn't even sure she could do it herself, at first considering spending two weeks—at most—away from her children and husband. But Milam's family was supportive of the endeavor and God pulled on her heartstrings to commit to stay in Malawi longer, Milam said.
 
The Lord needed me there. And honestly, I needed to be there for myself. — Keonya Milam, Lipscomb student nurse
She ended up spending a month at the hospital, May 26 to June 23, and delivered a baby that she was asked to name, a tradition in Malawi. She named him King, after the Lord Jesus.
After an application and interviews, Milam was one of six Lipscomb student nurses and pharmacists chosen for mission work in Malawi in summer 2019. Those students were six of 50 student nurses and pharmacists who have made up COPHS mission teams to serve at Blessings Hospital over the past seven years, all funded through the Sara Walker Foundation.
The foundation, established by members of the Brentwood Hills Church of Christ in Nashville who knew Walker, a Lipscomb alumna and Nashville physical therapist who died of cancer in 2012, has funded the Lipscomb mission teams as well as other medical mission trips and humanitarian efforts at the hospital and adjacent Mtedndere Orphanage.
The Foundation funds a nurse practitioner at the hospital and has purchased two mobile clinics, run out of Land Rovers®, allowing Blessings Hospital to reach more patients. The foundation funds all medication, equipment and staff needed to run the mobile units every day of the year, said Jenni Whitefield ('96), a surgical nurse at Centennial Hospital and adjunct clinical instructor in Lipscomb's School of Nursing as well as the founder and a board member of the Sara Walker Foundation.
The hospital serves a geographic region of about 400 square miles, and 85 percent of the Malawian population do not own even a bicycle, Whitefield said. The mobile units have allowed the hospital to greatly increase the number of patients who can be treated in the early stages of malaria. Malaria patients' lives can be saved with a simple finger prick and $1 worth of medicine if the disease is caught in time, she said. 
"That was a time that really changed my life," Milam said of her work with the mobile medical units during her work in Malawi. "I was scribing for a clinician, and a new patient came in on the other side of the curtain. I pulled back the curtain and saw a wheelchair. It was a little boy about 9 or 10 years old, and he was in a wheelchair because he had no feet. His brother, who was even younger had pushed him into the clinic location. He had a huge open wound on his lower extremity.
The sight of a young child taking on the responsibility of an adult, touched Milam's heart as a mother, she said. "That was what changed me. I thought that my life here was hard, but every time I think of that little boy in the chair with no feet, I realize that in my life I'm blessed," she said.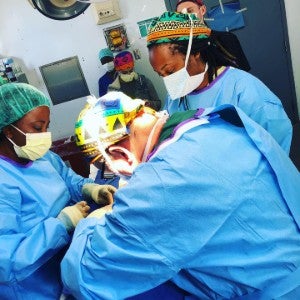 Milam also worked in the operating room, assisting with suturing injured patients, changing wound dressings, removing JP drains, administering injections and assisting with delivering babies. Many of these experiences are ones often limited for student nurses in America, said Mary Hesselrode, associate executive director for academics at the School of Nursing.
"Students have a unique opportunity to work in an environment that has limited supplies and comforts that they are accustomed to in our American hospitals," Hesselrode said of the school's mission opportunities. "Students return to their clinical experiences in America with a new appreciation of all the resources available to them as they care for patients."
Milam felt empowered when she was tasked to pick out the most critical patients from a long line waiting to be assessed at one of the mobile units. Everyone she pulled out and moved ahead of the line tested positive for malaria, she said. "I'm glad I used my nursing intuition, because I may have saved a life," she said.
Milam's experience in Malawi certainly changed the way she approaches her current job and future nursing career. "I realized that I wasn't giving attention to the patients as much as I should," she said. "Taking time to slow down and be personable with people is important. I used to be in such a rush to get things done.  I learned to pull back and take the time to give them the love and attention they need."
"Students' assessment skills are enhanced because of the language barrier and limited resources. They are forced to slow down and really connect with their patients and form meaningful relationships that impact how they care for patients their entire careers," Hesselrode said.
The friendly, hospitable culture of the nation was another factor that caused Milam to slow down and focus on the patient, Milam said.
Going to Africa is like going to visit cousins you haven't seen in a long time. — Keonya Milam, Malawi mission team member
"Going to Africa is like going to visit cousins you haven't seen in a long time. They are so happy to see you there and so sad to see you leave. It was a beautiful experience," she said.
In May four Lipscomb mission teams funded by the Sara Walker Foundation, the most ever, traveled to Malawi. One group from nursing, one from pharmacy, the Lipscomb women's basketball team and a team from the Raymond B. Jones College of Engineering's Peugeot Center for Engineering Service in Developing Communities.
The engineering team made life-saving changes at the hospital by installing a 6,000-watt solar array, allowing the hospital to have a more consistent, reliable power source, which translates into more effective ICU care and blood transfusions, Whitefield said.
As of 2019, the Sara Walker Foundation has held 10 annual 5K runs, sponsored by Lipscomb and held on the university campus to raise money for health and humanitarian efforts in Malawi, Ghana and Haiti.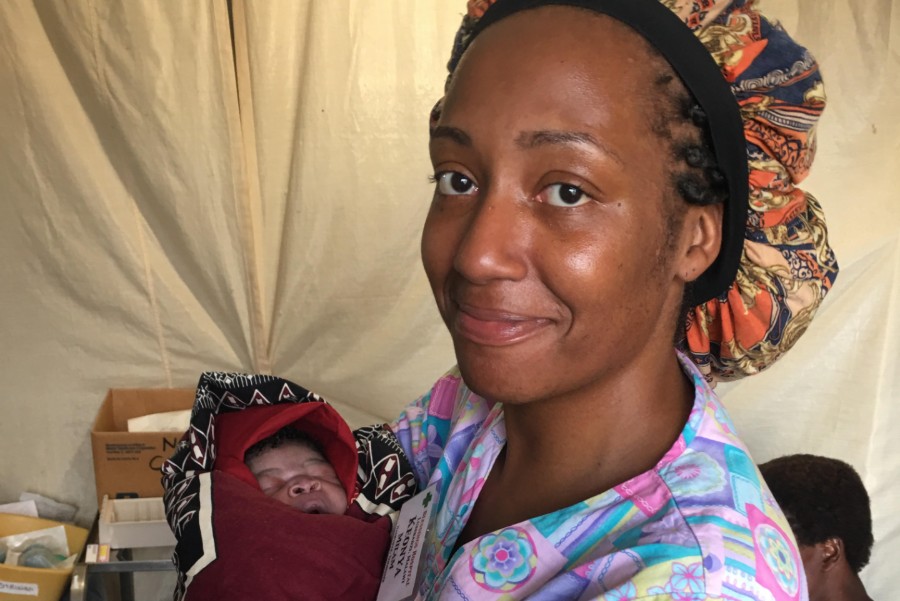 "In Malawi they don't know tears of joy. They only know tears of pain," said Milam. So the Malawians were surprised to see her crying for joy as she helped deliver the baby boy King. Her emotional outpouring touched the mother so much she asked Milam to name her newborn son.
"If I hadn't obeyed God's voice, I would have missed out on an absolute lesson," said Milam. "Even if we are doing things we don't want to do, if we are doing it for the glory of God, He will use it for good."