Real estate entrepreneur Giarratana featured at latest Nashville Business Breakfast
Logan Butts |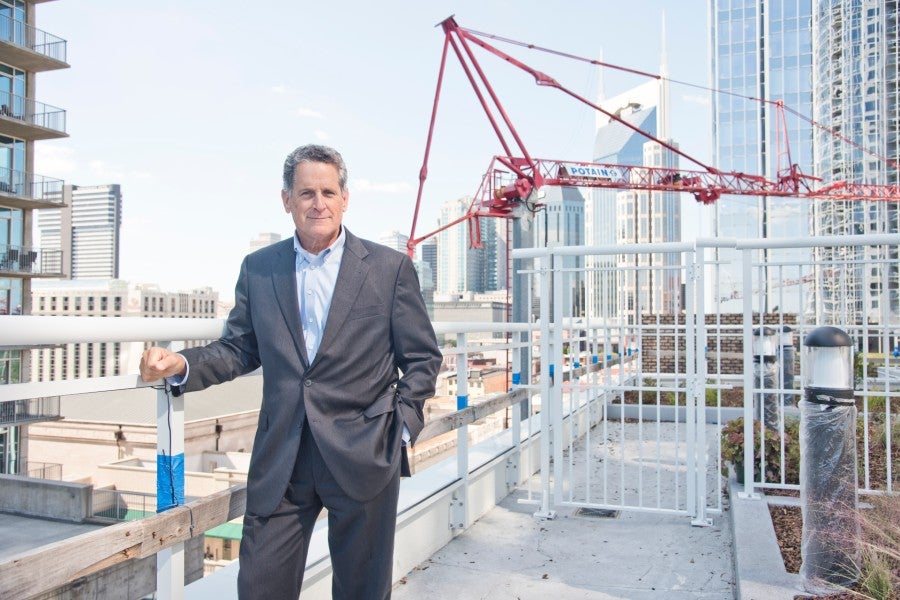 The first Nashville Business Breakfast of 2021 took place on Thursday, May 20 with Nashville real estate entrepreneur Tony Giarratana as the event's featured guest speaker. 
Following a series of opening remarks from Lipscomb Board of Trustees member Bob Wood ('80), Nashville Business Journal Market President & Publisher Lori Becker, President of the Nashville Chamber of Commerce Ralph Schulz, and Regional President & Head of Corporate Banking at PNC Bank Mike Johnson, Lipscomb President L. Randolph Lowry gave an introduction of Giarratana. 
During his 35-year career as an entrepreneur in Nashville, Giarratana has had a major influence on the development of the downtown area. He helped usher in the city's first high-rise apartments and condominium towers in both the Core and SoBro markets, and co-founded the city's largest parking service - Premier Parking. 
Before downtown Nashville became the bustling, worldwide tourist destination that it is today, Giarratana was one of the first investors in the area, beginning in 1987. From there, things began to develop quickly for the Music City. 
"When the Bellsouth Building was announced, that started the snowball down the hill," Giarratana said. 
Giarratana told the virtual crowd stories and doled out advice from his business experience in the Nashville area before moving on to the final portion of the breakfast.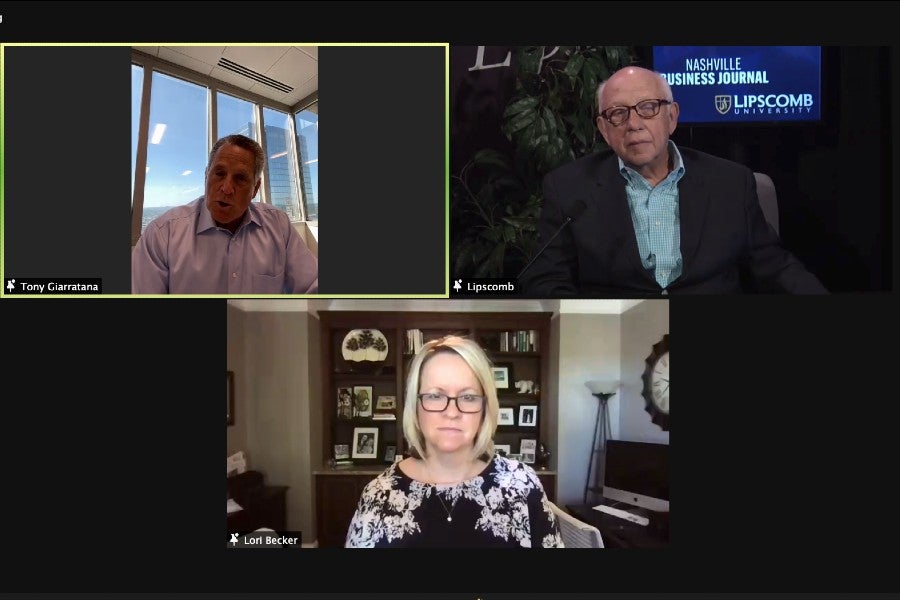 Following Giarratana's speech, Wood and Becker co-moderated a Q&A session. Members of the virtual audience were also able to send in questions for Giarratana. 
When asked about the ever-expanding Nashville business scene, with companies from all over the country relocating their headquarters to the city, Giarratana responded with excitement for the potential possibilities. 
"As long as we can keep the corporate relocation phenomenon going, Nashville has a very, very bright future," Giarratana said. 
Giarratana also gave advice to Lipscomb College of Business students looking to break into the competitive industry. 
"Do not give up and do not allow yourself to listen to all the naysayers," Giarratana said.
He compared the mindset needed to succeed in the field to that of a baseball player, specifically that of Babe Ruth - who Girratana pointed out is Major League Baseball's all-time leader in both home runs and strikeouts. 
"Some pour souls never get to the plate, and when they do, they never take a swing," Giarratana said. "Never be afraid to take a swing." 
Lipscomb Senior Vice President for Advancement John Lowry closed out the proceedings with a discussion of Lipscomb Spark's CEO Connect program. 
Founded in 2007, the Nashville Business Breakfast is a quarterly networking event, presented by Lipscomb University and the Nashville Business Journal, with a news-conference-style format, featuring business leaders with local economic impact. With an average attendance of more than 600 metro area professionals, the event provides an opportunity to connect with peers and hear a pertinent discussion with a business leader in the community. 
The Nashville Business Breakfast is sponsored by PNC Bank.
Past speakers include: 
Seth Bernstein, President and CEO, AllianceBernstein
Michael Burcham, President and CEO, Nashville Entrepreneur Center
Bill Carpenter, CEO, LifePoint Hospitals
John Cooper, Mayor, Metro Nashville and Davidson County
Mitch Edgeworth, CEO, Vanderbilt University Hospital and Clinics
Gary Garfield, CEO, Bridgestone Americas
Randy Goodman, CEO, Sony Music Nashville
Cordia Harrington, CEO, The Bakery Companies
Bill Haslam, Governor, State of Tennessee
John Ingram, Chairman, Ingram Industries
Milton Johnson, Chairman and CEO, HCA
Doug Kreulen, President and CEO, Metropolitan Nashville Airport Authority
Bill Lee, Governor, State of Tennessee
David Poile, President of Hockey Operations and General Manager, Nashville Predators
Colin Reed, CEO, Gaylord Entertainment
Greg Sandfort, CEO, Tractor Supply Company
Butch Spyridon, President, Nashville Convention & Visitors Bureau
Jonathan Tisch, Chairman and CEO, Loews Corporation
Sarah Trahern, CEO, Country Music Association
H. Beecher Hicks, III, President & CEO of the National Museum of African American Music
Mitch Edgeworth, Division President, HCA Healthcare TriStar Division
Barry Vandevier, Chief Operating Officer at Asurion