Professor's pioneering work on interprofessional education recognized
ScienceDirect report on Gentry's work with Meharry-Vanderbilt Alliance highlights method of delivering real-world interprofessional education.
Office of Public Relations and Communications |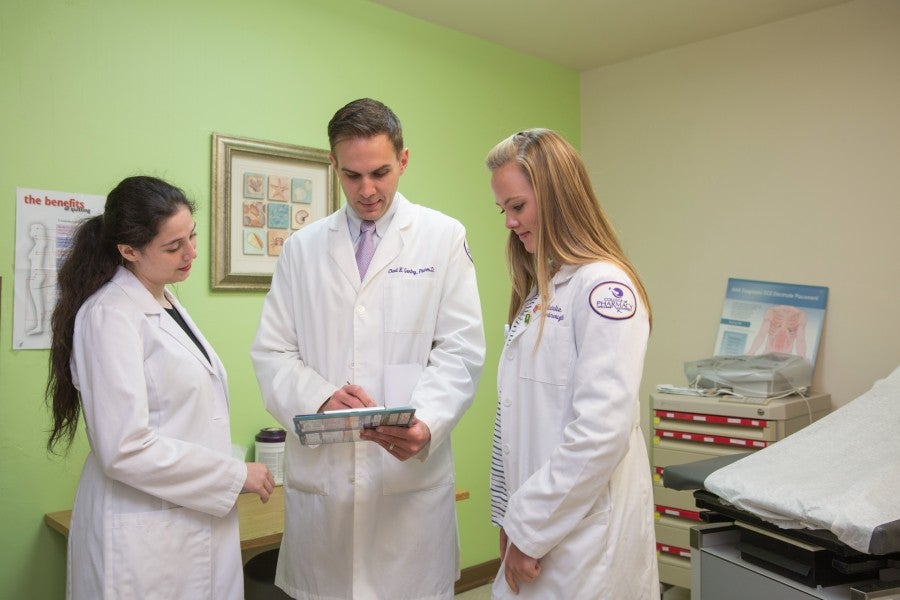 Lipscomb Associate Professor in the College of Pharmacy and Director of Experiential Education Quality Assurance Chad Gentry was among the Meharry-Vanderbilt Alliance (MVA) faculty whose research has been published in ScienceDirect. 
The MVA Interprofessional Education (IPE) program is an opportunity for students enrolled in health-related professional training programs at colleges and universities around Nashville to work with community partners in a real-world setting to solve real-world problems. Selected students and their faculty mentors engage in shared problem solving to address whatever need is presented by the community organization. MVA IPE partners include various nonprofit organizations in the Nashville area, whose missions include the overall improvement of public health in the metropolitan and surrounding areas.
In February 2021, IPE program faculty published an article describing the program and its impact on students and community partners in ScienceDirect, a website that provides access to a massive database of scientific and medical publications. The report demonstrated the importance of community-engaged IPE and shared details of the MVA's effective inter-institutional method of delivering IPE.
"We wanted a qualitative piece on the aspect of how students felt," Gentry said. "We wanted to show innovative ways to deliver interprofessional education."

Gentry joined the MVA IPE Faculty Collaborative in 2013. At the time, there wasn't a Lipscomb representative, and his joining the collaborative was part of an effort to expand the project's scope beyond Meharry and Vanderbilt. Today, it includes representatives from Belmont University, Lipscomb University and Tennessee State University.
According to Gentry, interprofessional education delivered in a community setting allows students, researchers and the institutions they represent to be a part of their communities. Students learn core skills within their respective fields, and they learn to create deliverables that will benefit the community.
"It's a mutually beneficial relationship," Gentry said.
Gentry's award-winning work to establish the Mercury Courts Model brought about similar mutually beneficial work. The IPE model, which brings students from pharmacy, nursing, social work and medicine together to coordinate patient care at the Clinic at Mercury Courts in Nashville, where Gentry was the lead clinical pharmacist. Gentry partnered with the School of Nursing during the creation of the Courts.  
The Clinic at Mercury Courts is a nurse-managed, interprofessional, collaborative practice serving urban underserved individuals, families living in subsidized housing, and home-bound, assisted-living and group-home individuals with significant barriers to primary care access. Gentry's work with the interprofessional collaborative faculty team at Mercury Courts has led to more patients being on appropriate medications and better control rates for hypertension and diabetes.
For his work, the Tennessee Pharmacists Association awarded Gentry the 2019 TPA Excellence in Innovation Award. The National Academies of Practice elected Gentry to be a Distinguished Fellow in the Pharmacy Academy, and Vanderbilt University School of Nursing Alumni Board awarded Gentry its 2019 Friend of Nursing Award.
Gentry is also involved in the Vanderbilt Program for Interprofessional Learning which places interprofessional students together for two years at various clinical settings in Nashville, further nurturing a team-based approach to improve the health of patients and increase communication across disciplines.