Narrow Gate, Lipscomb University partner on unique project that symbolizes healing, new beginnings
Sometimes healing and wholeness show up in the unlikeliest of places … even in a small room for student interns and in … furniture.
Kim Chaudoin |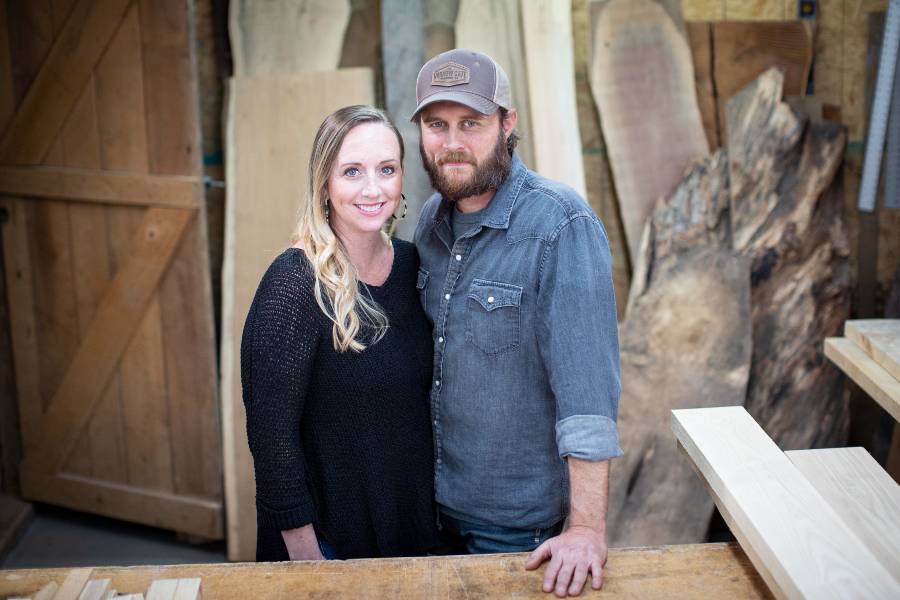 When Jill McCadams Batson was a graduate student therapist at the Lipscomb Family Therapy Center (LFTC), she noticed the room that housed the center's interns needed an overhaul. She had a grand vision for not only renovating the space to serve a critical need but for forging a unique collaboration with another organization with a similar passion for helping others — the Narrow Gate Foundation. 
Both Narrow Gate and LFTC have at their core the mission of healing and the wholeness of people. And she knew exactly who to contact to get the project started … her husband, Grant Batson, director of artisan education at Narrow Gate. 
"The room was small with four desks and about 18 students coming in and out doing therapy," says Jill. "I had the idea of making better use of the space because we were studying in there, consulting in there and spending a lot of time in there. That's how the idea was born." 
Grant was on-board with the project and connected with Chris Gonzalez, director of Lipscomb's marriage and family therapy program, and the collaboration began.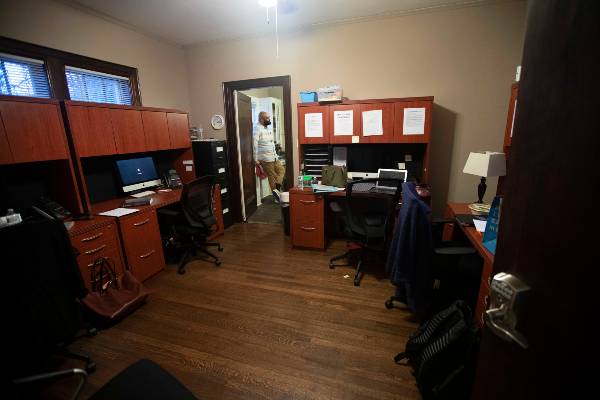 "This project came out of the mind of one of my students at the time who was really a visionary," Gonzalez recalls. "The room met a need at one time and was clearly no longer meeting that need. We connected with Grant and ideas started flowing. And the relationship began forming with Narrow Gate."
Grant says the first goal was to remove the outdated, bulky furniture and outfit it to better accommodate more people. He developed a plan for building custom furniture that would meet the needs of the interns and fit the space well. The craftsmen whom Grant enlisted to build the custom furniture for the project themselves had experienced a life-changing experience. Grant and the artisan education students at Narrow Gate Lodge designed the furniture and began building it over the course of about six months.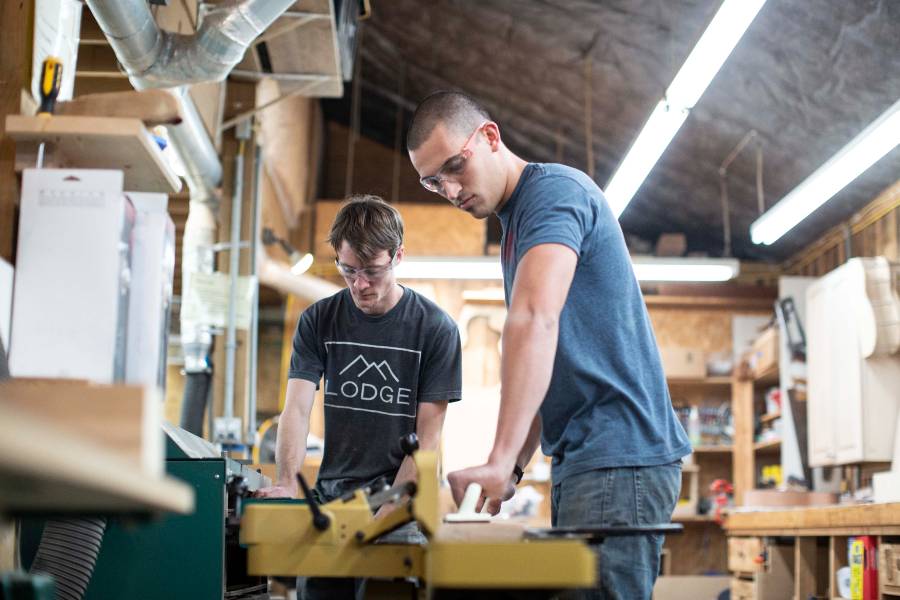 A symbolic partnership
Launched in 2015, the Lipscomb Family Therapy Center, located on the Lipscomb University campus, serves the mental health and relationship care needs of individuals, couples and families in the Nashville community. It specializes in treatment using a relational approach to mental health care. The center also offers a play therapy room, stocked with toys and art equipment, and staff who have specialized training in play therapy, often used with children who may have suffered from abuse.
Narrow Gate Lodge is a faith-based organization located on 122 acres in Williamsport, Tennessee, just south of Nashville, that offers a transformative experience for young men ages 18-25. For eight months, Lodge participants live and work together while pursuing biblical training, personal discipleship, challenging adventures and new life skills. Grant is a craftsman that has been trained in Copenhagen and Italy and, with his brother, created a world-class guitar making business. As director of artisan education at Narrow Gate, Grant teaches the young men, who are there to find identity, passion, purpose and a new beginning. As part of the life skills curriculum, they learn craftsmanship in the organization's wood, leather and metal shops. Their hand-crafted goods are sold at Narrow Gate Trading Co. in Franklin, Tennessee.
"I get to work at a place where guys have found Narrow Gate," says Grant. "It's a place where we provide hope. It's a place where guys get to figure out who Jesus is. In the process of discovering Jesus they begin to discover who they are." 
Grant and the artisans teach the young men at Narrow Gate skills such as operating a sawmill, designing furniture, woodworking and building furniture. They are also taught business planning and discipleship training so they have the tools to one day launch their own kingdom based business. Students also learn to work with leather and to develop the products that are sold at the trading company to help fund the program and to provide employment for graduates. Narrow Gate also offers guitar-building classes, retreats and other opportunities for the public to participate in. This past April, Grant and the work at Narrow Gate were featured in an episode of HGTV's Home Town as they built a guitar with hosts Erin and Ben Napier. 
I get to work at a place where guys have found Narrow Gate. It's a place where we provide hope. It's a place where guys get to figure out who Jesus is. In the process of discovering Jesus they begin to discover who they are. — Grant Batson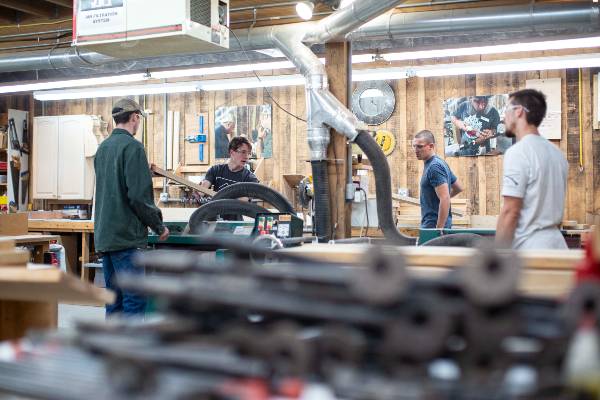 The Batsons and Gonzalez agree that the symbolism of the mission of the two organizations and the connection to Lipscomb made this a special collaboration. 
"At the Family Therapy Center, our mission is to help people," says Gonzalez. "At Narrow Gate, they are helping people. It's a beautiful connection we were having through this project."
"This is special because this is a permanent, physical manifestation of a partnership between two organizations that are helping people to grow, heal and do meaningful things with their lives," he continues. "It's also a way that a family with deep connections to Lipscomb is continuing to give back to this institution with their time and resources."
Deep Lipscomb roots
It was a unique opportunity for the Batsons to be a part of a project that would have a positive impact at an institution that has meant so much to them through the years. The Batsons have strong ties to Lipscomb which made the project particularly meaningful to them. 
Jill is a "Lipscomb Lifer," having attended Lipscomb Academy from kindergarten until her graduation in 1994, and graduating from Lipscomb University in 1998 with an undergraduate degree in family relations and most recently earning her Master of Marriage and Family Therapy degree in 2019. Jill also has deep family roots at Lipscomb. Her father is the late Glenn McCadams, Lipscomb Academy Mustang legendary head football coach, and her mother, Alacia, worked at the university for decades. 
"I literally grew up on the Lipscomb campus," explains Jill. "It played a big role in developing me into who I am today in so many ways. It's a big part of who I am and a big part of my family."
"This is a special project that we're working on for me personally, because Lipscomb played a pretty big role in my life in leading me to where I am today," says Grant, who graduated from Lipscomb in 1997 with a bachelor's degree in public relations. 
For Grant, his journey to this moment began in high school in his small hometown of Taylor, Texas, when he received a VHS tape of Harold Hazelip, Lipscomb president from 1986-1997, in the mail. 
"We didn't know what the internet was at that point," Grant recalls with a chuckle. "My youth pastor at the time had just moved to Nashville to try to make it as a songwriter, then I received this VHS tape about a university in Nashville trying to get us to come check it out. My best friend and I thought it was an easy ticket to get to go visit Nashville. So, we did and we visited Lipscomb. We just fell in love with the place. Everyone was so friendly."
Grant admits he was a "pretty wild kid" who was not very interested in the spiritual aspect of life.
"Trust was hard for me at that time in life. So, I came to Lipscomb and for the first time in my life I was around a group of people who were honest about their faith," he remembers. "I found myself wanting to read the Bible for myself instead of just listening to what others told me and just going to church three times a week."
"That's how I really met the Lord. There were some significant teachers at Lipscomb who for the next few years just took me in and they changed my life. During that process I met my wife, Jill, which of course was a tremendous blessing to me."
Though Grant majored in public relations, he had a passion for woodworking, who had spent time with his father on various projects during his childhood. After graduation, he began his career with Cumberland Architectural Millwork in downtown Nashville first learning how to make furniture and cabinets. His brother soon moved to Nashville and started working there, too. On nights and weekends, the brothers began crafting guitars "out of curiosity." While their business grew with investors and employees, Grant eventually followed his passion for woodworking in another direction — making pipes which took him to Copenhagen and Italy where he received more intense training in his craft.
After seven years of travelling the world as a craftsman, Grant said he felt a tugging that God had something else in mind for him. That's when he met Bill and Stacy Spencer and learned about the mission of Narrow Gate. 
"We didn't really know each other at all. We just started talking about what they do and about what I do and we found a good partnership together," says Grant. "So today what I do is I get to pass on something that's very valuable and meaningful to me. There's a confidence and a sense of empowerment and freedom that comes with being able to do things with your hands."
"I also know what it means to be lost or to not know where you are heading in life just like those who come to us at Narrow Gate," he continues. "I was a wreck as a kid and somehow I found my way. God was faithful. Today I get to be at a place where guys find Narrow Gate and where we provide hope. In the process of discovering Jesus here you begin to discover who you really are and why you're here and what God is doing with your life."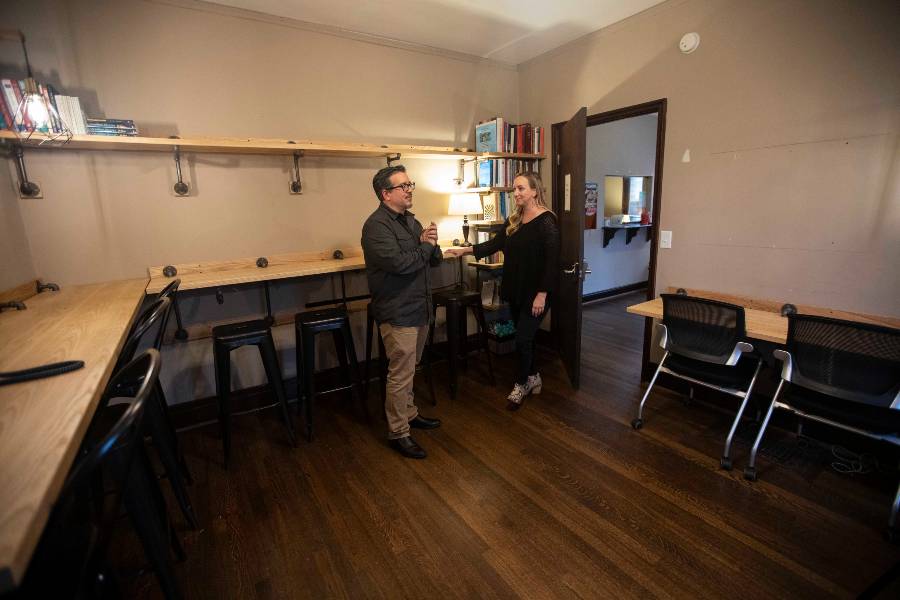 Transformed facility transforms lives
Grant and his team installed the new furnishings for the Lipscomb Family Therapy Center, which included desk space and shelves that now can accommodate about 12 interns instead of the three or four previously with a homey, "coffeehouse" vibe, in early 2020. 
"It's a perfect project in my mind for so many reasons," says Grant. "It's a neat opportunity that we're really thankful for because, again, it provides us an opportunity to bless Chris and everyone at the LFTC and give these students a place to work."
"Knowing the mission of Narrow Gate that is a place of healing and hope and that the Lipscomb Family Therapy Center has as its goal to be a place of hope and healing as well, it's just a really neat intersection and is a full circle back to Lipscomb," adds Jill. "It's about people helping people helping people."
Want to know more?
Learn more about the Lipscomb Family Therapy Center and Narrow Gate.
Photos by Kristi Jones, Lipscomb University. Video by Raphe Boutté, Narrow Gate.