Lipscomb to celebrate December graduation with virtual baccalaureate, commencement this week
In the midst of a continuing global pandemic, university officials are hard at work on virtual baccalaureate and commencement to celebrate December 2020 graduates.
Kim Chaudoin |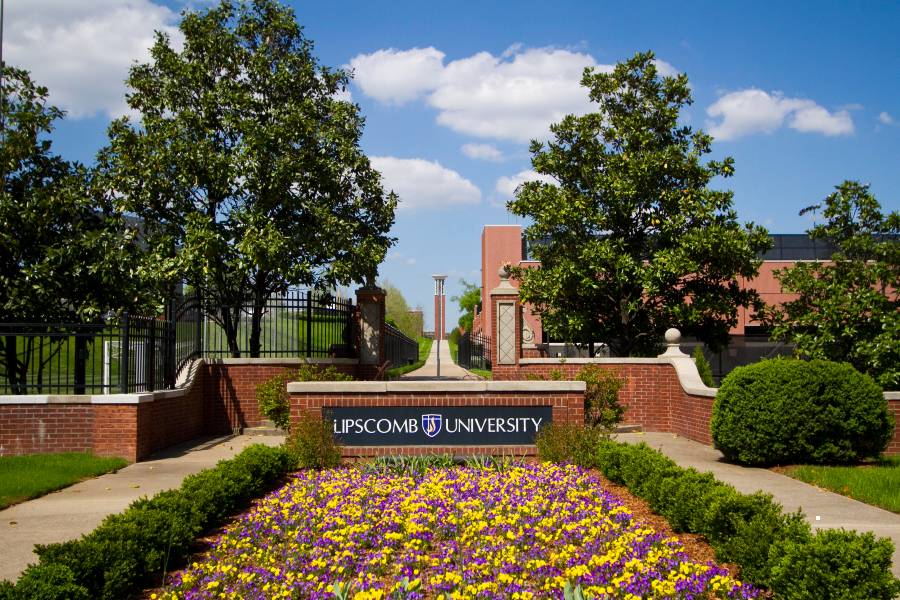 Commencement is the culminating celebration that is the traditional end of the fall and spring semesters each year. But in 2020, the COVID-19 global pandemic has resulted in commencements at universities across the nation finding new and virtual ways to celebrate graduates and to award academic degrees in response to the impact of the virus. 
The Lipscomb community is set to celebrate its newest class of graduates at a series of virtual events this week, including online commencement events, baccalaureate and various college and program activities — all online. The celebration will be highlighted by a special virtual commencement on Saturday, Dec. 19, at 2 p.m. CST. 
University officials have been hard at work developing a virtual commencement that will contain familiar elements of on-the-ground ceremonies of the past. December virtual commencement will feature live components with Lipscomb University President L. Randolph Lowry and Provost W. Craig Bledsoe, the reading of every graduate's name, recorded messages from "platform participants" in full academic regalia and the traditional and the ever popular Nashville Pipes & Drums.  
"We have assembled a team of creative and talented people who will create and deliver a celebratory and exciting moment for our graduates and to have a celebration fitting of the tremendous accomplishments," says Lowry. "We are proud of our graduates and I look forward to celebrating this tremendous milestone in their academic journeys."  
"Regardless of whether we celebrate in-person or virtually, this is a day that we celebrate together," adds Bledsoe. "This day is the highlight of our fall semester and we are committed to celebrating the magnitude of this occasion, reading every graduate's name with honor and pride, and recognizing the significance of this day for each individual." 
The Lipscomb community is celebrating a historic milestone at December commencement with its first class of students to graduate from the School of Physician Assistant Studies. The 33 students that comprise the Class of 2020 will receive the first-ever Master of Physician Assistant Studies degrees awarded by Lipscomb University. This cohort of students made university history in October 2018 as they were the first students to enroll in Lipscomb's new PA School and continue to make history as its first graduates. This culminates 27 consecutive months of work, which included earning 124 academic credits and completing a rigorous clinical component.
December 2020 graduation events include (all times listed are central time):
Friday, Dec. 18
5 p.m. — Baccalaureate. This is a traditional period of prayer and worship for undergraduate students held on the eve of graduation day. The service will be streamed live at www.lipscomb.edu/live and on the university's YouTube channel. 
Saturday, Dec. 19
2 p.m. — Commencement. This ceremony recognizes December and August graduates (who did not petition to walk early in May) who have completed undergraduate, master's degrees, specialist degrees and doctoral degrees. The ceremony will be streamed live at www.lipscomb.edu/live and on the university's YouTube channel.
Other graduation week activities
In addition to these events, the university's colleges and other programs will have a series of virtual celebrations in the days leading up to commencement or following the ceremonies on Dec. 19. Please check back often as the list will be updated frequently.
Lipscomb Online
Lipscomb Online will hold a virtual graduation reception to recognize its undergraduate, graduate and certificate graduates on Wednesday, Dec. at 6:30 p.m. Lipscomb Online is hosting a Facebook watch party for graduates and their friends and family during that time to view the festivities. 
College of Business
The College of Business will host a virtual celebration of its graduates on Friday, Dec. 18. An undergraduate celebration will take place at 1 p.m. and a graduate celebration at 6 p.m.  Each celebration will include remarks from Ray Eldridge, dean of the College of Business; congratulatory messages from faculty and staff; remarks from the college's alumni board; a compilation of videos submitted by students to share their favorite memories or after-graduation plans and virtual receptions. Faculty as well as family and friends of the graduates will be able to be a part of the virtual activities. 
College of Leadership & Public Service
Each institute and department within the College of Leadership & Public Service will host a virtual reception for its graduates. Students will receive information about the celebration for their program. 
College of Pharmacy & Health Sciences
The Exercise and Nutrition Science program recognized its December master's degree candidates at a special gathering on Nov. 16.  
The School of Nursing will host a virtual pinning ceremony for its December graduates on Friday, Dec. 18.