Lipscomb among 'Artemis Generation' selected to take on NASA student launch
Lipscomb engineering students are putting their skills to the test on earth and beyond!
Kim Chaudoin |
Nine Lipscomb student engineers will be among teams from 46 universities across the nation, including only four institutions from Tennessee, to participate in the 2020 NASA Student Launch competition. In addition, 18 middle and high school teams will also participate in the program. The teams come from 21 states and Puerto Rico. 
Lipscomb's team is comprised of Raymond B. Jones College of Engineering seniors Haley Cable, Leah Jacobs, Baxter Linney, Bryce Minton, Ben Musoni, Nial Redha, Carlos Romero, Molly Watts, and Jack Wood. This is the 3rd year that NASA has selected Lipscomb University to compete.
This year's project is being funded in part by the Tennessee Space Grant Consortium and from Quantitech. The 2018-19 Lipscomb team took home spirit award honors last year.
The quiet fields of North Alabama await the high-flying rockets of teams competing in the 20th year of NASA Student Launch. Before those rockets can fly, though, they have to be designed, built and tested by student teams -- members of the Artemis generation. These are the young scientists and engineers who will lead the way in their careers as NASA explores first the Moon on the Artemis missions and then Mars.
The eight-month program requires the student teams to design, build, test and fly a payload and high-powered amateur rocket between 4,000 and 5,500 feet in altitude. All teams must meet multiple documentation and presentation milestones with NASA rocketry experts as they develop their rocket.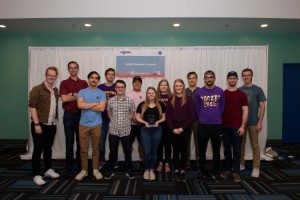 New to the competition this year is the college division's payload challenge. In the past, the teams were given payload options to develop -- such as a rover or unmanned aerial vehicle. This year, though, the teams must collect 10 milliliters of simulated lunar ice from one of five sample locations around the launch field, then navigate at least 10 feet away from the site with the sample safely stored aboard the vehicle. How they complete the mission is up to them. The payload task resembles aspects of mission design and planning faced by NASA and industry engineers when exploring planetary bodies, such as the Moon, which has water ice at its south pole.
As introduced in the 2019 competition, teams will continue to "call their shot" and predict their rocket's altitude. When teams submit their preliminary design review package to NASA in November -- one of the key milestones in the competition year -- they will submit their predictions and target altitudes for launch day, to be held in Huntsville, Alabama in April 2020. 
Last year's Altitude Award winner in the college division was within 12 feet of their target altitude, while the winner in the middle/high school division was within 187 feet of theirs.
Teams are also evaluated and given points and awards in nearly a dozen other categories including safety, vehicle design, social media presence and STEM engagement. The Science, Technology, Engineering and Mathematics Engagement Award encourages and recognizes teams for sharing their knowledge and experiences with the next generation of engineers, scientists and explorers.
Marshall Space Flight Center's Office of STEM Engagement manages Student Launch to stimulate innovation and advance NASA's Human Exploration and Operations mission through collaboration with educational institutions and students – the Artemis generation who will help us explore the Moon and Mars. NASA's Office of STEM Engagement furthers the agency's goal of encouraging students to pursue degrees and careers in the STEM fields through multiple challenges, including Student Launch. The Human Exploration and Operations Mission Directorate and the Office of STEM Engagement, along with Northrop Grumman and the Huntsville chapter of the National Space Club, provide funding and leadership for the initiative. Many of the NASA and industry leaders advising the teams have an in-depth understanding of rocketry challenges because they work on the agency's Space Launch System (SLS) rocket that will send astronauts to the Moon. The SLS Program is managed by NASA's Marshall Space Flight Center in Huntsville.
Entering its third decade of competition, Student Launch provides a realistic experience for middle school, high school and college students to follow the engineering design process NASA and industry engineers use when developing and operating new hardware.
Learn more about NASA Student Launch.

Want to know more about the Raymond B. Jones College of Engineering? Visit www.lipscomb.edu/engineering.