Lipscomb alum Garrison Mathews earns starting role with Washington Wizards
Mathews spoke with Lipscomb.edu about his NBA journey so far, starting for the Wizards, and how his time with the Bisons helped his career

Logan Butts |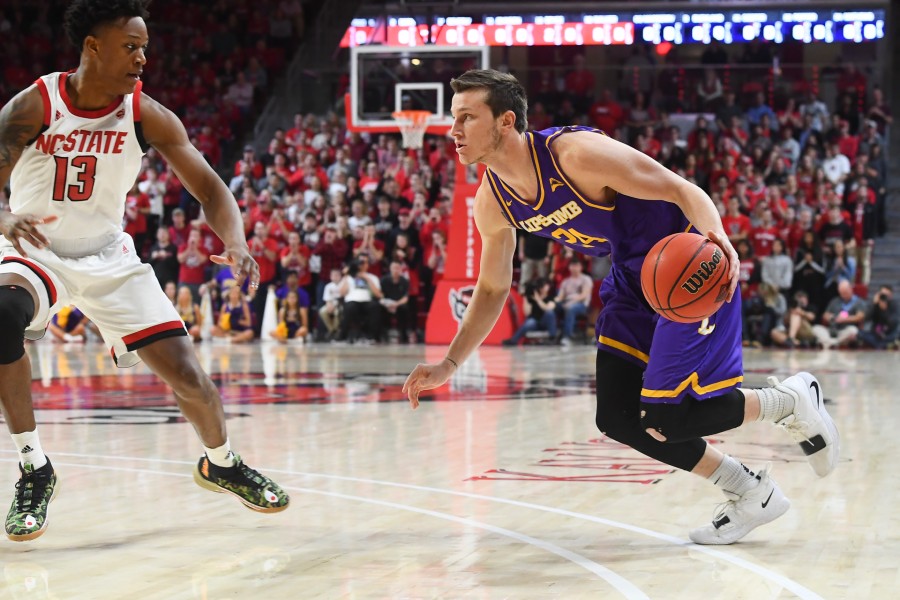 Former Lipscomb basketball star Garrison Mathews is continuing to make a name for himself in the NBA. 
Following a stellar four-year career in the Purple and Gold, Mathews became the first-ever Bison to make an NBA roster when he signed a two-way contract with the Washington Wizards.
Now, in his second season in Washington, Mathews has earned a larger role with the Wizards, including a 21-game streak as a starter. 
"It's cool to say I'm starting NBA, but then again, I never try to think about those things," Mathews said. "I try to just continue to play the way I play and be consistent. And that's all I really care about. Because it's cool starting, but it's another thing to keep that spot."
The insertion into the starting lineup coincided with an uptick in production, with Mathews improving his scoring average (5.4 to 6.9 points per game) and minutes per game (12.6 to 18.3) over last season. The sharpshooter ranks 24th in the league and first on the Wizards with a 42.1 three-point percentage. He's had eight double-digit scoring games on the season, including a 22-point outburst vs the reigning Eastern Conference champions the Miami Heat. 
For a player who was undrafted coming out of college and lightly recruited coming out of Franklin High School, Mathews' success is a testament to hard work and dedication to honing your craft. 
"It's hard to look at these first-round draft pick guys and lottery pick guys and not want to compare yourself to them," Mathews said.  "But you look at the average career span for guys in the league, it's three-and-a-half years. That's not long at all, but I've noticed a lot of undrafted guys, they last longer because they know what hard work is. They know what it is to be underdogs.
"That's the biggest advice I can give - to not compare yourself, because at the end of the day in the league that doesn't matter. Being able to stick and being able to work as hard as you can and having one team believe in you and see your work ethic is going to go a long way."
Following a career at Lipscomb in which he became the program's all-time leading scorer in the Division I era with 2,478 points (the second most in ASUN history), hauled in a trophy case full of accolades, and helped lead the Bisons to their first-ever NCAA Tournament and a trip to the 2019 NIT Championship game, it would have been understandable for Mathews to have a difficult time adjusting to life in the NBA where he was no longer the focal point of the offense. Instead, he worked on perfecting his best skills, improving his areas of weakness, and learning what he could do to carve a role for himself on the team. 
"It's been a hard road getting to this point," Mathews said. "But I feel the style of play that I play with, coach [Scott Brooks] seems to like. I just play super hard. I do my role as best I can. I know I'm not going to score 20 a game like I did in college, which I don't really care about scoring. I'm on the floor to help Brad [Beal] and help Russ [Westbrook] get theirs and help us win games. So I'm thankful that they have that much confidence in me to be able to help those guys."
Of all the adjustments from the college game to the professional level - the speed of the action, the athleticism of your opponents - Mathews says that defense has been the toughest transition. At the NBA level, everyone can score and the defensive schemes are complex. 
"I've always been able to score, but defensively, it's tough to guard in the league," Mathews said. "Everybody can score in the league, and just being able to guard is one of the hardest things I've ever had to do. Learning the coverages, learning how to be a good team defender, and having to guard some of the best players in the league, that's probably been the biggest obstacle for me." 
Off the court, the biggest adjustment for Mathews has been transitioning from playing with a tight-knit group of seniors at Lipscomb to an NBA roster that is constantly turning over and changing. 
"In the league, it's a business," Mathews said. "Guys come and go, but at Lipscomb I got to play with those guys for four years. We had a good senior class and the class under us I got to know well. The relationship aspect and even the relationship with the coaches, that's something I'll always cherish and something I'll always remember about Lipscomb." 
Mathews is thankful for his time spent with the Lipscomb community and is proud to represent the school on such a big stage. 
"Lipscomb did a lot for me, not just on the court, but off the court as well," Mathews said. "I grew in a lot of areas, even besides basketball, so I'm thankful for everything that the people at Lipscomb have given to me. It's a great way to help get Lipscomb's name out there. I'm thankful to be able to just help out. I mean, it's the least I can do for what Lipscomb's done for me."