From the graduation files: From IDEAL program to Bachelor's degree, Osborne makes college dream come true
Commencement is a time for new beginnings and a time to celebrate dreams come true
Kim Chaudoin |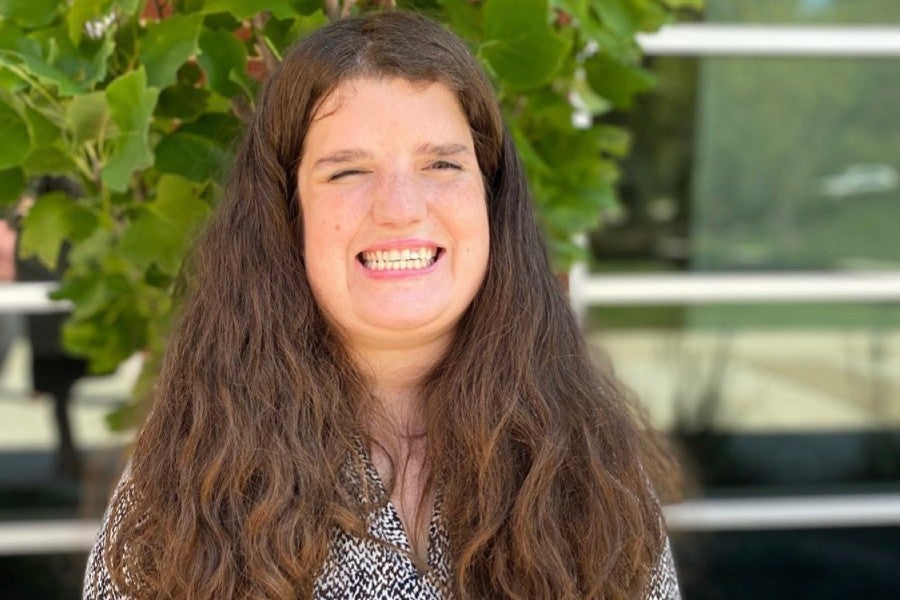 "You can't put a limit on anything. The more you dream, the farther you get."
This statement by legendary swimmer Michael Phelps is a mantra that has kept Shayla Osborne dreaming of accomplishing goals that many including herself have thought impossible throughout her life.   
When Osborne walks across the Allen Arena stage on Saturday, May 8 to receive her Bachelor of Social Work she will have accomplished her dream of earning a college degree. While that is not an unusual goal for which thousands of students aspire to reach each year, few have followed the unique path that Osborne has walked with tenacity and determination to reach this milestone. 
Osborne's journey began when she was diagnosed with an intellectual disability as a child. A native of Tullahoma, Tennessee, Osborne attended Benton Hall Academy in Nashville, from which she graduated in spring 2014. In August of that same year, Osborne enrolled in Lipscomb's IDEAL (Igniting the Dream of Education and Access) program. Housed in the College of Education, IDEAL is a two-year certificate program that provides education and workplace training to students with intellectual and/or developmental disabilities.
While enrolled in the IDEAL program, Osborne held internships in Lipscomb's information technology department and at Beaman Library as well as an externship at a local cafe. She also took several college courses for which she earned credit and was actively involved in IDEAL program activities. As she neared completion of the program in May 2016, Osborne sat down with program leaders to discuss her future plans.
"About a month or two before I graduated from IDEAL, we had an end-of-the-year meeting with me and the staff to talk about what my future could look like — whether it be getting a job or going to a vocational school or something like that. But they basically told me that I'm fully capable of going to college, like, for real," recalls Osborne.
"My parents even said that I was ready," she continues. "The main reason that I got into the IDEAL program was for college prep. At the time, we didn't really know that I was going to be capable of actually being a college student."
After applying to two colleges, Osborne was accepted for admission by Austin Peay State University in Clarksville, Tennessee. 
"I found out about a month before graduation," she says. "During our breakout chapel, like right near the end, I was able to announce to all my peer mentors and everybody in IDEAL that I was going to go off to college after I graduated from IDEAL."
So in fall 2016, Osborne began her studies in social work at Austin Peay. She chose to pursue a degree in social work because of her "personal experiences of having an intellectual and developmental disability." 
"Being in the IDEAL program, it just kind of sparked an interest in me to help individuals with disabilities because I want them to have the same kind of experience that I had," says Osborne. "And I wanted to give back to that community, because IDEAL has given me such a huge opportunity to help me with my self esteem and basically helped me help me grow into the individual that I am today despite my disabilities. Mostly what I want to do is to empower others."
Osborn continued her studies at Austin Peay until spring 2019. During that time she earned college credit and experienced living in the dorm — "living on my own for a little while," she says. "But, I missed the Lipscomb community," she admits. "I had a lot of friends there and a lot of connections."  
At the beginning of her junior year in August 2019, Osborne transferred to Lipscomb to "return home." 
"The reason that I came back was for those connections again, because I just knew I would be better off at Lipscomb. Lipscomb is the place where I belong. It's where I have all my friends, all my favorite professors. I just love the community, and I feel loved," explains Osborne. "So I came back. And when I came back, it was amazing because it felt like a family reunion. I got to see some of my old professors that I hadn't seen since I had taken my classes when I was an IDEAL and then I saw a few friends that I hadn't seen in quite a while. So yeah, it was just kind of a big family reunion to be honest. Because IDEAL is my family."
I would just say (to others) believe in yourself and reach high. Just reach as high as you can go for whatever dream that you have, and don't give up on it. Never, ever give up on something that you would like to achieve. Know, in your heart, that you can achieve it. — Shayla Osborne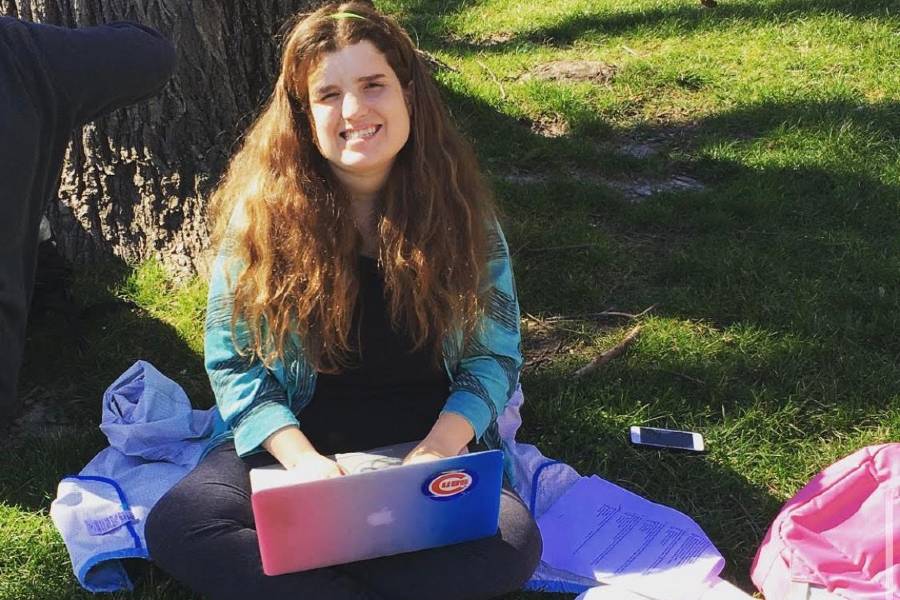 Over the last two years, Osborne has worked diligently to complete the requirements for the Bachelor of Social Work degree, including completing over 400 hours of required field practicum which she did with the IDEAL program. Her capstone research, "From High School to College: Disabilities and Transitions," explores alternative secondary education courses for students with special needs and focuses on self-advocacy skills and empowerment. 
"I ended up getting an internship with IDEAL, through which I was able to complete my practical hours," says Osborne. "That was another huge dream for me … to have an internship with IDEAL, so I could give back to the Lipscomb community. Because as I say, IDEAL is like my second home. Because they have given me so much, I wanted to give back to them. When I was in the IDEAL program I just didn't know how much of an impact that program would have on me and helping me achieve my dreams."
Rebecca Clark, social work program director and chair of the Department of Social Work and Sociology, says Osborne was determined to succeed.
"Knowing it would take another two years to complete the program requirements, Shayla eagerly returned to the place where she felt accepted, supported, respected and valued," says Clark. "From the beginning, Shayla was determined to complete her BSW field practicum with the IDEAL program - the very program that nurtured her own educational dreams. Her dream has always been to become a professional social worker, utilizing her knowledge and skills to empower, work with, and advocate for, individuals with disabilities." 
IDEAL program directors say they are proud of Osborne's success and her impact on others.
"Through her internship with the IDEAL program, Shayla has worked with all the students currently in the program as well as those who were remote this year. Shayla was able to make connections with each of the IDEAL students and encouraged them all to perform at their best," says Andrea Pewitt, IDEAL program director. "Watching her lead and grow over this year has been nothing shy of exciting. Her determination and drive was evident in all she did. Having her serve as a role model to the current IDEAL students has been tremendous. She is an amazing young lady who never gave up on her dreams or her goals. I am extremely proud of her and can not wait to see what she does next!" 
Misty Parsley recalls the first day Osborne walked on campus in 2014 as part of the IDEAL program. 
It's pretty surreal, to be honest because I never thought that I was actually going to get to this point of being able to call myself a college graduate. — Shayla Osborne
"She was shy and nervous. She had little confidence in her ability to complete college work," recalls Parsley, director of special education programs in Lipscomb's College of Education and IDEAL faculty advisor. "The IDEAL program and the amazing professors and supervisors who work with our IDEAL students helped her grow as a college student and as a young woman. As a result of this community, Shayla gained the confidence to complete her degree. We've been able to see her grow into a remarkable young woman who shares about her disability to encourage others. I know that she will go on to influence the lives of individuals with disabilities and help those young people gain confidence to do whatever they want... just like she did."
Osborne thrived in her studies. This spring she was awarded the 2021 Jeanne Bowman Social Work Champion Award by Lipscomb's Department of Social Work and Sociology. This award recognizes perseverance and determination in pursuit of professional social work education.
"This path has not been easy for Shayla, yet she has never wavered in her focus. During her time in our program, she displayed a tenacity and determination that inspired us all. She tirelessly advocated for herself, ensuring that she had the support structures needed to successfully complete each of her courses," says Clark. "Her smile, sense of humor, encouraging spirit, and constant pursuit of academic achievement is infectious, and she is respected and loved by her faculty and peers alike. She has inspired and encouraged me daily, as I have had the honor to witness her academic and personal growth."
Osborne is pleased with how far she has gotten in pursuit of her dream. Yet, the reality has not quite sunk in. "It's pretty surreal, to be honest because I never thought that I was actually going to get to this point of being able to call myself a college graduate," she admits. 
While Osborne is still weighing her options for where her journey will lead following graduation, she has advice for others who may have doubts about following their dreams. 
"I would just say believe in yourself and reach high," she advises. "Just reach as high as you can go for whatever dream that you have, and don't give up on it. Never, ever give up on something that you would like to achieve. Know, in your heart, that you can achieve it."