From the Graduation Files: Franklin balanced running a business while completing degree
Logan Butts |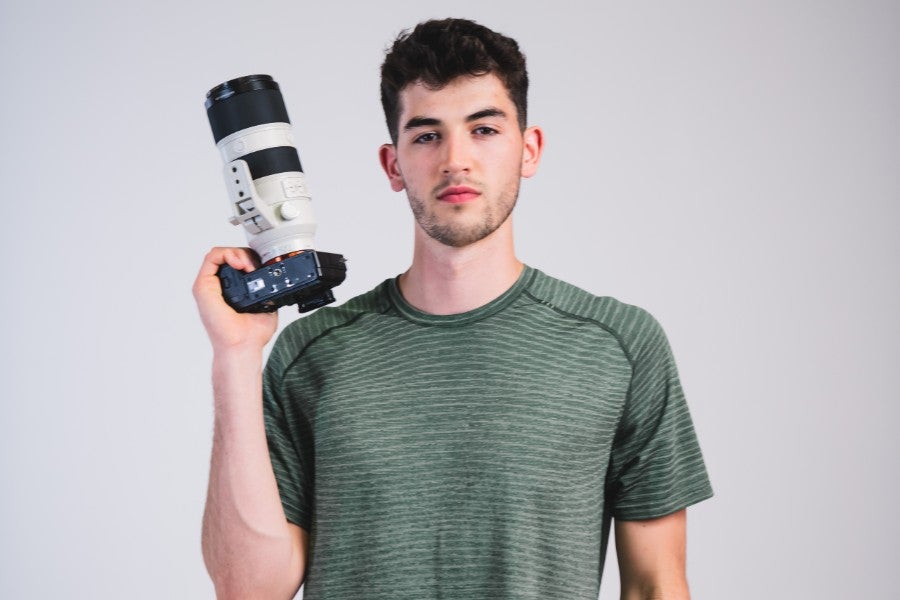 Completing an undergraduate degree while maintaining strong grades is a delicate balancing act for most college students. Add in jobs, a social life, and more, and the difficulty level will only continue to rise. Now, imagine juggling all of those responsibilities while running a burgeoning business. 
That's precisely how May 2021 graduate Hunter Franklin spent his time as an undergrad. Following two years at John A. Logan College, Franklin decided to finish out his collegiate days at Lipscomb University where he earned a Bachelor of Business Administration with a focus on Entrepreneurship.
During the day, and throughout most nights, Franklin was operating Brotherdale Creative alongside his business partner Marcus Taylor. Whenever he found a sliver of time, he would work on homework, study for tests, and go to class. 
"It was one of the hardest things I've done," Franklin said. "Because not only did I have clients that I had to service, I had grades and teachers that I had to take care of." 
There were many times when the demands of Franklin the owner of a media company outweighed the demands of Franklin the student. It was a decision he had to make on a case-by-case basis, but his professors were always understanding. 
"I always keep God first, but I'm going to be honest - my work was definitely ahead of school. I just knew that with the opportunities that were at hand that God gave me that I needed to really grow my company."
All the sacrifice, hard work, and constant juggling have paid off, quite literally - Franklin's business brought in six figures' worth of revenue last year. Just last week he filmed a shoot with actress Megan Fox for the Kelly Clarkson Show. All because he started playing around with his dad's old VHS camera as a kid, which developed into an interest in photography and videography as he got older. 
"When I was younger, I used to make some videos at home, with the pets and a sibling and neighbors, just kind of our adventures." 
Franklin has also always had an entrepreneurial spirit. He says he had multiple businesses before he settled on the current one - selling Paracord bracelets, a t-shirt company, and of course, Franklin Creative Company, the freelance photography and videography company that led to his current media endeavor. 
"It was hard to do both school and my business, but I didn't want to give up," Franklin said. "So my friend and I created Brotherdale Creative, and we now service multiple businesses and brands all across the nation." 
Brotherdale Creative combines Franklin's entrepreneurial spirit with his photography and videography skills to service clients across a number of mediums. And even though his business was already thriving, Franklin says he learned some invaluable lessons at Lipscomb. He cites Jeff Cohu, Jerry Stubblefield, and Lauren Pinkston as some of the professors that helped him the most. 
 "If I were to have any advice for potential university students at Lipscomb, whether it be the business program or not, is to make sure that you work hard and be passionate, because you're going to get out of it what you put in," Franklin said. "The professors there are always willing to help. But the more you're involved, and the more you care about it, the more they're going to be willing to help. And if you're looking to start a business while in school, there's a lot of resources that are great as well." 
With college in the rearview mirror, Franklin's plan is to hit the ground running now that he can focus on the company with his full attention. 
"I'm going to take what I learned from Lipscomb and outside of Lipscomb, combine that together and just try to be a man of God and have the virtues and values of Jesus. That's what they taught us in the business program."