Engineering's first cyber defense team competes in Southeast Collegiate Cyber Defense Competition
Team of eight students placed 11th out of 34 teams in the February competition.
Janel Shoun-Smith |
As part of the new School of Computing, the Raymond B. Jones College of Engineering fielded its first student cyber defense team to compete in the Southeast Collegiate Cyber Defense Competition. The team placed 11th out of 34 teams competing in the competition. 
"This competition gives (students) real-world experience of what happens when an organization is under attack, and you are responsible for keeping it up and running with minimal downtime," said Dr. Chris Simmons, associate professor in the School of Computing and faculty sponsor for the team. 
This year's team members are: Scott Wedge, Dominica Decker, Julian Varon, Bow Shafer, Leroy Goorcharran, Caleb Voogt, Nick Springer, Noah Stephens, MaCaria Green, Lin Zhang, Zara Malik, Alex Alvarez, Joanna Gonzalez, and Randy Goorcharran.
During the competition, eight students work on the cyber defense scenario for a hypothetical corporation. "Students are responsible for keeping it up and running, creating user accounts, checking for viruses, among other things, and all the while, they are being bombarded by various cyber attacks," explains Simmons. "It is a simulated real-world environment of what defense, risk management, mitigation and remediation look like."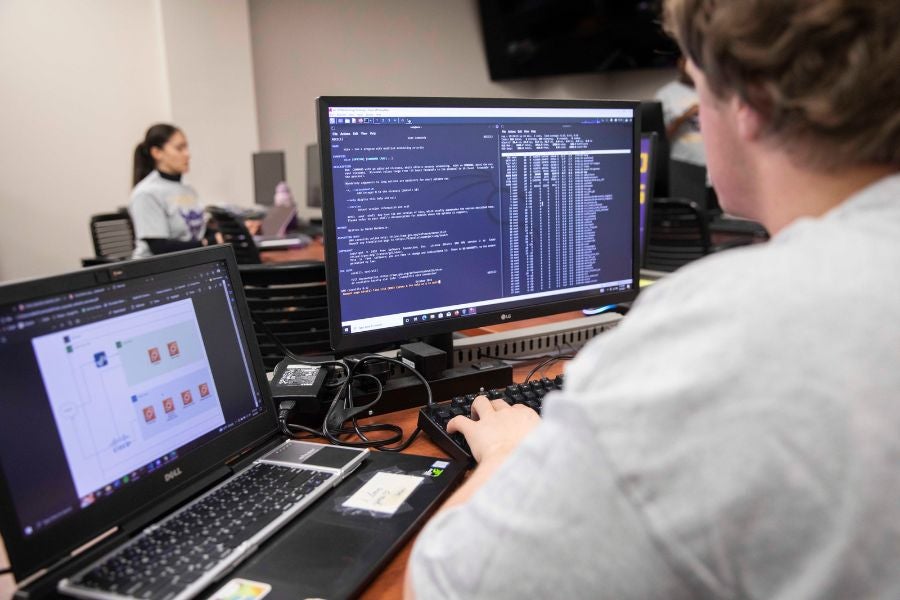 The competition is all virtual so that students carried out their cyber defense on campus in the Ralph Butler Lab in the Fields Center. The regionals lasted four hours and involved 34 teams. Then the top eight teams move on to the Southeast Competition in April, which lasts two days. From there, the No. 1 team moves on to the National Collegiate Cyber Defense Competition, presented in partnership with Raytheon Intelligence and Space, where the computing is done on-site in Las Vegas. 

Being part of the engineering college provides access to many more alums and resources, said Simmons.
"I'm hoping people who may have been interested in cyber security will come through the computer engineering major because even the physical part of computer security is part of the competitive scenario. I'm hoping the engineering alums will see the opportunity. The team already has a couple of computer engineering majors this year," he said.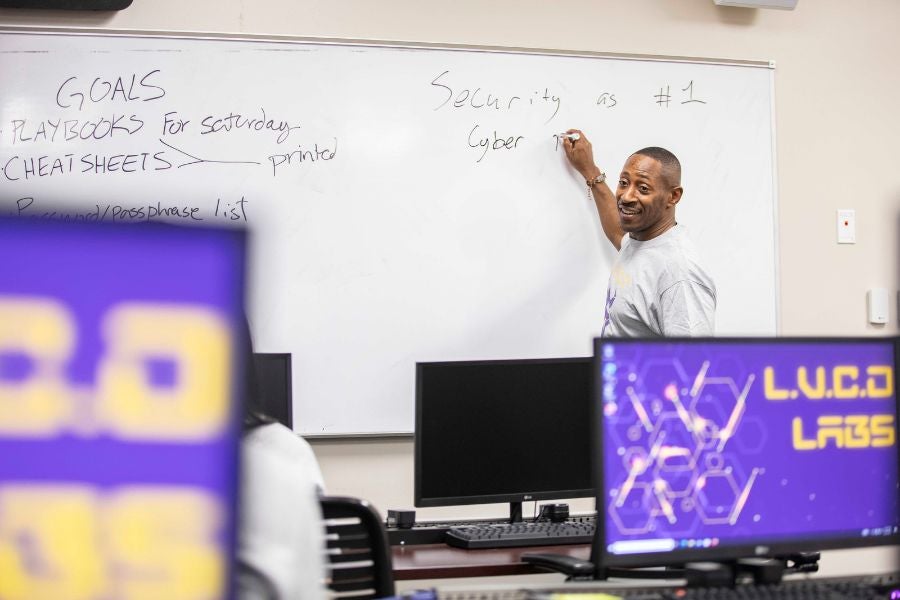 Lipscomb students have participated in the competition for 10 years (through the former College of Computing and Technology). Their highest ranking at that time has been second out of 33 teams in the Southeast. 
Students don't have to major in computer science or even know how to code to join the cyber defense team and compete, said Simmons. "All majors can take an active role and have a different perspective on how a problem can be solved," he said. "We want students from all backgrounds. The team needs experts in command and control and network security to partner with us and assist the students in learning."
Currently, there are a few members of the cyber defense community involved with the Lipscomb team, and Simmons hopes to bring in more. "We want to bring in professionals to discuss different scenarios they have faced," he said.
Computing students who participate on the team typically take the cyber-self-defense class offered in the fall. Then the student team meets two times a week in the spring to practice various strategies for defending the network. 
Are you interested in Lipscomb's computer cybersecurity program? Click here to learn more!