Dr. Lauren Pinkston: Creating safer employment for survivors of human trafficking
BAM professor tapped to develop a governing structure of standards for the social enterprise industry.
Keely Hagan | 615-966-6491 |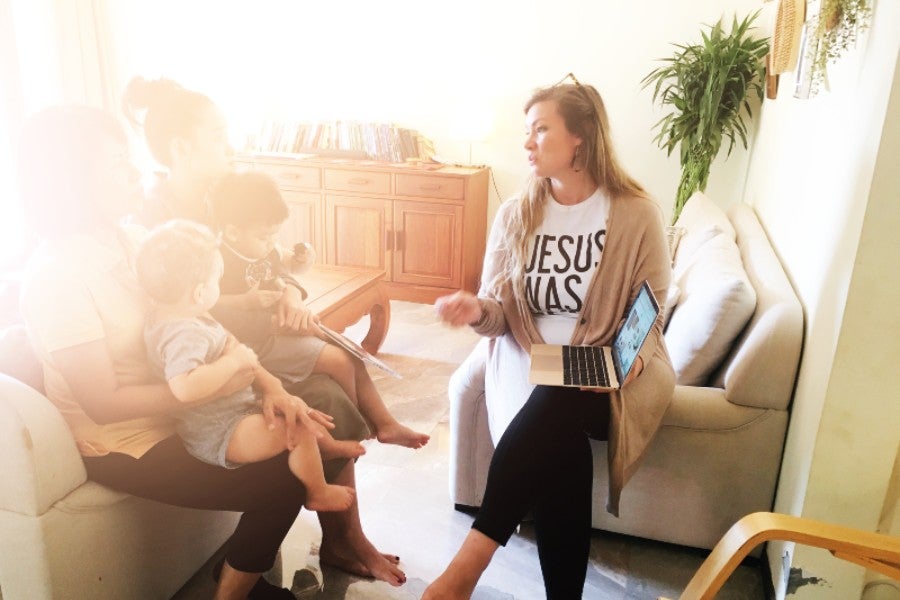 Assistant Professor Lauren Pinkston is working as a research lead at the Freedom Business Alliance, a global network focused on business solutions to human trafficking, to assist in the development of a code of ethics and recommended best practices for the social enterprise industry. Using quantitative data, their goal is to show facilitators in the field of employing survivors and those at risk of human trafficking how to provide holistic physical and emotional support for survivors while maximizing profits for their business.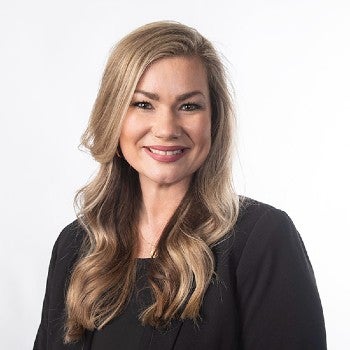 Pinkston was approached by the network to provide research and analysis needed to establish solid factors to ground the network's efforts, prove its effectiveness, and ultimately create a governing body for the social enterprise industry. 
Pinkston is recognized for her engagement in missional businesses around the globe. She spent five years in Southeast Asia where she established four businesses to employ survivors of sex trafficking and human exploitation, developed models for sustainable impact, and supported the office on anti-trafficking in the United Nations Office on Drugs and Crime in Vientiane, Laos.
She most recently founded Kindred Exchange, a non-profit focused on sustainable short-term missions strategies that pair the human trafficking crises with business model canvassing. Pinkston also applies her expertise in social entrepreneurship in the classroom, where she teaches in the Business As Mission program in the College of Business. The BAM program equips students to solve both complex business problems and social problems. Students learn how to participate in profitable businesses created as a means of leveraging the marketplace to create sustainable solutions for those in need.
Pinkston says there is a critical need to equip people who want to start such a business with legal and economic best practices for both the for-profit and nonprofit portions of the organization. A majority of such businesses are not sustainable. They are complex and more costly to operate because of the substantial expense of providing employees with additional resources such as housing, childcare and mental health support.
To make businesses sustainable, she says, "We must get away from a romanticized view of social enterprise. We want to get away from compassion sales and sympathy sales, to get to where we are offering good products without guilt. 
"Having worked in this sector myself," Pinkston said, "I have seen many people with great intentions who don't have the support or the guidance to hold themselves accountable. There are a lot of people running these businesses who are not businesspeople."
The first phase of the project was focused on developing standards for employing survivors and those at risk of human trafficking. Last year, she assisted with hosting a series of roundtable discussions with more than 100 businesses involved in the organization. Groups of 15 participated in roundtables to discuss what they see in the field of employing survivors and how Freedom Business could create a code of excellence, similar to a fair-trade organization stamp of approval. They identified six codes of excellence that include paying a fair wage, striving to develop a trauma-informed workplace and providing a healing-centered workplace.
The code of ethics determined from the roundtable discussions were published in an open-source publication. Pinkston then took what was essentially a white paper and did a secondary analysis to develop an academic paper. That paper is out for publishing and has been presented at a couple of conferences. She is currently working on a qualitative review of the roundtable discussions for another academic paper that will include her hypothesis and a section on implications of the real-world need for the code of ethics.
Phase two of the Freedom Business project was to ask businesses who had been involved in those roundtables how these businesses are functioning. Pinkston said, "I did one-on-one interviews over Zoom, with business leaders around the world. I interviewed others who were leading anti-trafficking organizations or working with social enterprises. I was looking at big questions of what's working and what's not.
"We want to know how they offer ethical employment to survivors that is truly holistic, how they are caring for the emotional needs of someone exiting a traumatic work environment, how they are bridging the gap between the survivor and their community of origin. We are interested in how they are connecting with Western markets and sustainable income and sales, while telling the story of their employment base in an honoring way," she said.
Global research is needed in order to develop a code of ethics and best practices for the social enterprise industry because every country has different systems for registering social enterprises. For example, in the U.S., they are registered as 501c3, LLC. In Greece, they are required to pay certain health care benefits to employees, and in India, they must partner with an Indian business.
Pinkston is working on a second round of interviews this summer to gather more qualitative data. In the final piece, she hopes to show how to make social enterprise businesses profitable.
Based on early results of the study from the interviews and literature reviewed, her personal recommendation is for social enterprises to register as both a nonprofit and a business. She says, "the research is currently pointing to the conclusion that most social enterprises cannot accomplish everything they need to with profits alone. I believe that in order to be sustainable, most will need a nonprofit fundraising arm to develop the additional funds needed to run the business and provide the extra services needed to nurture employees coming from traumatic existence."
While Pinkston shared her opinion about what she anticipates the recommendation to be, she stressed that it has yet to be truly quantified. The project will have to be much larger, with future additional qualitative studies, to back up these initial studies before recommendations are made. 
Pinkston is planning to extend her scholarly expertise to The Rain Collective, an organization formed to fight against human trafficking in Northwest African and the Middle East, when she joins their board this summer and assists with initiating a livelihood study. They hope to identify what would compel someone to transition into a livable world, where they are able to sustain their livelihood and mental health. Pinkston presented at a 2022 U.N. Commission on the Rights of Women break-out session, representing The Rain Collective. 
Her years of experience running a social enterprise, working with small entrepreneurial ventures and coaching, consulting and teaching others to participate in missional businesses are a testament to Pinkston's dedication to humbly follow God's plan for restoration of His creation.