College of Education launches partnerships to prepare teachers for Christian schools
Grow Your Own model to remove barriers, provide pipeline for those in Christian schools
Kim Chaudoin |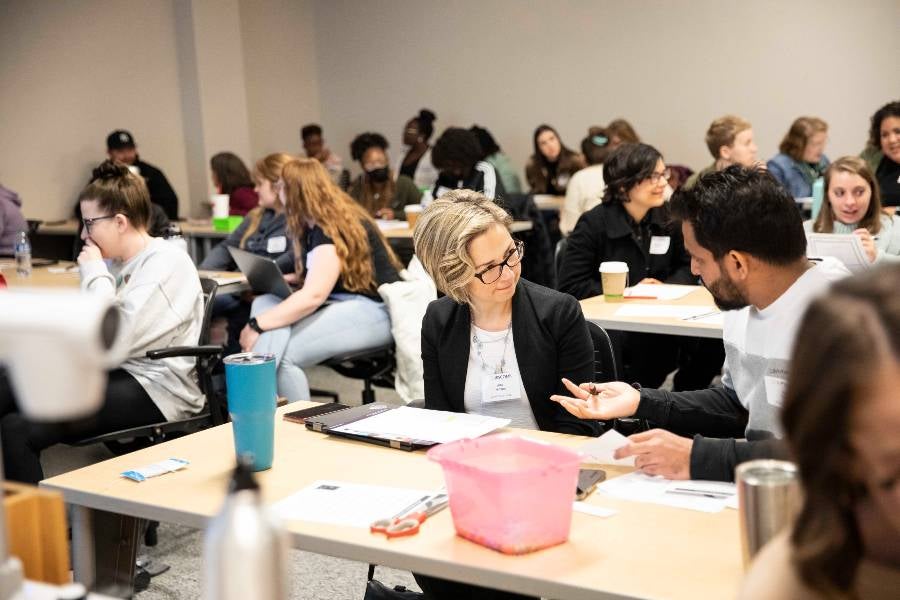 Lipscomb University's College of Education, with one of the top teacher preparation programs in Tennessee and in the nation, is launching a new initiative to help prepare teachers to work in Christian schools in the middle Tennessee area. 
Beginning this fall, Lipscomb is offering a new Christian Schools Partnership, designed to fill teacher shortages and preparation gaps in K-12 Christian schools. Lipscomb University developed this unique program to create a pipeline of teacher candidates for faith-based schools and to better prepare those who are already teaching in these schools.
"There is a gap in programs that train teachers for this specific setting. The goal of the Christian Schools Partnership is to create a pipeline of teachers who are prepared for a career in Christian schools," said Trace Hebert, interim dean of Lipscomb's College of Education. "As a faith-based institution with a proven teacher preparation program, Lipscomb is uniquely positioned to partner with Christian schools."
Through this partnership, aspiring teachers will be recruited from Christian schools, prepared to be ready the first day they enter their own classrooms as teachers and return to these schools to teach. In addition, the partnership offers additional training for teachers already in the field. The Christian School Partnership has two certificates both beginning this fall:
Christian Educator Scholar (CES). This program is designed for undergraduate students who desire to complete a Christian educator certificate as part of their education degree. Graduates who complete this component will receive the Christian Educator Scholar designation on their transcript. 
Certificate for Christian Educator Training (CCET). Designed for those who already have an undergraduate degree or are currently-licensed teachers, this certificate program includes graduate-level training and preparation specifically designed for the Christian school setting. 
Lipscomb has developed the CES and CCET certificates, which are offered through the partnership agreement, and schools that join the partnership form a consortium of participating schools. Students entering the Christian Educator Scholar or Certificate for Christian Educator Training programs from a consortium-member school receive a 40% tuition discount from the university and an additional 10% scholarship from an anonymous funding source supporting the program. 
Hebert said the Christian Educator Scholar program follows the Grow Your Own (GYO) model, which is currently popular for preparing teachers for public schools and focuses on increasing access and removing barriers to the teaching profession and developing and retaining teachers from the school or local community. 
Lipscomb University is making available this partnership to Christian schools who wish to create a pipeline of teachers prepared for the Christian school setting. Students are recommended for this program by their school with the commitment to return back to that school to teach after completing their degree or certificate. If there isn't a position available, then other schools will be made aware of that student's availability and can talk with them about potential availability.
Lipscomb has developed several GYO partnerships over the last few years with public school systems in Tennessee. Among the most recent are LIFT Off to Lipscomb, a GYO partnership with Metro Nashville Public Schools, and partnerships formed through $1 million in Tennessee Department of Education GYO grants last year. The Christian Schools Partnership extends Lipscomb's GYO programming to the private school sector.