Carpenter's world of music and coaching finally collide
The Lipscomb community is filled with individuals with unique backgrounds and talent who are making a difference.
Kim Chaudoin |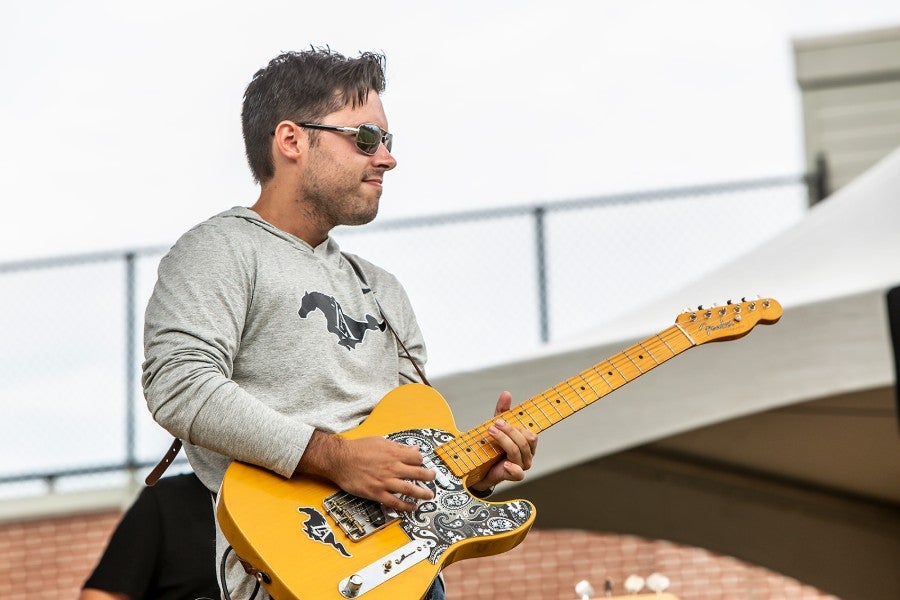 When one considers music and coaching a sport, the two activities don't seem to have much in common.
But for alumnus Patrick Carpenter the two feed his creative soul.
He has enjoyed the unique opportunity to blend his two creative passions into a busy professional life. This season, Carpenter is the assistant quarterbacks coach for the Lipscomb Academy Mustang football team for new head coach Trent Dilfer. When he isn't on the football field for practice or a game, Carpenter is traveling the country performing original tunes along with covers of some of his favorite songs. Just last week, Carpenter released a cover of Run, Run, Rudolph just in time for the Christmas season.
And in his spare time he is enrolled in Lipscomb's Master of Education in school counseling program. 
"This past year has been crazy," says Carpenter, who received his undergraduate degree in journalism and new media from Lipscomb in 2016. 
Carpenter was part of the football coaching staff from 2016-2018 at Franklin High School. 
"When 2019 began, I had no plans to coach," he recalls. "I was burned out on it and really wanted to put all of my time into my music career after such a successful 2018 and I was already enrolled in grad school so I was going to finish that." So Carpenter began focusing on his music. 
Then two weeks into January 2019, Dilfer, a Super Bowl-winning quarterback and former ESPN broadcaster, was named Lipscomb Academy's new head football coach. A few days later, he called Carpenter and asked him to be part of the coaching staff he was assembling.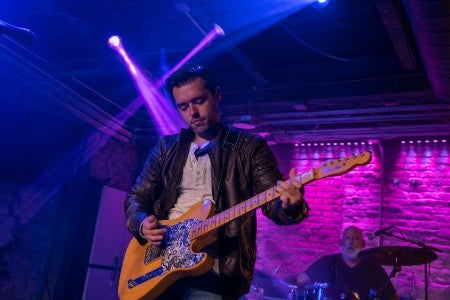 "God had other plans for my year, obviously," Carpenter muses. 
"For Christmas, back in 2014, my parents bought me the book The QB: The Making of Modern Quarterbacks by Bruce Feldman which focused on Coach Dilfer and his Elite 11 camp. It was the initial source that inspired me to begin coaching so I couldn't believe he was calling me to be part of his staff," says Carpenter. "Of course, I wanted to be a part of the team he was building. I couldn't say no to the opportunity. The part about being a musician didn't come up until the end of the interview. He instantly downloaded my EP right there and has constantly supported me musically as well."
For someone who wanted to focus more on the creativity of the entertainment industry, Carpenter says coaching is also a creative expression. 
"Offense is so creative — just like music," he says. "When you are coaching you have to look at a defense and come up with a creative way to break through the opposing team's strategy. The more creative you are, the faster you are able to solve problems or, even better, become a problem for the other team. Coaching football, especially quarterbacks, is a very creative outlet. Teams like Oklahoma, Alabama, LSU and others are successful due to their offensive creativity. I also grew up watching Brett Favre who was a great improviser, much like all of my favorite guitar players are." 
Carpenter also points to the team aspect of football as a similarity to music. In his role, he assists the offensive coordinator with scouting, reporting, play design and concepts as well as working with the quarterbacks every day.
"Both in a band and in football you are relying on a team to be successful. You need everyone doing their job. On the football field, the offensive line has to do their job well so that the quarterback can do his job. And he has to get the ball to someone else to do their job of getting a first down," he says.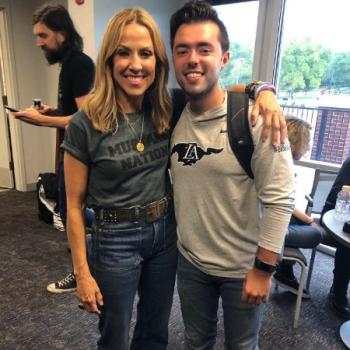 "Music is the same way. If my drummer, Chance Britton, doesn't keep a beat I don't have a foundation. Without the bass player, Michael Spears, there isn't a consistent rhythm. Hunter Cranford, the rhythm guitar player, gives me a chance to do less and my other guitar player. Jeremy Cyr, makes everything pretty in the background. All of this makes me a better lead guitar player and entertainer. They're also great guys, fathers and husbands which just makes them great people to have with me," he continues.
Ironically, Carpenter got his start in music because of sports. At age 11, he played soccer. After breaking his ankle he was sidelined and spent several weeks at home recovering. One morning he was watching CMT to pass the time and happened to notice a video of entertainer Kenny Chesney.
"I thought that would be cool to do something like that," says Carpenter, who was a visual art student from third grade through high school in his native Mississippi. "Dad had a guitar, so while I was laid up with my broken ankle I started playing it a little. I taught myself how to play, but I really didn't like playing much at first. But the more I played, the more I began to really like playing the guitar. Now I can't imagine my life or my future without it."
Carpenter continued to hone his musical talents. He says his musical tastes are extremely varied, but he was particularly influenced by musicians Richie Sambora, Brad Paisley, Keith Urban and Bruce Springsteen.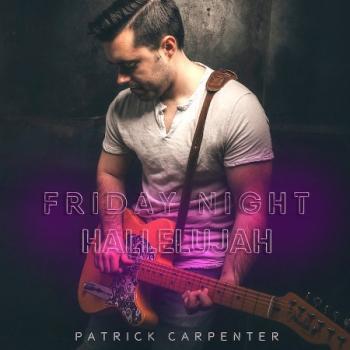 In July 2018, Carpenter released his first EP titled Coming Back Stronger and watched it climb the singer/songwriter iTunes charts to No. 13. His first album Friday Night Hallelujah, released this year, debuted at No. 3 and made the bestseller list while also accumulating a quarter million streams on Spotify and Apple Music. He plans to release what he considers his "best song yet" in February 2020. He has played 57 shows this year in Nashville, Mississippi, Florida, New York, New Jersey, Baltimore, Philadelphia and Washington, D.C. With other shows in Nashville already booked, Seattle, Los Angeles, Chicago and Dallas are next on the horizon. This past August, Carpenter's football and music worlds collided when he was the first act for a new series of pregame concerts for Lipscomb Academy home football games opening for Grammy Award winning singer-songwriter Sheryl Crow.
"The thing I love about music is that it gives you an opportunity to touch people and to be a part of the soundtrack of their lives," admits Carpenter. "As an entertainer, I have the ability to bring songs to people that will transport them to a place with a happy memory, to remember a person, to a difficult season in their lives. Music is powerful. It's about giving people moments."
While Carpenter's career both on and off the playing field has gained a lot of yardage this year, he sees potential for growth in the near future. 
"I feel like I'm just getting started," he says. "What has happened this year is great and it's been awesome. But I don't want to settle and lose the momentum that is building."
Follow Carpenter on Instagram: @patcarpmusic  | Twitter: @patcarpmusic  | Facebook: @patcarpmusic . Listen on Spotify | Listen on Apple Music 
Want to know more about Lipscomb's undergraduate and graduate programs in education? Visit www.lipscomb.edu/education
Learn more about Lipscomb Academy and the Mustang Football Program.