Bison Block Party features FREE concert, games, fireworks June 28
One of the highlights of Summer Celebration is the annual Bison Block Party. It's a great time to bring friends and neighbors to campus to enjoy this fun, FREE event!
Kim Chaudoin |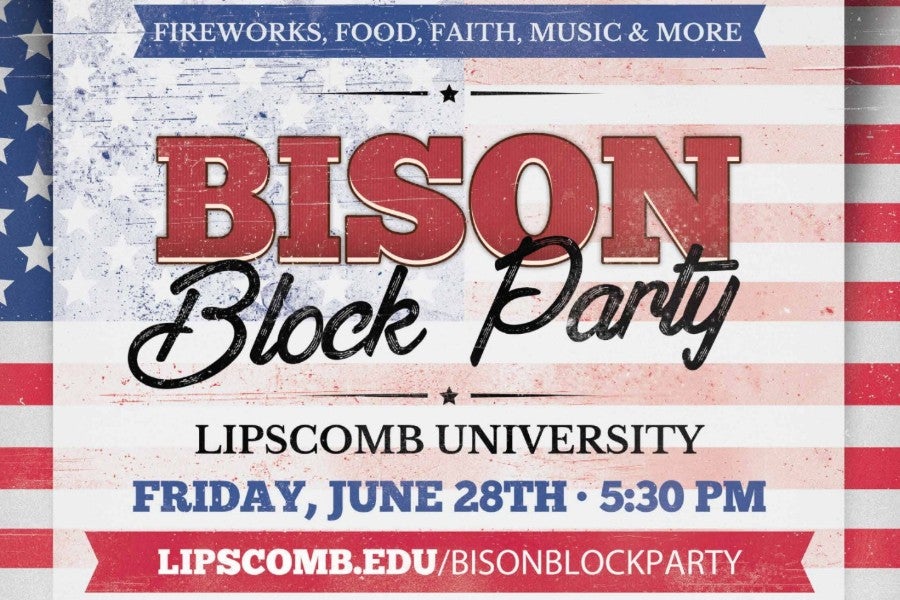 Lipscomb University is hosting a FREE Bison Block Party for the community Friday, June 28.
The Bison Block Party includes FREE inflatable games for kids, a special FREE concert featuring Lipscomb University commercial music alumni Daves Highway, S. Grant Parker, The Arcadian Wild and the Lipscomb Faculty Brass Quintet with Ben Blasko, director of instrumental studies at Lipscomb. The evening will be hosted by Rudy Kalis, longtime Nashville sports anchor.
The evening will end with a FREE fireworks display to kick-off the Independence Day week.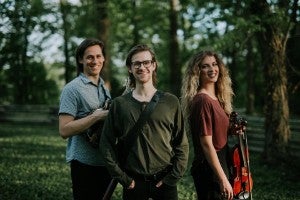 Delaney, Zach and Erika Daves comprise Daves Highway. They graduated together this past May from the commercial music program housed in the George Shinn College of Entertainment & the Arts' School of Music. Throughout their time in college, the trio has released a five-song EP, two full-length albums and a Christmas album.
Parker also graduated from Lipscomb's commercial music program in May and is a 2015 Lipscomb Academy graduate. Having grown up on the stage performing with his brothers in the band Brother Parker and later in the rock band Joseph Marlowe, he has shared the stage with luminaries like Vince Gill, Amy Grant, Michael W. Smith, and Drew Holcomb and the Neighbors. Now with a band of his own, he's making the music he loves and capturing Nashville's adoration one indelible, sweet single at a time.
The Arcadian Wild began in the fall of 2013 when then-Lipscomb students guitarist Isaac Horn, mandolinist Lincoln Mick, and fiddler Paige Park met up after class to jam for an afternoon. The folk group is touring off the successful release of their newest record, "Finch in the Pantry," Antifragile Music) last month, which debuted at #9 on the Billboard bluegrass charts.
The Lipscomb Faculty Brass Quintet is led by Blasko who joined the Lipscomb faculty in fall 2018. A conductor and composer, he has been invited to conduct performances and lead master classes across the U.S. Blasko's composing encompasses many mediums and his works have been performed across the country.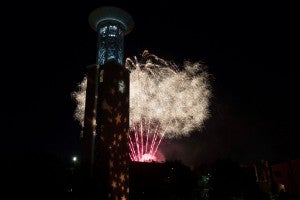 Food will also be available for purchase from a variety of food vendors. The Associated Women for Lipscomb will have a variety of sweet treats for sale to benefit student scholarships. Attendees may also bring a picnic dinner.
Festivities begin at 5:30 p.m. with the inflatable games and food vendors. The concert begins at 7 p.m. followed by fireworks at 9 p.m. The Bison Block Party culminates the three-day Summer Celebration, a festival of faith featuring keynote speakers and hundreds of classes taught by individuals from across the country. Activities will take place in the Allen Arena Mall area. 
Guests are encouraged to bring blankets and lawn chairs, to gather their friends and family and head to campus for a fun evening. Lipscomb University is an alcohol-free, tobacco-free campus.