Commercial music program deepened skills for sibling trio to achieve their artistic dreams
Lipscomb provided Daves Highway with mentors, connections and a producer during their time as students
Anna Moseley |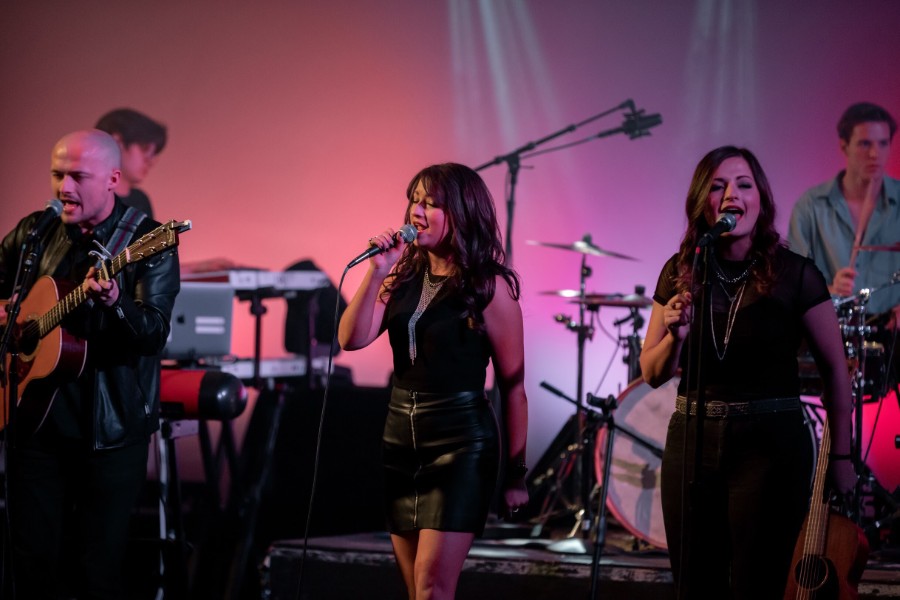 The three members of Daves Highway, a Mississippi-based musical trio of siblings who have been sharing their music on YouTube since 2009, viewed college as little more than a formality on their way to musical success when they entered Lipscomb University as freshmen in 2015.
But the plentiful networking opportunities, personal mentorships from professors and an in-class meeting with the man who became their new producer, have proven to be highly valuable to the three May 2019 graduates, who say what they've learned at Lipscomb will fuel their musical career from now on.
Delaney, Zach and Erika Daves graduated together this past May from the commercial music program housed in the George Shinn College of Entertainment & the Arts' School of Music . Throughout their time in college, the trio has released a five-song EP, two full-length albums and a Christmas album.
"Our biggest takeaway from college is the networking we have been able to do," said Delaney Daves. "The connections and relationship we've made with our professors, peers and mentors will last well beyond our four years. Our relationship between the three of us has grown stronger through this process as well, and we are grateful for that."
The trio confessed that college was never a part of their original plan.
They first thought of college as a backup plan, one that would comfort the doubts their parents had about the music industry. Delaney Daves even started college as an accounting major, just in case her dream of becoming a musician didn't pan out.
The three quickly discovered the commercial music department, a newly established program at that time,  and now say they are thankful to have been at Lipscomb in a program for music.
"I think the fact that I am graduating speaks volumes to Lipscomb and how incredible the commercial music program is here. I have wanted to be done with school since I was in elementary school, and now I'm a college graduate." — Zach Daves
Their original plan was to pursue music right after high school, but Charlie Peacock, previous director of Lipscomb University's School of Music, recorded with the siblings in 2009 and then recruited them to Lipscomb in 2015.
Without Lipscomb, the trio said they may have never had the opportunity to meet their new producer, Ron Fair, who taught a masterclass at Lipscomb that the siblings took together.
Fair is a veteran A&R executive, record producer arranger, recording engineer and songwriter with 30 years of experience. He has mentored artist such as Christina Aguilera, Vanessa Carlton, The Black Eyed Peas and Fergie.
"He went around the room and wanted to hear from all the students," said Delaney Daves. "He got to me and I explained I have a sibling band and my brother and sister are both here, and he asked if we had any original songs. I told him we've written about 50-75 original songs and he said, 'well that doesn't mean you have a hit.'"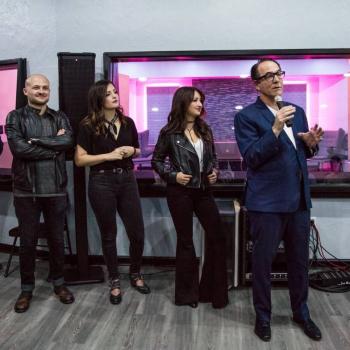 Fair asked the trio to play one of their songs for him, so they grabbed a guitar from the next room over, as Zach Daves pieced together a song written with piano chords on a borrowed guitar.
"We played the song 'No Room For You,' and Ron told us we might have a hit," said Delaney Daves. "He called us the next day and invited us to come to his studio to play more songs. It just turned into an incredible opportunity."
Soon after meeting Fair, the group recorded four songs with him and have continued to work with him since.
"That song literally changed everything," said Erika Daves. "It has opened doors for us and it all started when we played if for Ron in class. I also won second place in the John Lennon Scholarship for the BMI Foundation with that song. It has been a transformative song for us."
The trio said they were grateful for both the new career opportunities Fair provided as well as the wisdom Lipscomb professors shared that allowed them to build a strong faith foundation that will remain strong as they continue working in a secular industry.
"Our professors have changed our whole lives," said Delaney Daves. "They have been examples for us to follow and they have showed us what it looks like to live a life that looks like Jesus, especially in an industry that doesn't always fit that mold."
Zach Daves said the greatest lesson from his time at Lipscomb that he will use in daily life is to show up and be there, anytime you are invited.
"We've learned from our professors and from our time in music that the best way to make connections is just to show up," said Zach Daves. "The whole time we have been at Lipscomb, we have pushed each other to be present so that we can make those connections."
"We are all okay musicians on our own,Together, we are a force. There is something special that others can see about the three of us together. It is a blessing from God that we can't take credit for, it's a family thing." — Erika Daves
The siblings plan to continue pursuing their dream of making music and hope to get a deal with a label, to go on tour and to eventually sell out arenas with their concerts.
Learn more about the commercial music program at Lipscomb.