Annual Lipscomb Recycles event provides opportunity to recycle e-waste, household items Nov. 15
Anna Moseley |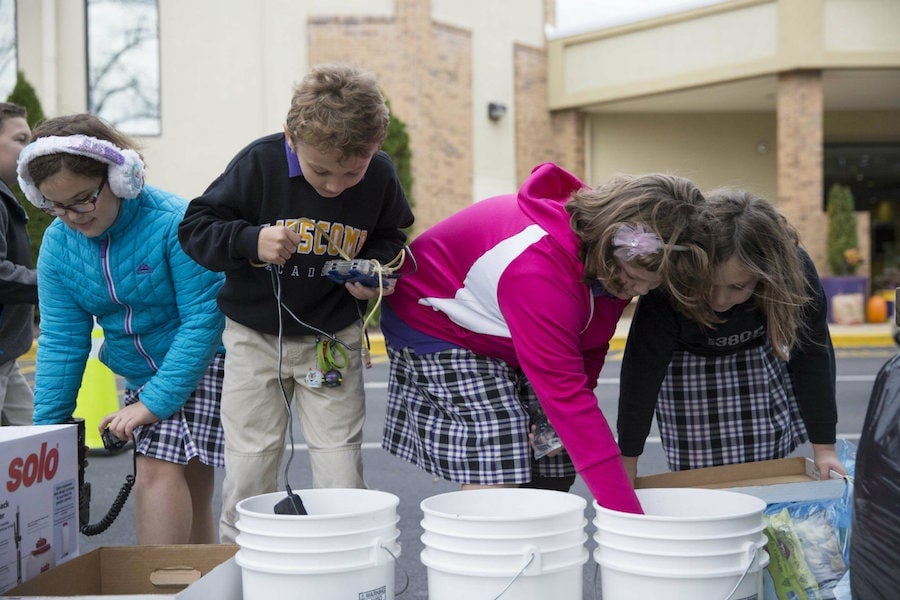 In honor of America Recycles Day, Lipscomb Academy's third grade students will host a community e-waste and recyclables collection event for items that are typically hard to recycle.
Remember to bring your household recyclables to Lipscomb Academy, 4517 Granny White Pike, on Thursday, Nov. 15 from 9 a.m. to 2 p.m. to celebrate America Recycles Day.
Common household items that usually end up in the garbage, such as batteries, plastic bags, aluminum cans and plastic bottles will be collected and recycled. Metro Nashville police officers will be on-site to collect any expired or unused prescription and over the counter medications. Shred-It will also be at the Academy to securely shred sensitive materials, and Metro Public Works will collect compact fluorescent bulbs and tubes. Thrift Smart will be on site to collect gently used clothing and household items. For every 10 pounds of clothing donated, Thrift Smart will give $1 to Safe Heaven so they can buy clothes for the people staying there.
The Lipscomb Recycles event provides a hassle-free, safe way for the Nashville community to dispose of their unwanted household materials in an eco friendly manner.  
Accepted items include:
electronic waste – no televisions
small batteries, alkaline and rechargeable (A, AA, AAA, C, D, 9-volt, button) – No car batteries
fluorescent bulbs and tubes
cell phones
medications (prescription and over the counter
ink cartridges
plastic bags (grocery, department store, dry cleaning
aluminum cans
plastic beverage bottles
newspaper
gently used clothing and household items
Shred-It will be on site to shred sensitive materials
E-waste items include
Desktop and Laptop PC's
Printers and Fax Machines
Switches/hubs/routers/firewalls
DVD/VCR/Stero
Networking equipment
LCD screens (no LCD televisions)
Laptop batteries
Circuit boards
UPS battery backups
Keyboards/mice
Thin clients
Scanners and POS equipment
Tablets and E-readers
Hard drives, memory and PC part
Servers and racks
Non-PCB ballasts
Cords and cables
Recycling Flyer (PDF)
At the Academy elementary school, each grade level focuses on different aspects of the environment in their science classes, and as they learn about different environmental processes, they prepare for an event of project in which they will demonstrate this knowledge.
Third graders are learning about household and hazardous wastes and will get to take that knowledge outside the classroom at the Lipscomb Recycles event.
Ginger Reasonover, the science lab coordinator at Lipscomb Academy, said that at the Academy, they try really hard to help the students know they leave a positive impact on the environment.
The average person generates five pounds of trash a day, and a lot of that can be eliminated when the proper recycling protocols are utilized. Reasonover said as long as she can make a difference in how much trash she generates and what happens to that trash after its generated, then she will recycle.
"I think it is important to dispose of anything properly," said Reasonover. "When we throw something away, there is truly no away. Trash goes into a landfill, but the trash put in the landfill can wreak havoc on our environment. When waste does get back into the environment, it can be hazardous to our health and expencive to make again. Recycling allows us to deal with waste responsibly and Lipscomb Recycle day provides an easy, convenient way to get ride of those materials properly."
For more information, or if you would like to volunteer at Lipscomb Recycle day, contact Ginger Reasonover at ginger.reasonover@lipscomb.edu.