Alumnus Austin Smith turns up the heat on the Nashville Hot Chicken craze
Party Fowl abounds with large screen TVs, full service menus and brunch like no other.
Keely Hagan | 615-966-6491 |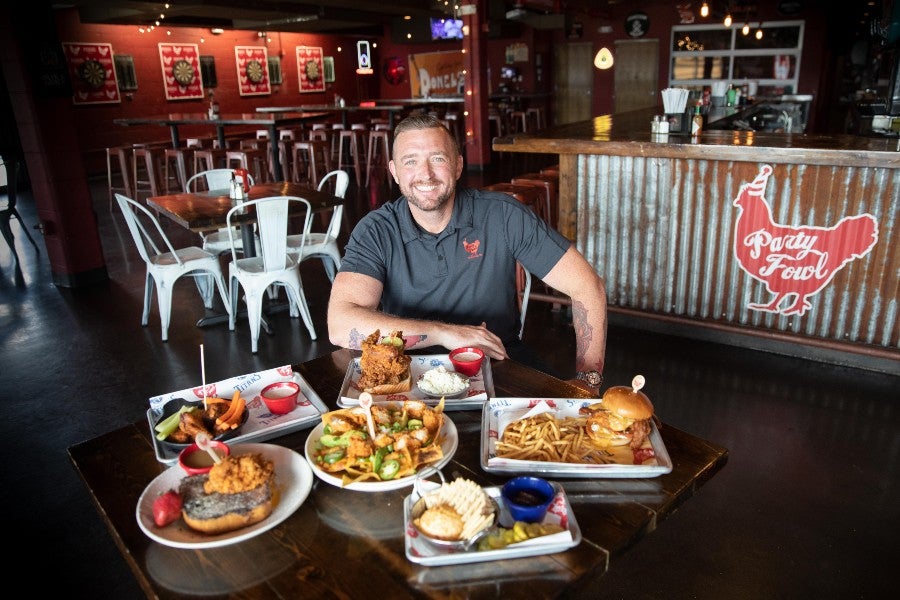 Austin Smith ('06), Hermitage, Tennessee, opened the original Party Fowl full-service restaurant on 8th Avenue in downtown Nashville with co-owner Nick Jacobson in 2014. Its success launched them into the forefront of the Nashville Hot Chicken craze and led to the opening of five additional locations in Donelson, Cool Springs, Murfreesboro, Chattanooga, and most recently, Destin, Florida.
Party Fowl also can be found inside the Nashville International Airport with a full service restaurant in Concourse D, and at three locations in Nissan Stadium that serve all Tennessee Titans home games and other stadium events. "The Party" even reached snackers nationwide when Frito-Lay used their recipe in its limited-edition Nashville Hot Chicken chips campaign in 2020.
While Smith seems to have found the recipe for success, he says he tested out others before finding his niche.
As a Lipscomb student he was highly engaged on campus—he choreographed a routine for the university's first Stompfest, participated in Singarama all four years, served as a Friends on Campus leader and was president of Omega Nu—but he had a difficult time finding his niche in the classroom.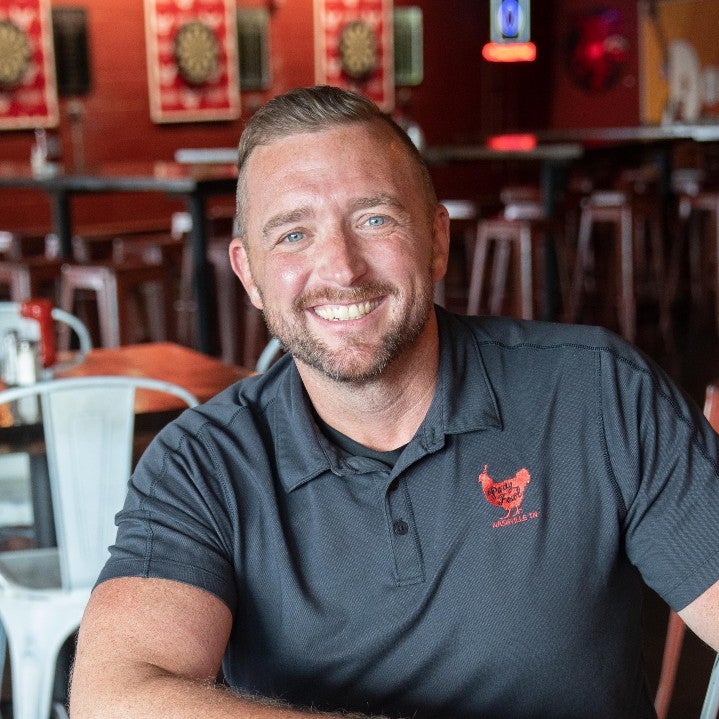 "I tried pre-med, theology, business and communications," Smith recalls. "I was just all over the place. I had no drive until some friends led me to taking an elective political science class taught by professor Dwight Tays. There was something about the way I was able to connect with the way he taught. I dove all the way in."
After receiving his degree in political science, Smith's professional reputation grew quickly as he worked on two successful campaigns for former Tennessee Gov. Phil Bredesen. In a strange twist, after Smith helped Bredesen defeat Rep. Van Hilleary in the gubernatorial race, he was hired to work on Van Hilleary's campaign for the U.S. Senate.
"After that I realized I didn't have the passion for it," Smith says. "I had worked on three campaigns and majored in political science but I didn't love it as much as I wanted to, so I stopped."
He returned to the restaurant business that had gotten into his blood when he worked as a server during college. He worked at Jacobson's restaurant 360 Bistro, formerly The Grape, in Belle Meade and for five years he managed 125 accounts for Athens Distributing where he was able to round out his knowledge of the restaurant business.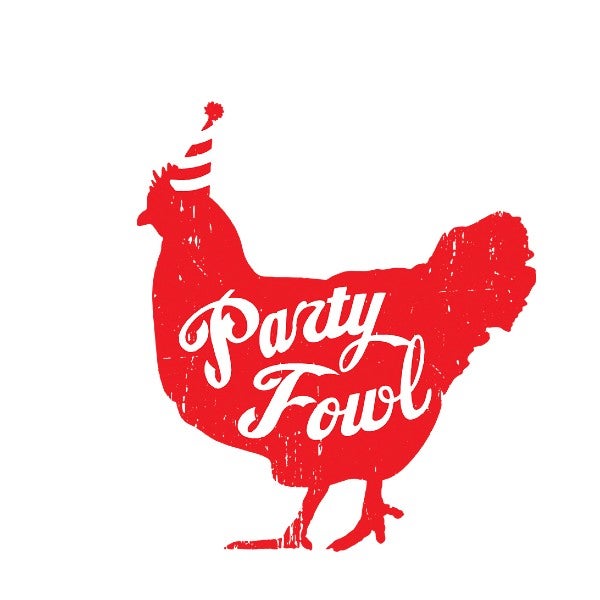 "I met with managers, owners, leaders and chefs to talk in detail about their menus, physical space and workflow," Smith says. "I saw wins and losses. I didn't realize it at the time, but I was building my playbook for what I was going to do one day."
During this time, he and Jacobson played on a softball team he had named Party Fowl. Although they joked about it being a great name for a roadside chicken joint, Smith began taking it seriously and developed the idea.
"One Sunday after church my wife and I were eating at a chicken joint in Chattanooga," recalls Smith. "It struck me that people will eat fried chicken anytime, anywhere. And it's always going to be that way. That's when I knew it was time to open Party Fowl. I brought Nick and his wife Ashley there the next weekend."
Everyone agreed that it was a good idea, but it needed to be done like no other.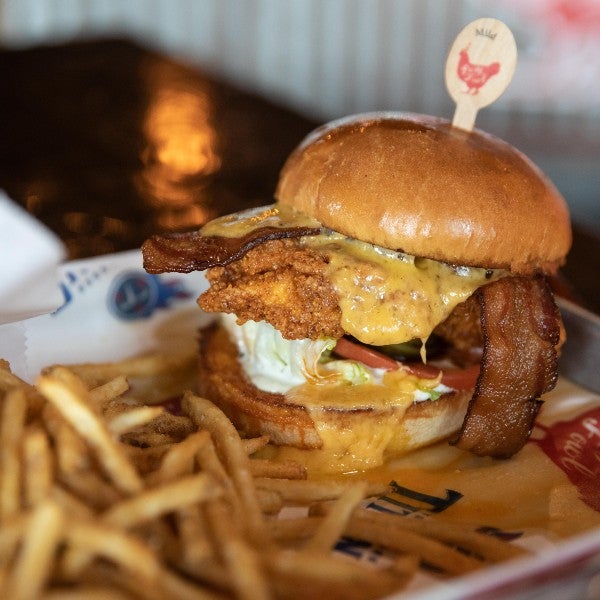 "We were the first ones to do a Hot Chicken concept with full service instead of ordering at the counter," he recalls. "We added new components like TVs to watch ball games and good music. We wanted to put everything Nashville loves under one roof."
This winning combination provides guests with a unique overall experience and Smith with the opportunity to continue dreaming of what's next for his growing business.
In March 2022, the first location outside of the state opened in Destin, Florida.
"I personally have been coming to Destin for 25 years and I've brought my family here for about 12. We love it. I know the area well, so when I got the phone call that the old Hard Rock building beside Bass Pro was available, I was on a flight the next morning," he says.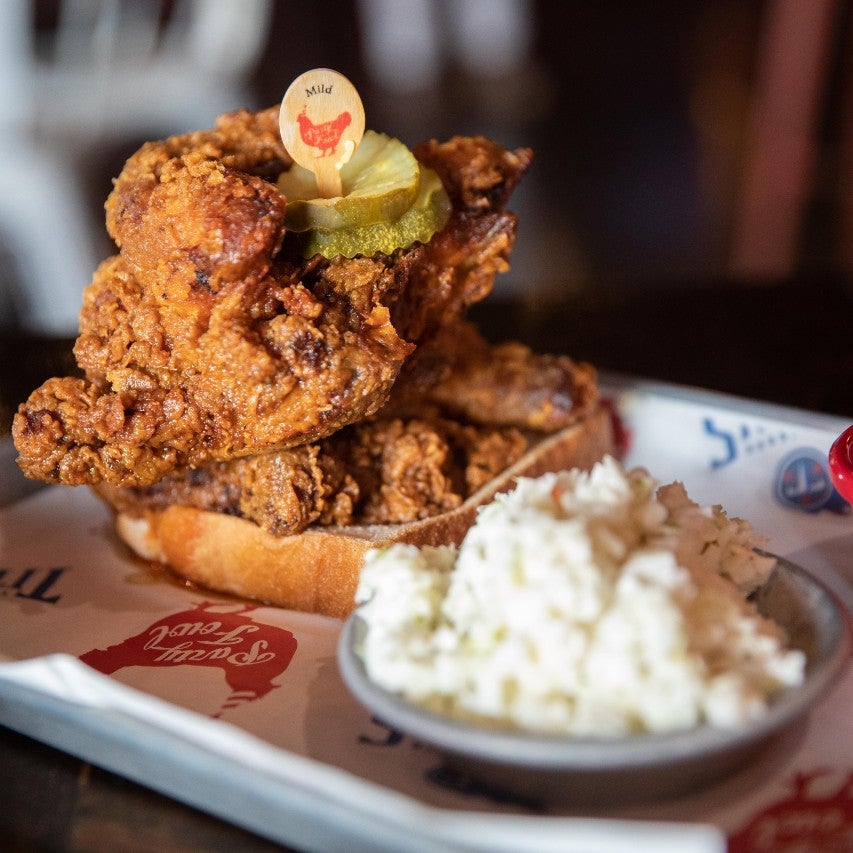 "We've been open for about a year. I have tourists and locals down here tell me that they've been to the Party Fowl at the airport or at Nissan stadium but never to a full venue. We are getting the word out."
The original location on 8th Avenue will move to a larger building across the street, with plans to begin working on the building this summer in order to open during football season.
Smith lives in Hermitage with his wife, Amanda, and their children, Harper Anne, Ellie Kate and Gary Wayne II. They are members at Donelson Church of Christ. Smith is active in the community, having served on the board of Volunteers of America, and currently serving on the board for Donelson Hermitage Chamber of Commerce and on the alumni advisory board at Ezell Harding Christian School, his alma mater.
At the time of this interview, Smith had just picked up this year's t-shirts for the annual "man weekend" he shares with a close group of friends who lived in Sewell Hall. These ten alumni have stayed connected for more than 20 years, with some still playing on the original Party Fowl softball team that's still going.
"Every summer we go fishing, camping, hiking and such," Smith says. "We also have a Christmas party every year with our families. At last count, I think we have 23 kids between all of us. Those guys are my best friends to this day."