No Small Endeavor: Live! honoring Fred D. Gray
Thursday, September 21, 2023 7:30 PM
Collins Alumni Auditorium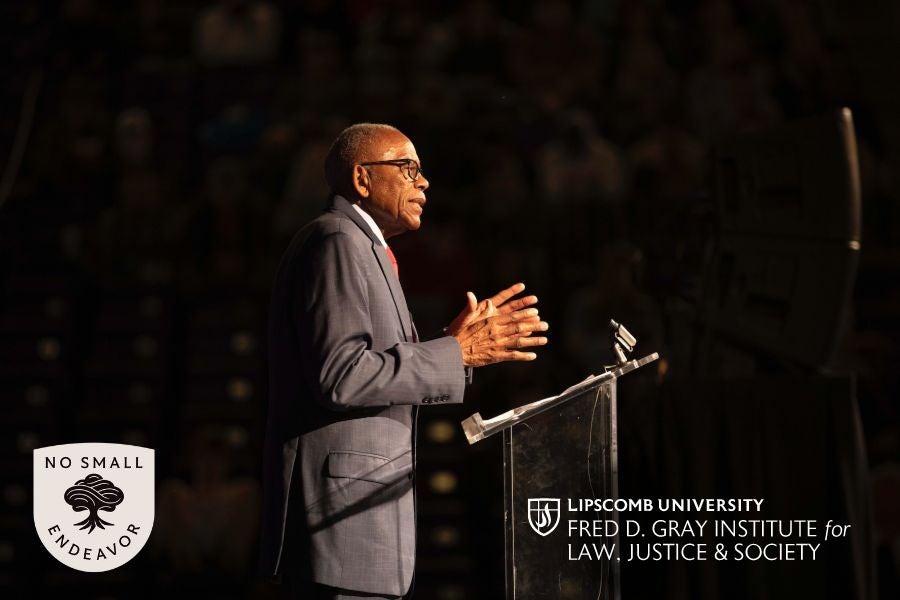 The Fred D. Gray Institute for Law, Justice and Society presents No Small Endeavor: Live! honoring the life work and accomplishments of Fred D. Gray.
Since the Institute formalized its partnership with Fred D. Gray, one of the nation's leading civil rights attorneys, there have been several events held in his honor. These serve to bring the community together for a night of discussion centered around social, political and legal matters impacting our country.
Join the Institute and No Small Endeavor for an evening of music featuring Ruby Amanfu and Odessa Settles, and conversation with Fred D. Gray. Tickets are $35 per person.
About No Small Endeavor
No Small Endeavor is hosted by Lipscomb University's Lee Camp, Professor of Theology & Ethics.  It began in Nashville as "Tokens Show" in 2008, with quarterly live stage shows exploring theology, social ethics, and human flourishing. The show has hosted an untold number of winners of the nation's most-respected awards. The Nashville Scene recognized the show as Nashville's "Best Local Variety Show" which is a "grass-kicking shredfest" that is a "huge success," with "genre-bending creativity." The Tennessean calls it "one of a kind," and a "virtuoso ensemble," that "is amazing. It's amazing that [this show] has integrated music, humor and scholarship into something so seamlessly entertaining.
About Fred D. Gray
Fred D. Gray is one of the nation's leading civil rights attorneys. At the age of twenty-four, he served as legal counsel for Rosa Parks, Martin Luther King Jr., and the Montgomery Bus Boycott. Mr. Gray represented the Freedom Riders, the Selma-to-Montgomery Marchers, and the Tuskegee Syphilis Study participants.  He also won countless school desegregation and voting rights lawsuits. His work has changed the social fabric of America.
Sponsor Levels
All sponsorships include tickets with premium reserved seating, pre-show VIP reception, a special sponsor gift, and sponsor recognition.  
Bronze - $1,000 - 2 tickets 
Silver - $2,500 - 4 tickets
Gold - $5,000 - 8 tickets
Platinum - $10,000 - 12 tickets
Contact Kimberly McCall (director, Fred D. Gray Institute for Law, Justice and Society) for more information on event involvement opportunities and secure a sponsorship level.